Heckmann Corporation (HEK) is one of the largest environmental services providers in the U.S. The company offers a variety of services primarily to oil and gas companies. Even though Heckmann provides many services, water treatment continues to be its core business. In a previous article on this company, I gave an overview of the growth prospects for Heckmann. The environmental services industry is growing at an incredible pace and provides an excellent opportunity for participants to achieve phenomenal growth. While organic growth can be more stable and sustainable, it is especially important and even more feasible to achieve growth through acquisitions. Heckmann Corporation has therefore been extremely aggressive when it comes to acquisitions. After announcing a merger with Power Fuels, the firm has also acquired a majority stake in Appalachian Water Services, LLC ("AWS").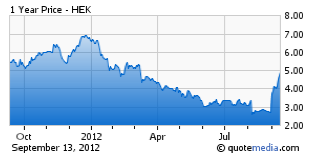 Heckmann's last two acquisitions have been mainly focused on consolidation in the core area of its business. Heckmann is trying to position itself as the leading player in this rapidly growing industry and, at the moment, it seems to be moving in the right direction. Heckmann has moved forward significantly from its position three years ago and is set to become an incredibly strong player in the environmental services business. Here, I look at recent acquisitions and what they will bring to Heckmann, as well as the company's current market and competitive positions.
What does the Appalachian acquisition bring to Heckmann?
Appalachian Water Services runs a high-tech wastewater management facility designed to treat water used in the hydraulic fracturing process of Marcellus wells, facilitating the removal of natural gas and oil. Founded in 2010, Appalachian Water Services is headquartered in Fayette County. Located in close proximity to Washington, Greene, and Westmoreland counties, the plant is in an ideal location for the majority of its clients. Wastewater from numerous local gas drilling wells is transported to the facility on a daily basis where it is treated, recycled and returned to trucks that then move the water back to drillers for reuse at other sites. Through its treatment processes, the facility lessens contaminants in the water, such as sulfates, barium, strontium, iron and bacteria.
Heckmann Water Resources [HWR] will act as the managing member of AWS, and will run the facility's day-to-day operations. The Marcellus Shale area is rich in natural gas reserves, and Heckmann Corporation has an established position in the area. Recent acquisition of AWS will provide Heckmann with an opportunity to expand its operations in this region and achieve cost synergies.
Market Position and Competition
Marcellus Shale, Bakken Shale and Haynesville Shale are the biggest and the richest shale oil and gas reserves in the United States. Recently, increasing energy prices and rising costs attached to conventional methods of oil and gas production have increased demand for fracking. It is cheaper to obtain oil and gas through fracking than conventional methods, but it also brings with it the problem of environmental damage. However, this problem has given birth to a new industry, which has grown exponentially in the recent years, and provided companies like Heckmann Corporation the opportunity to achieve massive growth. Heckmann has established itself as one of the leading players in the above mentioned three shale areas with its strategic planning and market consolidation. Moreover, the firm has more than 250 customers and, I believe, will be a force to be reckoned with in the environmental services industry over the next few years.
| | | | | |
| --- | --- | --- | --- | --- |
| | Heckmann | Waste Management | Veolia Environnement | Republic Services |
| P/E | 72.50 | 17.25 | 7.8 | 15.5 |
| P/B | 1.30 | 2.55 | 0.7 | 1.3 |
| P/S | 2.10 | 1.15 | 0.2 | 1.3 |
| EPS Growth | N/A | -2.3% | N/A | 61.6% |
| Operating Margin | -3.00% | 14.3% | 4.58% | 18.2% |
| Net Margin | -6.80% | 6.7% | 1.3% | 8.3% |
| ROE TTM | -4.30% | 14.7% | 5.5% | 8.8% |
| Debt to Equity | 0.60 | 1.5 | 2.20 | 0.9 |
Source: Morningstar.com
Heckmann is young company, which has been growing aggressively through acquisitions. The firm has been incurring a lot of capital expenditures resulting in weak cash flows. The stock looks expensive compared to its large cap peers. Heckmann's valuation ratios are way higher than those of Waste Management (NYSE:WM), and Veolia Environnement (VE). These two companies also pay nifty dividends. Republic Services (NYSE:RSG) also offers a yield of 3.3%, which is fully covered by earnings. Heckmann does not have enough cash flow to pay any dividends yet. However, the recent merger announcement suggests that the future prospects of the company far outweigh the dangers.
In a comparison with its peers, Heckmann may seem a little expensive. The firm carries higher multiples as compared to its competitors, and the margins are also not impressive. However, it should be noted that the company is experiencing massive growth and has been making heavy capital expenditures. As a result, Heckmann has been unable to post impressive cash flows but has reported positive revenue and earnings growth. It is normal for any company in a growing industry to go through negative periods. I therefore believe that Heckmann will soon post improved earnings as part of an overall improved financial landscape for this company.
Summary
The Heckmann Corporation took the market by a storm over the last week, when it recorded a 38 percent rise in the stock price in a day. This success was only the tip of the iceberg, as the stock went on to break the $4 barrier for the first time in the last four months. The recent acquisition announcement is sure to bring further positive news for investors. I remain confident that this company will be able to achieve massive growth and establish itself as one of the most significant players in the market. Heckmann has the potential to provide an incredibly high return, and is sure to prove a prudent investment at the current rates.
Disclosure: I have no positions in any stocks mentioned, and no plans to initiate any positions within the next 72 hours. I wrote this article myself, and it expresses my own opinions. I am not receiving compensation for it (other than from Seeking Alpha). I have no business relationship with any company whose stock is mentioned in this article.