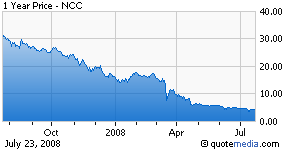 National City Corporation (NCC) is expected to report Q2 earnings before market open Thursday, July 24, with a conference call scheduled for 11:00 a.m. ET.
Guidance
Analysts are looking for EPS of (26c) on revenue of $1.78B. The consensus range for EPS is (80c) to 0c, while the consensus range for revenue is $1.72B to $1.95B, according to First Call. National City's shares dropped sharply on July 14, as investors worried about additional bank failures and the U.S. mortgage markets.
The company released the following statement on July 14 in response to negative rumors about the bank's future: "National City Corporation is experiencing no unusual depositor or creditor activity. As of the close of Friday's business, the bank maintained more than $12B of excess short-term liquidity. Further as a result of our recent $7B capital raise, NCC maintains one of the highest Tier 1 regulatory capital ratios among large banks."
Analyst Views
On July 16, Citigroup mentioned the bank positively, and recommended buying the shares at the prices for which the stock was trading on July 16. The bank's shares have risen about 56% from their lows on July 14, and approximately 20.4% from their opening price on July 16. Meanwhile, National City is looking to sell its money management division, the Wall Street Journal reported today.