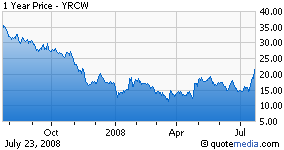 YRC Worldwide (NASDAQ:YRCW) is expected to report Q2 earnings after market close Thursday, July 24, with a conference call scheduled for Friday, July 25 at 9:30 a.m. ET.
Guidance
Analysts are looking for EPS of 29c on revenue of $2.4B. The consensus range is 15c to 35c for EPS, and revenue range of $2.34B to $2.45B, according to First Call. The company gave Q2 EPS guidance when it reported its Q1 earnings in April, expecting Q2 EPS of 30c to 40c vs. consensus of 39c.
On June 17, YRC Worldwide gave Q2 EPS guidance of 55c to 65c, which included net curtailment gains of 34c per share and a charge for a significant accident of 9c per share. Excluding the curtailment gains and the accident charge, Q2 earnings from core operations are expected to be consistent with previously issued guidance of 30c to 40c per share. CEO William D. Zollars said he sees the economy stabilizing, but, if oil stays at these levels or goes higher, he has concerns for the economy and the company's customers. Zollars also stated the company's business has "turned the corner" and has momentum, but held back on Q3 guidance.
Analyst Views
Stephens stated in June that despite recent skepticism, it still believes the company can achieve its 30c to 40c guidance. The firm reiterated an Overweight rating on the stock. JP Morgan also said in June that it believes the company's confirmed Q2 guidance suggests cost savings are on track and it is on a path reduced liquidity risk. The firm believes risk to upside since 23.4M shares are shorted, and maintained a Neutral rating.