Commodity Chart Of The Day
Daily RBOB
(click image to enlarge)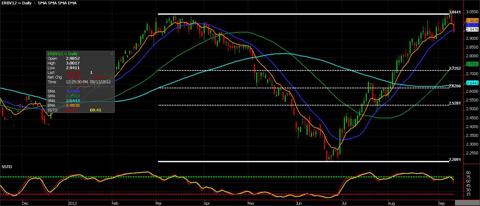 Click to enlarge
I know we've all felt it at the pump with prices up 35% in the last four months. What if I told you relief could be around the corner? Well, that is my opinion.
Prices appear to be rolling over from around the same levels that they topped in the spring. Past performance is not indicative of future results, however, prices dropped 80 cents a gallon from March to June. As seen on the chart, prices have retreated 10 cents in the last two sessions as of this writing. I'm looking for at least a move back to $2.75/gallon in the coming weeks. This would represent a 7% decline. See the Fibonacci level as your downside objectives, indicated by the white horizontal jagged lines.
Risk Disclaimer: The opinions contained herein are for general information only and not tailored to any specific investor's needs or investment goals. Any opinions expressed in this article are as of the date indicated. Trading futures, options, and Forex involves substantial risk of loss and is not suitable for all investors. Past performance is not necessarily indicative of future results.
Disclosure: I have no positions in any stocks mentioned, and no plans to initiate any positions within the next 72 hours. I wrote this article myself, and it expresses my own opinions. I am not receiving compensation for it. I have no business relationship with any company whose stock is mentioned in this article.