Despite uncertain regulations and demand and supply fluctuations, Halliburton (NYSE:HAL) managed to gain market share in international markets. It was able to enhance its capacity through strong utilization and operational performance. The company has introduced the remarkable invention, PermStim, a substitute of guar bean used as a fluid to fill fracked wells in oil and gas exploration. Furthermore, it has shown impressive YoY double-digit revenue and operating income growth of 21% and 34%. It has seen record returns in its eight product lines, and also achieved record-high operating income in its multi-chem, completion tools, cementing and testing and subsea businesses. Moreover, the stock is trading at low valuations. It is trading at a forward P/E of 10x as compared to the industry average of 13.6x. Our estimated 12-month target price is $52, with an upside of 48%. Thirty one analysts estimate that the company's earnings will grow by 10% till the end of 2013. Based upon its low valuation and the aforementioned points, we recommend taking a long position on the stock.
Company Overview
Halliburton is an oilfield company engaged in providing products and services related to the production, exploration, and development of oil and gas. The company's operations are segregated into two segments; completion and production, and drilling and evaluation. It is a global company, providing its products and services in more than 80 countries. There are four primary areas of business operations, which include North America, Asia/Middle East, Latin America, and Europe. It is the second largest oil and gas service provider in the world, and a supplier of hydraulic fracturing in North America.
Acquisitions
Barclays's analysts expect future acquisitions by large oilfield service and product manufacturers, including Halliburton, National Oilwell Varco (NYSE:NOV) and Schlumberger (NYSE:SLB). They believe that Halliburton will acquire smaller companies and their assets to remain competitive. Furthermore, they reveal that "new regulations encourage high specification equipment, the ongoing build-out in offshore markets, and the operator demand for equipment to enhance efficiencies." Therefore, the market is expecting Halliburton to bring growth through inorganic channels as well. The company has recently acquired Petris Technologies to provide value to its customers by delivering them critical operational information about their reservoirs.
Invention
The price of guar bean, the basic raw material used in hydraulic fracturing, has doubled in the last three months due to its shortage. Halliburton has discovered a substitute of guar bean through the introduction of PermStim, used as a fluid to fill fracked wells to extract oil and gas. The company has started placing its PermStim in around 40 wells, in the last quarter, in U.S. basins. Henceforth, this new invention will enable it to stabilize costs and improve its profit margins in the coming period.
Revenues by Geographical Segmentation
The company expects that its revenue in North America will decrease from the second quarter to the third quarter. HAL CFO Mark McCollum had previously anticipated that its revenues from this geographical region would remain steady. But the decline in its future outlook is reflected in the company's low pricing power. In fact, this trend has been witnessed by other companies operating in North America as well. U.S. benchmark natural gas prices declined by 25% in the last one year, leading to weakening pricing power of oil and gas equipment and service provider companies. Despite the fact that 57% of HAL's revenues come from North America, the increases in revenues of 13%, 14% and 17% in Latin America, Europe and Africa, and Middle and Asia over the last quarter, offset the impact of the decline in North America. The revenues in Europe/Africa and Middle East/Asia improved from $1,012 million and $908 million to $1,156 million and $ 1,059 million, respectively, over the last one quarter, as depicted in the graph given below.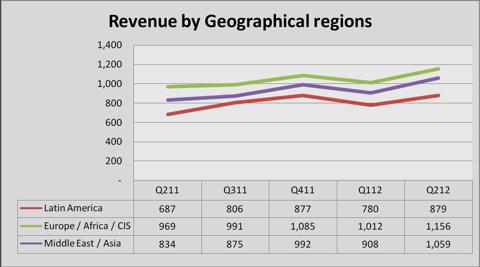 Click to enlarge
Financials
Halliburton has registered net income of $745 million and earnings of $0.8 per diluted share in the second quarter of 2012. Its diluted EPS have increased by 15% from 1Q2012 to 2Q2012. In its first quarter result, it included $300 million of estimated losses from the Mocando well incident. The company posed total revenues of $7.2 billion in the second quarter, with an increase of ~5% from the first quarter and 21% YoY. Its cost efficiencies are reflected in the 20% increase in operating income of $1.2 billion. The company's international operations witnessed double-digit growth in revenues and operating margins.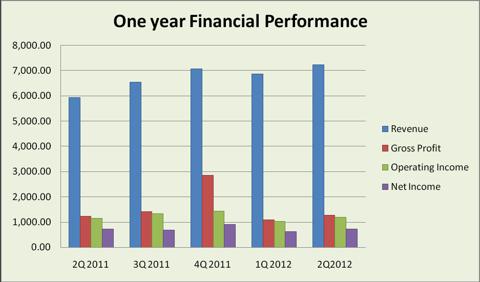 Click to enlarge
Halliburton's revenues and sales in Latin America have risen by 13% in the last quarter, with a 1% increase in rig count. This increase is justified by the company's activity growth, and most importantly, improvements in pricing in Mexico and Venezuela. Going forward, the management expects that margins will further improve. Moreover, it has efficiently implemented its growth strategy by capturing a maximum market share in the Eastern Hemisphere. The company's revenues increased by 15% in this region, with the rig count increasing by 5%. Its negative free cash flows are not a matter of great concern, as the company has a strong liquidity position, a good balance sheet, and rising capital spending on some expansion projects. We assume that these projects will help the company sustain its high gross and operating margins in the coming years.
Price Appreciation
HAL's stock price has shown an upward trend in the last 3 months due to continuously increasing revenues in the last 4 quarters. The stock is trading at 30% above its last 3 months' price. Its 50-days' and 200-days' moving averages are $33 and $32, respectively. Around 76% of the company's shares are held by institutions. Due to the regulatory environment and the oil demand-supply situation, the company and its peers have witnessed the same trend in the last three months as depicted in the graph given below.

Click to enlarge
Source: Google Finance
Valuations
Direct Competitor Comparison

Halliburton

Baker Hughes

Schlumberger

Technip

HAL

BHI

SLB

TKPPY.PK

PEG (5 yr expected):

0.7

0.69

0.77

1.42

P/S (TTM):

1.15x

0.97x

2.25x

0.31x

Forward P/E (Dec 2013)

10.13x

11.1x

14.3x

15.5x
We have calculated our 12-month target price as $52, by using an EV/EBITDA multiple, with an upside of 48%. The stock is currently trading at 10.1x its forward earnings, at a discount as compared to Baker Hughes Incorporated's (NYSE:BHI) 11.1x, Schlumberger Limited's 14.3x and Technip's (OTCQX:TKPPY) 15.5x. The stock is trading at cheap valuations as reflected in its 5-year expected PEG ratio of 0.7x. HAL's P/S ratio is 1.1x, which is at par with its peers' P/S average of 1.1x.
The following are the details of Halliburton's valuations and target price of $52.
| | |
| --- | --- |
| Average. EV/EBITDA (Last five years) | 7.38 |
| Estimated EBITDA of 2013 ($ millions) | $6,883 |
| EV | $50,797 |
| | |
| EV | $50,797 |
| Less: (Debt) ($ millions) | $4,820 |
| Add: Cash ($ millions) | $2,172 |
| | |
| Equity ($ millions) | $48,149 |
| No. of shares (millions) | 927 |
| | |
| Target Price of 2013 | $52 |
Disclosure: I have no positions in any stocks mentioned, and no plans to initiate any positions within the next 72 hours.
Business relationship disclosure: The article has been written by Qineqt's Energy Analyst. Qineqt is not receiving compensation for it (other than from Seeking Alpha). Qineqt has no business relationship with any company whose stock is mentioned in this article.