The U.S. has attained the highest growth in oil and natural gas production in the world over during the last few years, and has become the most significant region for incremental production of oil and gas going forward.
The fast-growing hydrocarbon production in North America has been further aided by Canadian production, and a resumption of production from Mexico, which has spiked the growth rate beyond the benchmark rate that can be sustained by OPEC.
Given the increased production of hydrocarbons in North America, the U.S. has become a net petroleum product exporting country, due to lower demand of petroleum products and higher supply of natural gas, oil and natural gas liquids (NGL).
There are five sources with the potential to grow the production of liquids in North America, and these include oil from shale and tight sands, offshore oil in U.S. and Mexico, oil sands in Canada, natural gas liquids from increased production of natural gas, and bio-fuels.
Local Demand for Petroleum Products
The demand for petroleum products has decreased by two million barrels per day, down from its peak attained in 2005. One reason for the decrease in demand for petroleum products can be attributed to the weak economy, which is still trying to recover from the financial meltdown of 2008.
Another reason, as identified by Citigroup, too, for the decreased demand is the structural change caused by more stringent policies, demographic changes, and mass commercialization of technologies.
Shale Boom
The introduction of hydraulic fracturing and horizontal drilling has brought about the shale boom in the U.S. in the last half decade due to the fact that its application has become economical. The shale boom has resulted in an excess supply of natural gas available in the U.S., which reduced the prices of natural gas to a decade low of $1.94/mmbtu in April 2012.
The decreased natural gas prices have induced a shift in the input mix of transportation, power generation and other sectors, as it is a much cheaper as compared to its closest substitutes, such as coal and petroleum. This will have a long lasting positive impact on the economic growth of the U.S., as it will give the U.S. a cost advantage due to natural gas being available at cheap rates worldwide.
The shale boom has not been limited to natural gas, as explorers and producers target oil rich basins in the U.S., given the better pricing and higher profitability as compared to natural gas.
The shale boom has also resulted in high supply of natural gas liquids in the U.S., decreasing prices of NGLs, and improved refining margins for U.S.-based refiners. The shale production in Canada is also expected to increase.
(click image to enlarge)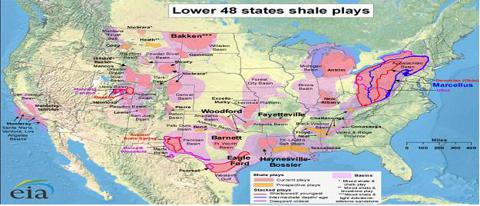 Click to enlarge
The major shale oil plays to date have been the Bakken and Eagle Ford, while potential growth has been identified in the Utica Shale in Eastern Ohio; Barnett, Wolfcamp and Avalon/Bone shale plays in Texas, Monterey in California; Niobrara and Mississippi Lime in mid-continent; Granite wash; and Anadarko basins. It is forecast that the shale oil formations mentioned above will force production of oil to rise by two million barrels per day till 2020.
Deepwater in U.S. and Mexico
Offshore drilling in the Gulf of Mexico peaked at 1.75 million barrels per day in April 2010. However, the Macondo incident reversed the earlier gains achieved due to the resulting increase in regulations to avoid such accidents in the future. As a result, production decreased to 1.2 million barrels per day in December 2011. Recently, regulations to drill in the Gulf of Mexico have been relaxed, and it is expected that production will reach pre-Macondo levels by early 2013, and that offshore production from the Gulf of Mexico will rise by another 2 million barrels per day by 2020, as expected by Citigroup.
Canadian Oil Sands
Growth of Canadian oil sands remained stagnant from mid 2008-2009, due to high production costs. However, drilling costs have dropped significantly, increasing production to around 1.5 million barrels per day in 2011, and as per estimates in the market, production is expected to more than double by 2020.
NGLs
Natural gas liquid production has witnessed a significant increase over the past few years due to the increased production of shale gas in the U.S., thereby decreasing the prices. This trend of increased production is likely to continue as North America further explores its shale reserves.
Bio-fuels
Renewable bio-fuels production is close to the mandated level by the U.S. government. The future demand is bleak, given the expected decrease in demand for gasoline in the U.S. due to fuel efficiency, demographic changes and mass commercialization.
Major Oil Producing Countries
| | | | | | |
| --- | --- | --- | --- | --- | --- |
| Thousand barrels per day | 2007 | 2008 | 2009 | 2010 | 2011 |
| Canada | 3,449 | 3,348 | 3,319 | 3,486 | 3,665 |
| China | 3,926 | 3,987 | 4,026 | 4,306 | 4,303 |
| Iran | 4,039 | 4,180 | 4,177 | 4,252 | 4,234 |
| Iraq | 2,097 | 2,386 | 2,400 | 2,408 | 2,635 |
| Russia | 9,878 | 9,794 | 9,934 | 10,146 | 10,229 |
| Saudi Arabia | 10,249 | 10,783 | 9,760 | 10,521 | 11,153 |
| United States | 8,457 | 8,514 | 9,141 | 9,695 | 10,071 |
Production Forecast in North America
Total oil supply in the U.S. is expected to almost double by 2020, as shown in the table below:
| | | |
| --- | --- | --- |
| m b/d | 2011 | 2020E |
| Canada | 3.7 | 6.7 |
| Mexico | 3 | 4.5 |
| U.S. | 10.1 | 15.6 |
| Total | 16.7 | 26.8 |
Source: EIA and Citigroup Estimates
Natural Gas Production
Natural gas production is expected to increase further in the U.S. and Canada due to the increased drilling activity in the region.
U.S. Demand for Petroleum Products in Future
The demand for petroleum products is likely to decrease by 2 million barrels per day due to changes in increased fuel efficiency, demographic changes and technological advancements.
Outlook
The increased supply of oil in North America and decreased demand is likely to create an increased supply, which will surpass the existing production of crude oil in the Middle East.
The U.S. will continue to remain a net exporter of energy, given its increased supply of oil and natural gas, and the country is expected to continue its export of petroleum products and liquid natural gas.
The increased supply of oil will benefit the whole of the U.S. economy; the GDP and the USD are poised to witness growth. Some of the sectors that will benefit from this boom include power generation, transportation, fertilizers, petrochemicals, refineries, chemicals, transportation services and oil service companies.
Please view our report "20 Shale Gas Beneficiaries To Buy" to get an understanding of some of the stocks expected to perform well due to the increased production and lower prices for natural gas.
Disclosure: I have no positions in any stocks mentioned, and no plans to initiate any positions within the next 72 hours.
Business relationship disclosure: The article has been written by Qineqt's Energy Analyst. Qineqt is not receiving compensation for it (other than from Seeking Alpha). Qineqt has no business relationship with any company whose stock is mentioned in this article