There is a titanic battle that has been mounted against nuclear energy (NYSEARCA:NLR) by the proponents of coal and natural gas smearing the new nuclear reactors that are being built at this very moment all over the world, especially in the emerging European and Asian Nations. There are big bucks involved by the forces that have chosen to tar nuclear as the result of the once-in-a-millennium perfect storm emanating from the Post-Fukushima mindset.
It is difficult to recall if any other industry has suffered the insults arising from those forces that have it in their self interest to misrepresent with claims of "unlimited cheap natural gas, solar and wind." They paint atomic energy with the slanted brush of distortion, as if it is a kind of inverse Darwinism representing the survival of the uninformed. Whether this media misinterpretation is intentional or just plain ignorance is debatable. Suffice it to say, the forces of fossil fuels, solar and wind are fighting an increasingly losing battle in a book that might be entitled, "Alice In Blunderland".
The rising power of nuclear energy represents not only the wave of the future, but is proliferating in front of the very noses of the naysayers in nuclear. It is as if they are caught in the time-warp of the 1970s. It is fossilized thinking for an increasingly fossilized sector.
We recognize that the nuclear plants built in the 1970s are as far removed from current reality as the Neanderthals are from modern man. Attention must be paid to the resurrection and viability of nuclear plant construction, which has relegated the old nuclear mindset to the dustbins of history. We note the building of nuclear reactors in the United States for the first time in over three decades. Additionally, several European nations such as England, Poland, Finland and Slovakia, and of course, China and India, are going nuclear full speed ahead.
It is time for us to realize that the world has been awakening to the rise of nuclear power in the battle for energy survival. Simply put, the current generation of atomic energy is producing modern, safe, portable and less expensive nuclear generators.
It is time to recognize that we must disenthrall ourselves from the old mindsets that are being entombed before our very eyes by contemporary visionaries who are moving full speed ahead, leaving bureaucrats and negators behind.
A few statistics are in order here. Massey Energy underwent a blow up that killed at least 29 coal miners in West Virginia. The Mine Safety and Health Administration (MSHA) slammed coal mining with the largest fine to date for the 2007 accident that was the worst U.S. mining catastrophe in 40 years.
MSHA concluded that the disaster was entirely preventable.
We hardly hear about these indictments of coal in comparison to the deluge of adverse post-Fukushima publicity. What about the Deepwater Horizon incident in the Gulf Of Mexico, which killed eleven workers and sparked the worst offshore oil spill in modern history? We witnessed internecine warfare between fossil fuel giants BP Amoco and Halliburton, each blaming the other for the Deepwater Horizon disaster.
(click images to enlarge)

Click to enlarge
Source: www.world-nuclear.org/info/inf06.html
This is partial vindication of what we have been writing about for many years. Cameco (NYSE:CCJ) -- which says it is the largest publicly owned uranium company -- warns that there will be a shortfall in the availability of uranium as the world increasingly reveals the supply shortage for nuclear ore.
Companies have been frustrated in their efforts to raise capital for new uranium projects as they have experienced losses in coal and iron ore production. For instance, BHP Billiton (NYSE:BHP) has delayed its Olympic Dam expansion due to rising costs in Australia. As a result, it is selling off uranium assets to cover losses in other commodities. Cameco, who is looking to double its production, is glad to buy these assets at a discount.
Increasingly, these mining slowdowns have limited potential supply. Add to this the ending of the Russian HEU Agreement in 2013, which will further limit uranium supplies to the United States, the largest consumer of uranium for its nuclear reactors. Cameco has stated publicly that this will not deter its ongoing quest to produce nuclear ore.
Very important developments are taking place in the undervalued uranium miners. Paladin (OTCPK:PALAY) signed a long term off-take agreement with a major utility. The company will deliver close to 14 million pounds of uranium and will receive a cash of $200 million by January 2013. This has major implications on this overlooked sector, which is showing signs of a positive reversal higher, as indicated in the chart below: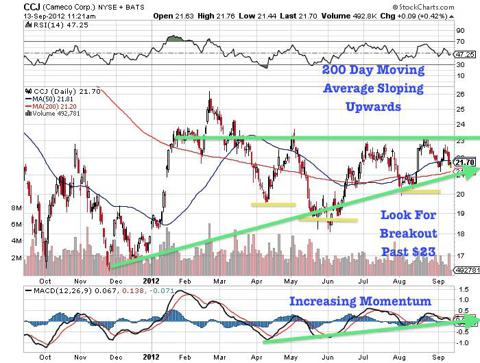 Click to enlarge
Many of our uranium selections (NYSEARCA:URA) are breaking downtrends, and should see higher prices as liquidity and capital flows into this undervalued sector with excellent supply-demand fundamentals over the long term.
Another factor is that we may witness an overload of the U.S. power system, similar to what we recently saw in India. Not too long ago, 600 million people were left without power in India. The U.S. grid is extremely outdated, and there are reports that power demand is outstripping capacity. Keep in mind that we have had major blackouts already in New York, Boston and Southern California in recent years. Many experts are saying that our power grid and infrastructure needs a major refurbishing. Questions may be raised as to why nuclear energy has been treated by the North American Electric Reliability Corporation as an orphan child.
Additionally, tor the first time in American history, coal capacity is being reduced. In the first quarter of 2012, the use of coal for electricity generation has fallen, declining more than 20% from 2011 levels. Sooner or later, bureaucrats will awaken to the new generation of safer, cheaper and efficient nuclear power, which could have obviated brown outs and black outs like those that have occurred in the past, and that are threatening to become prevalent in the future.
Finally, the fine hand of Iran is adding to the possibility that the price of oil may be used as a counter stratagem to destabilize the entire Middle East cauldron as the Arab Spring morphs into the Islamist Winter. We note the recent attacks on our U.S. embassies in Cairo and Benghazi, on the anniversary of 9/11, which resulted in the death of Americans, a U.S. Ambassador and the tearing down of the U.S. flags, which were replaced with Al Qaeda emblems.
Should this unrest continue to occur across the Middle East, then there may well be a spike in all forms of energy (NYSEARCA:XLE), especially uranium, which is selling at a fraction from its peak in 2007. If Iran mounts a Middle East counter-offensive and possibly chokes off the Straits of Hormuz, perdition may break loose as all commodities (NYSEARCA:DBC) may spike, putting urgent strains on an already weak Western economy.
Stay tuned, as I will be publishing an update on gold, silver and the miners, which appear to be making key long term breakouts as The Fed makes an announcement from its meeting.
Disclosure: I have no positions in any stocks mentioned, and no plans to initiate any positions within the next 72 hours. I wrote this article myself, and it expresses my own opinions. I am not receiving compensation for it (other than from Seeking Alpha). I have no business relationship with any company whose stock is mentioned in this article.