Last July, I interviewed Mr. Vijay Samant, President and CEO, Vical (NASDAQ:VICL), focusing primarily on his company's lead product in the clinic, Allovectin, an immunological treatment for metastatic melanoma. As we neared the end of the interview, I asked Vijay the following question:
Cohen: I don't want to take too much more of your time, Vijay, but of all the other programs you have under development, which one not mentioned above has yet to catch fire in Wall Street's mind ... that is, which one is the sleeper in your pipeline?
Samant: We've been talking about our Vaxfectin adjuvant for several years now, Ted, but investors haven't placed any value on it because we have not yet established its value through a license agreement. Having said that, we have been working with a number of potential licensees who are evaluating Vaxfectin with their own product candidates, and expanding its use through our independent programs for influenza, CMV, and HSV-2, as well as our collaborative programs for malaria and dengue. …
It should come as no surprise, then, that early this morning (Thursday, September 13), Vical announced it had licensed its DNA immunization technology and Vaxfectin adjuvant to Bristol-Myers Squibb (NYSE:BMY) for use in antibody production. According to the press release, BMY will use Vical's technology "… to generate antibodies with potential therapeutic uses in humans. Vical will also provide specified quantities of the Vaxfectin adjuvant to Bristol-Myers Squibb from time to time." Vical did not release any financial terms related to the agreement.
The agreement with BMY is important to Vical for two reasons. First, it validates the company's work on Vaxfectin and the technology behind the adjuvant, and second, the agreement establishes a template for additional agreements with others working in the field.
Technical Analysis
Obviously, the Street liked what it read and bid the shares up nicely, opening a gap in the Daily chart (courtesy StockCharts.com) at $3.90. I doubt this is a "breakaway" gap (one that won't fill), so expect that stock to back down, touch the breakaway point, and then, possibly resume its ascent. (It already has attempted to do this, as you can see below.) However, note VICL now is in overbought territory (Relative Strength at 70 or above). Stocks can remain at these levels for quite some time, of course, and indeed, the MACD line suggests the smart money is again accumulating shares, most likely in anticipation of good Allovectin trial results.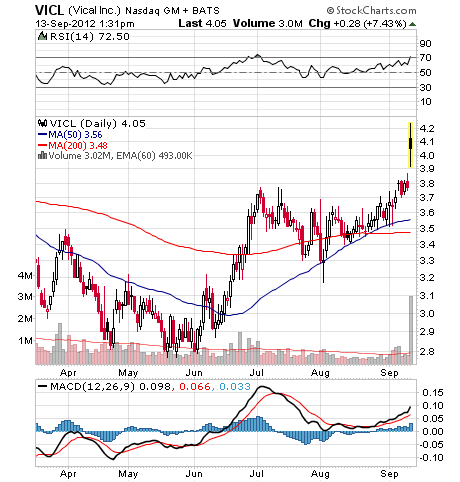 Turning to the Weekly chart, if you were to draw a line connecting the three most recent peaks, I posit they present a downtrend line of resistance, the top of a flag pattern that has been forming in anticipation of VICL releasing the Allovectin Phase 3 results. If the results are positive, there is no question the price will break the pattern to the upside.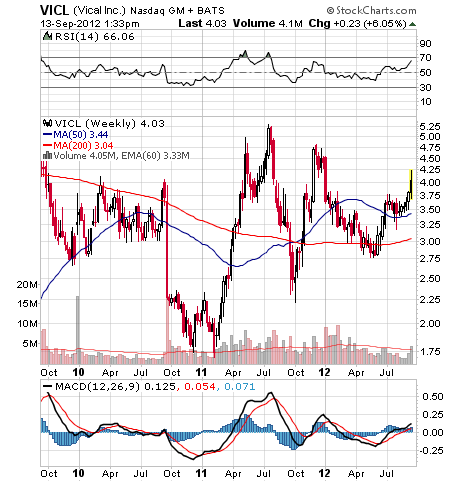 Disclosure: I am long VICL. I wrote this article myself, and it expresses my own opinions. I am not receiving compensation for it (other than from Seeking Alpha). I have no business relationship with any company whose stock is mentioned in this article.
Additional disclosure: I am long VICL, and will not alter my position within 72 hours of the time of publication of this article. I am not a registered investment advisor and do not provide specific investment advice. The information contained herein is for informational purposes only. Nothing in this article should be taken as a solicitation to purchase or sell securities. Before buying or selling any stock you should do your own research and reach your own conclusion. It is up to investors to make the correct decision after necessary research. Investing includes risks, including loss of principal.