Alaska Communications Systems Group Inc (NASDAQ:ALSK)'s shares have gone through a significant devaluation on a YTD basis; however, we are bullish on the company based on its stable gross margins and inclining operating margins, signaling the strength in its operations. Moreover, in our opinion, the company's recent move to sell the iPhone as well as an agreement to join the Alaska wireless network will help it in bringing growth to its subscriber base and improve its cash position. The stock remains attractive from a dividend perspective, currently yielding 9%, which is well supported by its high operating cash flow yield of almost 85%.
ALSK provides communication services to its residential and corporate customers in Alaska. The company has a market capitalization of approximately $98 billion. The stock trades near its 52-week low of $1.73, with a dividend yield of 9%.
The company derives its revenues from business, wholesale, consumer and wireless services, through which it provides local and long distance voice, internet and data facilities to its customers. In the quarter recently ended, the company generated almost $90 million in revenues, showing an improvement of 6% from the second quarter of the previous year. All the company's revenue sources reported an increase in revenues in the second quarter, with its wireless business outperforming other businesses. Wireless revenues jumped over 11% in the quarter with improvements in foreign roaming revenues due to higher data usage on ALSK's network by tourists. The company's cell phone plans also led to an increase in broadband revenues. ALSK has also recently started selling the iPhone 4 to customers in Alaska, which is going from a price as low as $150. The recent sales of the iPhone 4 have served to improve its market position in wireless, as the company grew its wireless connection base by almost 3%, improving the churn for the quarter. The company was able to sell almost 23,000 cell phones in 2Q2012, almost half of which were iPhones. In fact, iPhone sales were behind the increase in the company's wireless connections for the quarter.
Below is a brief summary of the company's key business metrics:
 
 
 

Q2 2012

Q2 2011

Voice:

 
 
 
 

Business Access Lines

82,083

84,896

ARPU

 
 

$24.49

$26

 
 
 
 
 

Broadband

 
 
 

Business Connections

19,069

19,054

ARPU

 
 

$147

$133

 
 
 
 
 

Wireless

 
 
 
 

Postpaid connections

107,700

108,500

Prepaid connections

12,346

8,146

ARPU

 
 

$18.70

$16.08

 
 
 
 
 

Churn

 
 
 
 

Voice access lines

 

1.40%

1.50%

Wireless connections

2%

2.10%
Key Developments
As previously mentioned, the company only recently started selling the iPhone, and even though it has led to EBITDA contraction because of increased subsidy expenses, it has also helped the company grow its subscriber base and increase its equipment sales. With the iPhone in its portfolio, further growth in customer additions can be expected.
General Communication Inc. (NASDAQ:GNCMA) and ALSK have recently signed agreements to constitute the Alaska Wireless Network (AWN), which will operate both companies' wireless networks. The responsibilities of AWN will be to design and operate a statewide network to provide next generation service plans for both companies' subscribers. Under the terms of the agreement, ALSK will receive deleverage its balance sheet. from General Communication for its wireless assets. Moreover, it will also be eligible to receive preferential cash distributions of almost $200 million. The transaction, which is subject to FCC approval among others, is expected to be closed by mid-next year. The company plans to use the $100 million it receives as part of the deal to pay down its debt and strengthen its cash position.
S&P has affirmed ALSK's credit rating as it believes the ALSK and GCI joint venture will help the company deleverage its balance sheet.
Financial Position
The company has historically posted high gross margins, which have remained stable around 60%. Margins are also higher than the industry average. In the financial year ended 2011, the company posted operating margins of approximately 15%, also higher than GNCMA's 13%. The company only had $17 million of cash on its balance sheet as at the recent quarter end, however, the aforementioned AWN transaction will boost its cash reserves. ALSK has a total debt of $570 million, which is a cause for concern, as it doesn't have significant cash balances. However, its interest coverage ratio has generally improved.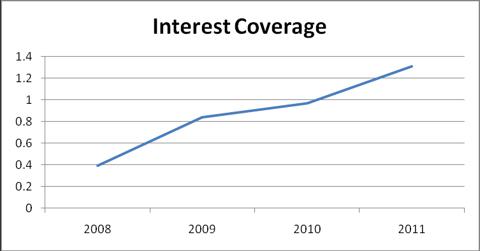 Click to enlarge
Dividends
The company has recently cut its dividends and is now paying $0.2 per share in annualized dividends. The decision to cut the dividends was a prudent move, as it freed up capital to invest in wireless networks, and we believe the current dividend is very much sustainable. In the six months ended June 2012, ALSK paid $4.5 million in dividends, while it generated operating cash flows of $37 million. Even before the dividend cut, the company had the capacity to cover its dividend payments through its operating cash flows. The stock offers a very attractive dividend yield of 9%.
The stock is trading at 9 times its forward earnings, which is a significant discount to its rival General Communication Inc, which is trading at 26 times its forward earnings. ALSK also looks cheap on a price-to-sale basis, with the stock trading at 0.28 times, which is also much lower than GNCMA's 0.56x.
Disclosure: I have no positions in any stocks mentioned, and no plans to initiate any positions within the next 72 hours.
Business relationship disclosure: The article has been written by Qineqt's Telecom Analyst. Qineqt is not receiving compensation for it (other than from Seeking Alpha). Qineqt has no business relationship with any company whose stock is mentioned in this article