It has been a very solid last two weeks for my portfolio's performance. The commodity and oil services stocks I hold have been star performers as oil continues to rise and investors try to get ahead of QE3. I also have gotten some nice pops in a pair of $4 biotech stocks I hold. Both have some solid momentum and could be heading quite a bit higher, especially if they can broach the $5 level, where myriad institutions can add them to their portfolios.
"Vical Incorporated (NASDAQ:VICL) engages in the research and development of biopharmaceutical products based on its deoxyribonucleic acid (Private:DNA) delivery technologies for the prevention and treatment of serious or life-threatening diseases." (Business description from Yahoo Finance)
4 reasons VICL is a solid speculative play at $4 a share:
I have owned and written about this company since early this year, when it traded at $3 a share. The company provided great news today, announcing that it has licensed its vaccine and immunization technology to Bristol-Myers Squibb (NYSE:BMY). The stock is up 6% on this major announcement.
Vical has a strong balance sheet, with over $90mm worth of net cash (around 30% of market capitalization).
In the company's Phase III registration trial of Allovectin in patients with metastatic melanoma, the data collection for the primary endpoint is completed. The company expects to reach the target number of death events for the secondary endpoint (overall survival) in late 2012. Vical should release the data of this important trial soon thereafter. I would not be surprised to see the stock price run up as we get closer to this news release.
The median price target on VICL is $5.50 a share.
"Dynavax Technologies Corporation (NASDAQ:DVAX) is a clinical-stage biopharmaceutical company that discovers and develops novel products to prevent and treat infectious and inflammatory diseases." (Business description from Yahoo Finance)
4 reasons DVAX has significant upside from just over $4 a share:
Three analysts have price targets ranging from $6 to $10 a share, all substantially above the current stock price.
The U.S. Food and Drug Administration recently has informed the company that its Vaccines and Related Biological Products Advisory Committee is scheduled to discuss Heplisav at its meeting on November 14-15, 2012. The company's most important drug is already approved in Europe. The FDA should complete this review in late February 2013.
Analysts currently expect the company to quadruple revenues and break even in FY2013, which will be a seminal event for the stock's possible price appreciation.
The company has over $150mm in net cash on its balance sheet (around 20% of market capitalization). The stock has also crushed the S&P in performance over the past month (see chart below), and I expect the positive momentum to continue.
(click image to enlarge)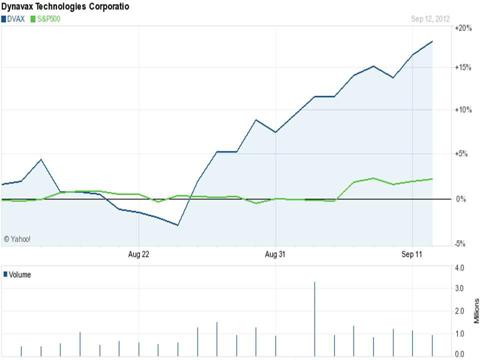 Disclosure: I am long DVAX, VICL. I wrote this article myself, and it expresses my own opinions. I am not receiving compensation for it (other than from Seeking Alpha). I have no business relationship with any company whose stock is mentioned in this article.