Monster Beverage (NASDAQ:MNST)
Overall Short Opinion (1 to 10, 1 is a bad short idea, 10 is the best): 8
Price: $57.98
Shares Outstanding: 176 Million
Market Cap: $10.3 Billion
Short Interest as % Float: 2.2% -- Short Interest jumped by 70% from July 31 to August 15.
Upcoming Catalysts: Earnings are November 2. Last quarter, the company missed by 3% and fell 10% following the earnings release.
Ownership: Fidelity owns 7.25% and recently sold roughly 2.5 million shares as of the last filing date effective 7/31/12. Billionaires Jim Simons and Steve Cohen's funds (Renaissance Technologies and SAC Capital) increased their respective positions to 2.8 million and 2.2 million shares.
Business: Monster Energy is an energy drink, launched by Hansen Natural in 2002.[1] It comes in a black can with a green neon logo. "Monster Java" was the first energy drink to be sold mixed with coffee. There are now 27 different drinks under the Monster umbrella in North America, including its core Monster Energy line, Java Monster, Extra Strength, Import and Rehab.
Over the past couple of years, the company has been rapidly expanding into new international markets, and it is clear that the Monster brand has done quite well in these markets.
In January of 2012, the company changed its name from Hansen Natural to Monster Beverage.
Notable News/Events: In its recent quarterly filing, Monster announced that it had been subpoenaed in regards to ingredients and marketing of its energy drinks by the New York attorney general. It is also noted that the same subpoena was sent to PepsiCo (NYSE:PEP) and Living Essentials, maker of the Five Hour Energy drink.
The probe is examining how the drinks are made (mostly with caffeine and sugar), along with what critics say is a mostly useless amount of Vitamin B. Also at issue here is how the drinks are marketed at sports bars.
In April, Senator Dick Durbin called for the investigation of energy drinks following the death of a 14 year old girl who consumed two 24 oz. Monster Energy drinks. Just this week, Durbin again wrote to the FDA, noting his health concerns. It seems like Durbin really has a thing out for the energy drink companies, and this might just be the start of some deeper investigations.
There is also an outstanding lawsuit from May of 2009, in which a Canadian law firm filed a complaint against Monster and Red Bull for -- "violating three federal consumer protection laws because they failed to provide warnings on labels that their products - which usually contain caffeine, taurine and sugar - could cause heart problems." However, the plaintiff claims would only result in damages of $25 million if MNST is found to be in violation of the laws.
The NY AG subpoena is really the one that could cause some problems for MNST. If it is found that Monster must begin to re-label its energy drinks, it might not be that big of a deal, but if they are somehow forced to change the recipe and omit taurine and or caffeine from the formula, it could be extremely detrimental for the business.
Morningstar put out a good note on the matter:
Should the investigation result in only a small fine and label alterations, we believe the impact to Monster would be negligible. However, our downside scenario for Monster (which incorporates 9% average annual revenue growth and 26%-27% operating margins) results in a $38 fair value estimate and could come to fruition if the fine is large enough and if the AG mandates the removal of certain ingredients (such as caffeine or taurine). If energy drink makers have to meaningfully alter their recipes and marketing practices, consumers may just shift back to the classic caffeinated drinks like coffee and carbonated soft drinks (such as Coca-Cola KO and Mountain Dew).
But in all reality what are the odds that the AG would force Monster or others to remove caffeine from its products? Our world spends a good deal of discretionary income on coffee as it is, why should the energy drink companies be punished?
A regular Monster Energy 16 oz. drink contains 160 mg. of caffeine or roughly 10 mg./oz., similar mix for other energy drinks such as Red Bull, Full Throttle, etc.
A 16 oz. cup of coffee from Starbucks contains 320 mg. of caffeine or nearly double that of the everyday energy drink.
So what's the fuss?
A study from 2009 entitled Caffeinated Energy Drinks -- A Growing Problem by several members of the Department of Psychiatry and Behavioral Sciences at the John Hopkins University School of Medicine concluded that there needed to be further regulation of the industry.
The study notes that, "The regulation of beverages to which caffeine is added has been challenging, partly because of the widespread and long-term use of beverages such as coffee and tea in which caffeine is a natural constituent" -- and that most energy drinks now exceed the limits set by the FDA for soda manufacturers in the 80's.
It goes beyond caffeine though as most energy drinks are full of other substances such as taurine, riboflavin, pyridoxine, nicotinamide, other B vitamins, and various herbal derivatives. The John Hopkins study notes that, "The acute and long-term effects resulting from excessive and chronic consumption of these additives alone and in combination with caffeine are not fully known. Although the full impact of the rise in popularity of energy drinks has yet to be realized, the potential for adverse health consequences should be considered and may be cause for preemptive regulatory action."
Then there's the whole alcohol issue. Go visit the local bar and ask for a "Red Bull and vodka" and the barkeep will probably acknowledge that you weren't the first to ask for one today. It's a growing epidemic. As far as the U.S. is concerned, we've sort of ignored the issue at hand. Canada requires labels indicating that Red Bull should not be mixed with alcohol and that maximum daily consumption not exceed two 8.3 oz. cans (Health Canada, 2005). Norway restricts the sale of Red Bull to pharmacies, while France (until recently) and Denmark have prohibited the sale of Red Bull altogether.
In a survey of 496 college students from the JH study, 27% reported mixing alcohol and energy drinks in the past month. Of those that mixed energy drinks and alcohol, 49% used more than three energy drinks per occasion when doing so. A past study of the effects of alcohol and energy drinks noted that the combination "makes drinkers feel more stimulated than alcohol alone. However, it has no effect on the impulsivity and lack of inhibitions that come with drinking", says study researcher Cecile Marczinski, PhD, an assistant professor of psychology at Northern Kentucky University.
Monster has warnings on its label, but they are rather sparse. See below: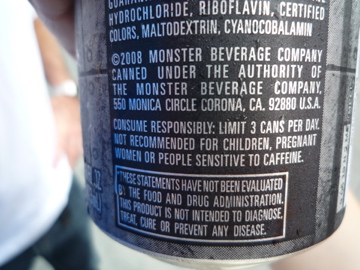 Stock Performance:
The stock has been a proud member of the momentum-high growth crowd for the past three plus years. A $10,000 investment in Monster back in August of 2009 would today be worth nearly $40,000, a 300% return.
That near 300% increase was not based on smoke and mirrors, but actual results, as the company has turned in stellar growth. Monster's energy drinks, which have a certain appeal to younger consumers, powered the company to an increase in revenue of about 50% between 2009 and 2011, even in the face of a weak economic recovery.
As shown below, Monster has significantly outperformed its Beverage Benchmark over the past two years and for good reason- the Energy Drink (or Alternative Beverages category as it is sometimes referred to) has been on fire (see table below). In 2011, average sales to Convenience Stores in the category were up 15%, versus sales growth of Carbonated Soft Drinks of only 1.7%. The Soda Business is dead, and the Energy Drink category, along with Sports Drinks (and to a lesser extent the Juice Category) have become the new leaders.
Fundamental Overview: Monster has solid gross profit margins of 52%, and earns a return on invested capital of over 30%, more than twice that of Coca-Cola's (NYSE:KO) 13%.
Monster currently trades at a trailing 12 month P/E Ratio of 32, and trades at a forward P/E based on 2013 Estimates of 24x -- certainly a step down from only June of this year when the stock was trading at nearly 40x earnings.
Strong Balance Sheet with nearly $900 million in cash, and zero long-term debt.
Over the past several months, Monster's valuation from an EV/EBITDA standpoint has started to look more reasonable, and is now in line with levels seen back in early 2012.
Yet at its current valuation of 15.3x the current fiscal year EBITDA, the stock still appears expensive. It's tough to draw comparisons between any other beverage company, since Monster's near 30% growth dwarfs any and all competitors.
As an example, Coke grew sales by 13% in the past year, Pepsi at 7%, Dr Pepper Snapple (NYSE:DPS) at 3.5%. The soda business on average is not a high growth business by any means-estimates for revenue growth in the overall Beverage industry are less than 4% for 2013. As mentioned previous, the Energy drink category has started to take market share away from the traditional Soda business in a big way. Monster has certainly succeeded as one of the big players in a niche business (energy drinks), one that many publicly traded Beverage competitors have failed to take advantage of.
Pepsi's Amp Energy and Coke's Full Throttle certainly haven't seen the success of Monster or privately held Red Bull. According to Convenience News Online (see chart below), Amp and Full Throttle turned in poor results in 2011, showing growth of 2.6% and -10.8% respectively.
As for Monster, they hold four of the top ten selling convenience store brands, with their flagship Monster Energy drink only second to Red Bull in overall convenience store sales.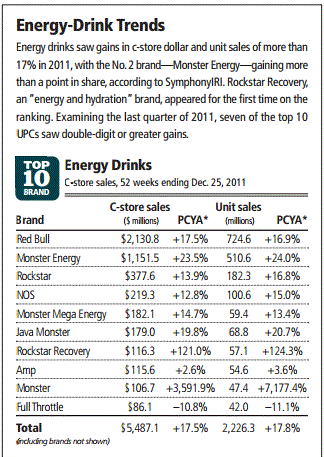 The dominance of Monster's energy drinks over Beverage peers such as Coke and Pepsi has also led to many rumors in past that Coke or Pepsi might be interested in acquiring MNST.
The stock jumped nearly 26% back in April on a story from the WSJ that noted that KO was in discussions with MNST, yet the rumor was quickly squashed by KO, noting that there is a distribution agreement in place with Monster, and they often 'meet to discuss commercial ventures'.
Question is: Can the growth continue? Estimates for the next several quarters are pointing at slowing growth, and Bloomberg Estimates call for mid-to-high teen's growth over the next five years, a slowdown from the 25-30% growth over the past several years.
Morningstar's analyst (who has a $55 target) believes that the stock deserves a forward P/E of 28x and a 16.5 EV/EBITDA multiple, while JPMorgan's analyst thinks the stock is worth $70 or 29.4x his 2013 Estimate of $2.42.
That $2.42 for 2013 might be optimistic. CNBC's Herb Greenberg, who always likes to get the scoop on these sorts of story stocks, spoke to John Sicher, editor of Beverage Digest. His findings: "Household penetration has fallen flat. He's seen this before and it suggests that growth for the category as a whole is likely to slow over the next few years."
I think there has certainly been a hint of a takeover premium built into the valuation for the stock. Yet if growth is indeed growing as dramatically as some of the industry insiders think, the premium multiples will no longer be warranted.
Technical Views: Just a quick look at the chart and you sort of get the whole story. Big, big momentum run up until June and the sky has started to fall rather dramatically.
In the shorter term, you'll see the big volume spike (circled) following the AG news which is what really started to turn sentiment on the stock negative. If it can get through $61.58 on the upside, there is a gap to fill and the stock will likely turn back to the high $60's, low $70's. If it falls through $55.56, it heads to $52, and below $52, it could be lights out.
Conclusion: Industry trends turning negative, slowing growth, slowing momentum, investigation into marketing practices and product ingredients all add up to a situation which looks like it might be a good short. However, if the subpoena turns out to be just be a slap on the wrist, the stock might rally rather significantly. Thinking that there is probably some expectation baked into the stock here that there could be a rather hefty fine or even worse, a forced regulation on the actual ingredients of the MNST energy drinks. No idea when any sort of word comes from the AG, so it could be a longer-term play. If looking to control risk, use that $61.58 as the overhead stop. We are short at an average price of $56.70.
Disclosure: I am short MNST. I wrote this article myself, and it expresses my own opinions. I am not receiving compensation for it (other than from Seeking Alpha). I have no business relationship with any company whose stock is mentioned in this article. We are short at an average price of $56.70. Stop set at $61.58. Target is $40.