Today's announcement by the Federal Reserve of a third round of money printing (known in more polite circles as QE3 or "quantitative easing") will likely be looked back upon by financial market historians as the central bank initiative that launched gold and silver prices to historic highs, set to be reached sometime over the next few years.
Anyone purchasing gold or silver coins and bars or shares in popular exchange traded funds such as the SPDR Gold Shares ETF (NYSEARCA:GLD) or the iShares Silver Trust (NYSEARCA:SLV) today will also probably look back at this time a year or two from now with fond memories.
After last week's announcement by the European Central Bank of unlimited buying bond buying and today's similar open-ended commitment to more money printing by the Fed, the world has clearly entered a new phase of central bank policymaking and this can only be good news for gold and silver investors.
The Fed's plan to purchase some $40 billion in mortgage backed securities per month was what made headlines today, but, probably the more important news came in the passage below from the policy statement in which the open-ended nature of the policy change is made clear.
If the outlook for the labor market does not improve substantially, the Committee will continue its purchases of agency mortgage-backed securities, undertake additional asset purchases, and employ its other policy tools as appropriate until such improvement is achieved in a context of price stability.
Put simply, we don't know how much money the Fed is going to conjure out of thin air and at what rate the money will be created, but what we do know is that each incremental amount of money they do print will make gold and silver more valuable in dollar terms.
Perhaps the best investment advice that could be offered today is, "As long as the Fed keeps printing money, keep buying what has served as money over the millennia - gold and silver."
I'm reminded of the days back when Fed Chief Ben Bernanke first began his term as chairman of the central bank and how the gold price moved during his early years, the chart below from this item at the old blog in 2007 prepared to demonstrate just how positive a response it was back then when the gold price was a fraction of what it is today.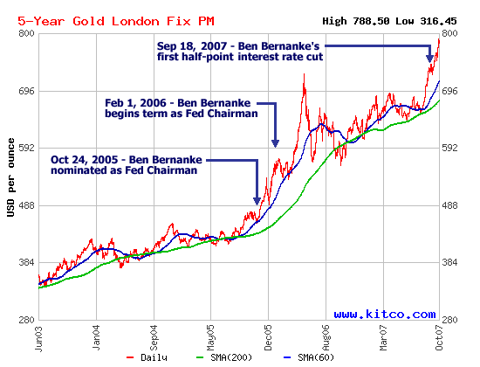 Click to enlarge
(Click to enlarge)
Today's more than $30 an ounce rise in the gold price and the gain of more than a dollar an ounce for silver are surely a sign of things to come and, about the time that the Fed thinks it might be able to start raising interest rates again in 2015, there should be no shortage of charts like the one above chronicling the historic rise in metal prices during Ben Bernanke's later years.
He truly is "Golden" Ben Bernanke.
Disclosure: I am long GLD, SLV. I wrote this article myself, and it expresses my own opinions. I am not receiving compensation for it (other than from Seeking Alpha). I have no business relationship with any company whose stock is mentioned in this article. I also own gold and silver coins and bars