John Wiley & Sons Inc. Cl A on Monday reported preliminary financial results for the quarter ended 2012-07-31.
John Wiley & Sons Inc. Cl A (NYSE:JW.A) recently reported its preliminary financial results based on which we provide a unique peer-based analysis of the company. Our analysis is based on the company's performance over the last twelve months (unless stated otherwise).
John Wiley & Sons Inc. Cl A's analysis versus peers uses the following peer-set: McGraw-Hill Cos. (MHP), Reed Elsevier PLC ADS (RUK), Reed Elsevier N.V. ADS (NYSE:ENL), Gannett Co. Inc.(NYSE:GCI), Meredith Corp Cl B (OTCPK:MDPEB) and Scholastic Corp. (NASDAQ:SCHL). The table below shows the preliminary results along with the recent trend for revenues, net income and returns.
| Quarterly (USD million) | 2012-07-31 | 2012-04-30 | 2012-01-31 | 2011-10-31 | 2011-07-31 |
| --- | --- | --- | --- | --- | --- |
| Revenues | 410.7 | 454.6 | 451.1 | 447.0 | 430.1 |
| Revenue Growth % | (9.6) | 0.8 | 0.9 | 3.9 | (3.3) |
| Net Income | 36.1 | 48.3 | 62.9 | 50.8 | 50.8 |
| Net Income Growth % | (25.2) | (23.3) | 23.9 | (0.0) | 77.8 |
| Net Margin % | 8.8 | 10.6 | 13.9 | 11.4 | 11.8 |
| ROE % (Annualized) | 14.2 | 18.9 | 24.8 | 20.0 | 20.4 |
| ROA % (Annualized) | 5.8 | 7.7 | 10.6 | 8.8 | 8.5 |
Valuation Drivers
John Wiley & Sons Inc. Cl A's current Price/Book of 2.8 is about median in its peer group. The market expects JW.A-US to grow at about the same rate as its chosen peers (P/E of 14.7 compared to peer median of 14.9) and to maintain the peer median return (ROE of 19.5%) it currently generates.
The company attempts to achieve high profit margins (currently 11.2% vs. peer median of 7.8%) through differentiated products. It currently operates with peer median asset turns of 0.7x. JW.A-US's net margin has declined 0.7 percentage points from last year's high but remains above its four-year average net margin of 9.4.
Economic Moat
The company's year-on-year change in revenue of 2.3% is better than the peer median but it has not resulted in the same quality of annual earnings growth (23.8% compared to the peer median of 23.1%). This suggests that JW.A-US's current relative cost structure needs to improve to move to a leading position among its peers. JW.A-US is currently converting every 1% of change in revenue into 10.3% change in annual reported earnings.
JW.A-US's return on assets currently is around peer median (8.3% vs. peer median 8.3%) - similar to its returns over the past five years (6.6% vs. peer median 6.6%). This performance suggests that the company has no specific competitive advantages relative to its peers.
The company's comparatively high gross margin of 74.4% versus peer median of 61.1% suggests that it has a differentiated strategy with pricing advantages. However, JW.A-US's pre-tax margin of 14.2% is around the peer median which, combined with the healthy gross margin, suggests higher operating costs relative to peers.
Growth & Investment Strategy
While JW.A-US's revenues have grown faster than the peer median (3.4% vs. -0.6% respectively for the past three years), the market gives the stock an about peer median P/E ratio of 14.7. This suggests that the market has some questions about the company's long-term strategy.
JW.A-US's annualized rate of change in capital of 4.6% over the past three years is around its peer median of 4.6%. This median investment has likewise generated a peer median return on capital of 12.4% averaged over the same three years. This median return on investment implies that company is investing appropriately.
Earnings Quality
JW.A-US has reported relatively strong net income margin for the last twelve months (11.2% vs. peer median of 7.8%). This margin performance combined with relatively high accruals (7.9% vs. peer median of 6.4%) suggests possible conservative accounting and an understatement of its reported net income.
JW.A-US's accruals over the last twelve months are positive suggesting a buildup of reserves. In addition, the level of accrual is greater than the peer median - which suggests a relatively strong buildup in reserves compared to its peers.
Trend Charts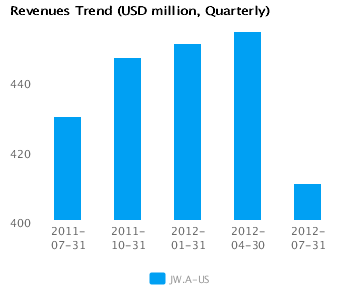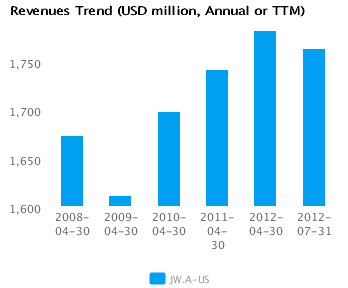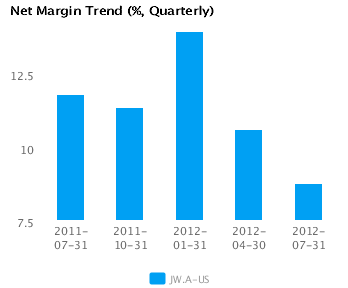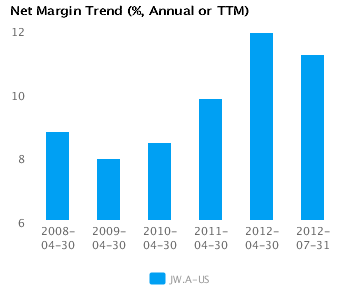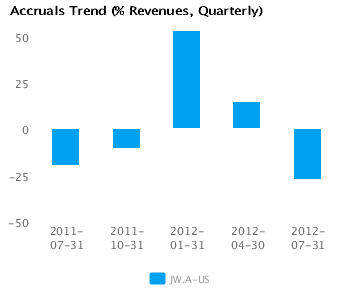 John Wiley & Sons, Inc. engages in the publishing of print and electronic products, providing content and digital solutions to customers worldwide. The company operates through three segments: Scientific, Technical, Medical & Scholarly, Professional/Trade and Global Education. The Scientific, Technical, Medical & Scholarly segment provides content and content-enabled digital services for the scientific, technical, medical and scholarly communities worldwide, including academic, corporate, government and public libraries; researchers; scientists; clinicians; engineers and technologists; scholarly and professional societies; and students and professors. Its products include journals, books, major reference works, databases, clinical decision support tools and laboratory manuals and workflow tools. The Professional/Trade segment acquires, develops and publishes books, workflow solutions, certification and training services and other information services in the subject areas of business, technology, architecture, cooking, psychology, professional education, travel, health, consumer reference and general interest. It products are developed for worldwide distribution through multiple channels, including major chains and online booksellers, independent bookstores, libraries, colleges and universities, warehouse clubs, corporations, direct marketing and websites.
The Global Education segment publishes educational content for two and four-year colleges and universities, for-profit career colleges, advanced placement classes, as well as secondary schools in Australia. It delivers its content, tools and resources to students, faculty and institutions principally through college bookstores and online distributors, with customers having access to content in muti-media formats as well as the traditional textbook. John Wiley & Sons was founded in 1807 and is headquartered in Hoboken, NJ.
Disclaimer
The information presented in this report has been obtained from sources deemed to be reliable, but AnalytixInsight does not make any representation about the accuracy, completeness, or timeliness of this information. This report was produced by AnalytixInsight for informational purposes only and nothing contained herein should be construed as an offer to buy or sell or as a solicitation of an offer to buy or sell any security or derivative instrument. This report is current only as of the date that it was published and the opinions, estimates, ratings and other information may change without notice or publication. Past performance is no guarantee of future results. Prior to making an investment or other financial decision, please consult with your financial, legal and tax advisors. AnalytixInsight shall not be liable for any party's use of this report. AnalytixInsight is not a broker-dealer and does not buy, sell, maintain a position, or make a market in any security referred to herein. One of the principal tenets for us at AnalytixInsight is that the best person to handle your finances is you. By your use of our services or by reading any our reports, you're agreeing that you bear responsibility for your own investment research and investment decisions. You also agree that AnalytixInsight, its directors, its employees, and its agents will not be liable for any investment decision made or action taken by you and others based on news, information, opinion, or any other material generated by us and/or published through our services. For a complete copy of our disclaimer, please visit our website analytixinsight.com.
Disclosure: I have no positions in any stocks mentioned, and no plans to initiate any positions within the next 72 hours. I wrote this article myself, and it expresses my own opinions. I am not receiving compensation for it. I have no business relationship with any company whose stock is mentioned in this article.