Nevada: North America's Gold Leader
With gold prices exhibiting a steady upward trend in the last 60 days, there has been a great deal of "gold-talk" as of late. When discussing gold and/or gold production in North America, one of the first topics to be brought up is: Nevada - and rightfully so. "The Silver State" is responsible for 79% of the total U.S. gold production and has produced 200 million ounces of gold to-date. Furthermore, Nevada's gold deposits constitute the 2nd largest concentration of gold on earth after South Africa. It is no surprise then, that the world's largest gold mining companies - Barrick Gold Corporation (NYSE:ABX), Goldcorp Inc. (NYSE:GG), Newmont Mining Corporation (NYSE:NEM), Kinross Gold Corporation (NYSE:KGC) and many more - have set up extensive operations in Nevada.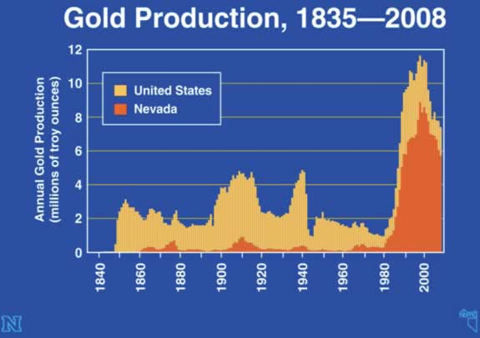 It is common knowledge that gold deposits tend to cluster together into trends/belts. It is less known, that while gold trends exist in many areas across Nevada, a staggering 80% of the gold it produces originates from the state's North-Central region. The two biggest mining companies in the North-Central region of Nevada are Barrick Gold and Newmont Mining.
Sources of New Drill Sites
Large mining companies are often required to find and replace resources through exploration and strategic acquisitions. However, searching for gold is a complex and time-intensive process - with odds of 1 in 3,000 discoveries leading to mine development. In an effort to minimize the mining industry's soaring cost of building new mines, part of Barrick's strategy is to locate new resources near existing mines. Newmont also recognizes the challenge of independently discovering new gold deposits in sufficient quantities to be profitable and readily "seek exploration partners and/or acquire junior mining companies to expedite the process." In recent years, Barrick has acquired Equinox and Placer Dome, while Newmont has acquired Fronteer Gold and Miramar.
With large mining companies seeking to contribute to their growth profiles while remaining close to existing operations, we ask ourselves: What are some promising North-Central Nevada sources of gold? There exist numerous Nevada based exploration/discovery companies, such as: Pilot Gold (NYSEMKT:PLG), Rye Patch Gold (NYSE:RPM), or Paramount Gold (NYSEMKT:PZG) or Pershing Gold (NASDAQ:PGLC). However, one such company possesses a strategically located lead property that calls for closer examination.
Valor Gold Corporation
Valor Gold Corporation (VGLD.OB) is a newly-formed, "exploration stage" company located in the heart of The Battle Mountain-Eureka Gold Belt, an abundant gold deposit containing at least 50 million known ounces of gold. Valor currently has two properties, Red Rock and North Battle Mountain, but is currently concentrating its efforts on the former. Valor is looking to add additional land to North Battle Mountain before taking further action. Red Rock is located at the intersection of three major gold trends:
1. The Battle Mountain Eureka Gold Trend, a prolific gold belt containing at least 50 million known ounces of gold.
2. The Rabbit Creek Gold Trend, a gold belt containing at least 40 million known ounces of gold.
3. The Caetano Caldera Trend, a major crustal break that helped localize approximately 30+ million known ounces of gold.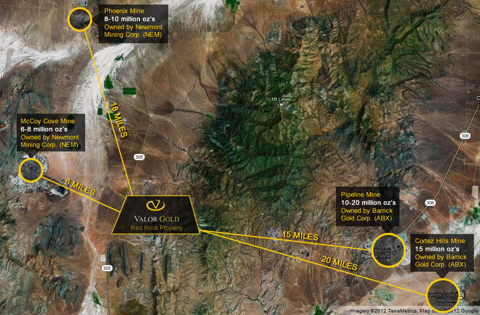 As illustrated in the above diagram, Barrick operates the Cortez Hills mine, which is located 16 miles east of Valor's Rec Rock property and has produced over 15 million ounces of gold. Barrick's Pipeline mine is located 15 miles east of Valor's Red Rock property and has produced over 10 million ounces of gold. Newmont operates the Phoenix Mine, which is located 18 miles north of Valor's Red Rock property and has produced 8-10 million ounces of gold. Newmont's McCoy mine is located 6 miles west of Valor's Red Rock property and has produced 6-8 million ounces of gold. The fact that the Red Rock property is surrounded by world-class gold deposits bodes well for Valor.
Valor's initial drill program determined Red Rock to possess not only shallow gold, but also high surface gold values of 0.38 opt/Au. In addition, both Valor properties exhibit high associated trace elements similar to those in Carlin-type deposits. A useful comparable for Valor Gold Corporation's initial drill results would be those of Gold Standard Ventures (GSV.V). Gold Standard experienced similar Stage 1 drill results in the beginning of 2010, while their stock was around $0.40/share. After their next phase of drilling, they discovered a much larger deposit and stock prices soared to $3/share before settling around its current $1.75/share - a feat Valor aims to duplicate. In previous drilling, Valor had intersected ore-grade gold in 5 drill holes - indicating that they appear close to a major gold occurrence.
The key with all junior exploration companies comes down to the proficiency of their geological team's leader - a factor that Valor is entirely aware of. As a result, Valor's chief geologist, President, and CEO is Arthur Leger. Mr. Leger was chosen to be a director of the company based on his long history of mining resource and business experience. David Rector and Oliver-Barret Lindsay both serve as directors of Valor. Mr. Rector was selected due to his substantial knowledge of the mining industry, his judgment in assessing business strategies and his years of experience as an officer and director of public companies. Mr. Lindsay was chosen to chosen based on his extensive experience as an entrepreneur and as an investor in precious metals exploration companies.
Conclusions
Investors are urged to proceed with caution and conduct their own due diligence. The risks associated with investing in microcap companies include, but are not limited to: increased liquidity risk, high price volatility, speculation-based movement in share prices, and relatively few legitimate sources of information, resulting in misinformation being able to spread with ease. At this moment in time, the most prominent risk to Valor Gold Corporation is an elevated liquidity risk due to their low average-volume traded.
Valor's Red Rock property is situated at the intersection of major three trends and exhibits promising data from early drilling results. In addition, all preliminary geologic, geochemical, and geophysical activates have been completed and drill targets have been defined. Considering their team of seasoned exploration geologists, Red Rock's surface gold values, and the prosperity of surrounding mines, Valor's Red Rock property appears to be in a very desirable location for gold deposits.
Valor Gold Corporation has no plans to become a mining company - once gold is discovered, Valor will contact a major mining company and sell the discovery. Given their proximity and the potential resources at stake, Barrick Gold Corporation and Newmont Mining Company will both appear likely to bid for this opportunity. With continued economic instability and a volatile currency market, many analysts believe the gold industry remains a safe investment. Valor is certainly one to keep an eye on - possibly even warranting a small, speculative position.
Disclosure: I am long GG, VGLD.OB. I wrote this article myself, and it expresses my own opinions. I am not receiving compensation for it. I have no business relationship with any company whose stock is mentioned in this article.