Based on the latest quarterly results, Ford Motor Company (NYSE:F) shares are at a run-rate valuation of under 5 times trough earnings, providing an opportunity to benefit from a multiple expansion while waiting for the expected pent-up vehicle demand corrections in the US, the turn around to profitability in Europe, and the benefits from the business shift to a unified and simpler approach, which resembles the Toyota model more than anything else.
Background
Ford is operating two segments: Automotive (broken into the geographies of North America, South America, Europe & Asia Pacific Africa); and Financial Services (Ford Credit), which provides financing for auto loans.
Following the 2008 near-death-experience, Ford, the only major American auto company not to require a rescue by the US government, began streamlining the business. Under a multi-year, ongoing plan dubbed "One Ford", the idea is to get to fewer than 30 world-wide products for the entire company with the eventual goal of getting to 20 products. Just to put in perspective, General Motors (NYSE:GM) has 20 models of SUVs just for the American market. Ford is aiming to serve all the segments of all the markets with 20 models (similar to Toyota (NYSE:TM), which has 21 models). Additionally, Ford shut down the Mercury operations and sold Jaguar, Land Rover, Volvo and Mazda holdings to focus on the Ford brand.
Ford Credit
Ford Credit is undergoing a significant de-leveraging process bringing the segment's net debt from over 124B in 2007 to just over 73B presently, which is 99% covered by Receivables asset (vehicles-backed payment stream). The reduction in the levels of debt helped the segment in two ways: lower interest payments, and higher credit quality, which in turn drives lower interest rates (Ford recently upgraded to investment grade).
These two factors drive the segment to generate more income per the same level of funding it provides. The flip side is that with less lending activity the overall revenue is lower. However, generating more profits with less risk highly improves the quality and the sustainability of the business, as can be seen in the record low ratio between credit losses and receivables: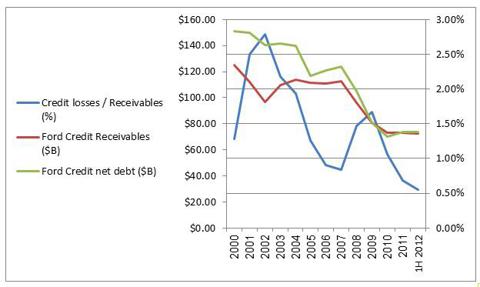 Click to enlarge
The Ford Credit segment is at a run rate of $0.45B of quarterly pre-tax earnings.
Automotive
Based on second quarter results, Ford North America is earning $2B of quarterly pre-tax earnings while Europe is on a dire run rate of $-0.44B per quarter (Euro sales are at a 17 year low). For being conservative I'll assume that South America and Asia / Africa are neutral for earnings, because although presently Asia (China) is actually losing some money, we need to factor in the following:
a. As they build scale, operation will move to profit.
b. It is expected that South America will offset the rest.
For a long term investor, what is happening in Europe is actually great news. In the boom years (up until 2007) Ford built too many factories in Europe, and now the average European factory is estimated to be working at a 65% capacity. As Ford's CEO, Mr. Alan Mulally, acknowledged on the Q2 call, this is more of a secular issue than a cyclical one and coming to a negotiation with the very strong European unions with almost half a billion of quarterly losses is a big advantage, as everyone of the stakeholders understands that the situation is not sustainable (Korean manufacturers employing cheap Eastern Europe labor while Ford is using expensive Western European labor).
Earnings Power
As described above, current contributors to earnings are:
North America Automotive with $2B.
Europe Automotive with $-0.44B.
Ford Credit with $0.45B.
Off the bat, we're looking at an enterprise earning (pre-tax) $2B per quarter or $8B annually, trading at $42B, or just over 5 times pre-tax earnings. The reason we're looking at pre-tax earnings is that Ford has 14B of tax shield to protect them for 3-4 years of earnings.
If the European operations can break even, that's $10B of annual pre-tax earnings, bringing the earnings multiple to 4.
European revenue is 37% of the US revenue. If Ford can squeeze from the European operations 25% of the US earnings (assumes lower margins) that's another $2B of annual pre-tax earnings or $12B, bringing the multiple closer to 3.
But wait, there's more. On average, 13.7M vehicles were sold on the 1980s in the US compared with just 13M in 2011: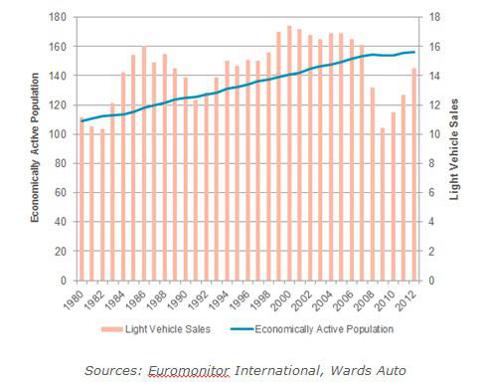 Click to enlarge
Also, we need to factor in the facts that the number of households went up from 86.5M in the 80s to 118M and that the average cars per households went up from 1.8 to 2 (derived from the same link).
If we merely assume a return to the 16M annual car sales, it would mean that pent-up demand will drive strong car sales:
| | | |
| --- | --- | --- |
| Year | Vehicle Sales | Pent-up demand |
| 2011 | 13,040,632 | -2,959,368 |
| 2010 | 11,772,220 | -4,227,780 |
| 2009 | 10,601,368 | -5,398,632 |
| 2008 | 13,493,165 | -2,506,835 |
| 2007 | 16,460,315 | 460,315 |
| 2006 | 17,048,981 | 1,048,981 |
| 2005 | 17,444,329 | 1,444,329 |
| 2004 | 17,298,573 | 1,298,573 |
| 2003 | 16,967,442 | 967,442 |
| 2002 | 17,138,652 | 1,138,652 |
| 2001 | 17,472,378 | 1,472,378 |
| 2000 | 17,811,673 | 1,811,673 |
| 1999 | 17,414,728 | 1,414,728 |
| 1998 | 15,967,287 | |
Pent-up demand column basically just deducts the vehicle sales from the 16M normal annual car sales figure.
If we sum up the Pent up demand column running to 1999 it adds up to over 4M cars that need to be sold above the normal 16M over the coming years. What's nice about the pent-up demand is that every year sales are under the 16M vehicle sales figure, this figure is rising and implying stronger future sales (as a car is a degradable product that can't be used for ever).
The calculation above is highly conservative for these reasons:
For 2012 we expect 14M of US vehicle sales, implying an addition of 2M vehicle demands to the pent-up demand.
16M is the absolute lowest figure I found, if we use a 17M figure we get to total pent-up demand of 17M cars in excess to the level of annual sales of 16-17M.
Summing up the column from 1999 means that we take 13 years old cars as part of our "moving average" calculation, compared with the current average of 10.8 years old cars (which by itself is an all-time high age). If we would have taken the average for only the last ten years, it would have increased the pent-up demand by an additional 4.6M cars.
The above suggests that over the next several years we may see years with vehicle sales surpassing the 20M units per year mark.
If we assume that Ford were to add 30% to the annual US sales, that would be $19B of additional sales and with management guidance of 8-10% of gross margins, it would be $1.5B-$1.9B of additional gross revenue and $1B-$1.5B of additional Operating Income.
Notice that we have a built-in conservatism, as we hidden an assumption of lower market share (the US market expected to grow faster than 30% compared to current levels, based on the pent-up demand expectations explanation above).
Additional factors that can contribute to earning power is lower interest expense, which dropped from $11B in 2007 to $4.4B in 2011. With the help of de-leveraging and lower interest rates helped by the higher debt grade debt interest expense can come down by another $2B over the coming couple of years (I'm ignoring secular interest rate increases as it will be passed on to customers).
For conservatism, I will give zero value to the savings and benefits of the One Ford plan, which already helps them showing similar operating income to the 2005-2007 years, although generating much lower revenue.
To sum up, adding to the $12B of earnings the $1B of pent-up demand in the US and $2B of lower interest expenses means we've totaled $15B of pre-tax earnings. This implies a 2.5 multiple on current market cap. Any upside on cost cutting due to the One Ford plan can bring the multiple even further down. Applying an 8 times pre-tax earnings multiple would result in $120B of market cap or $29 per share, 3 times current share price.
When thinking what Ford will do with the earnings 2-3 years to the future, we can expect significant returns to shareholders via dividends and buy-backs, because their appetite for acquisitions was lost about 5 years ago and because there will not be much more de-leveraging to do - Ford Automotive is already at $10B of net cash and Ford Credit is at an at least 20 years low (couldn't find pre 1992 reports) and some level of leverage makes sense for this segment as it really is a financial institution. Ford is already distributing part of the earnings through dividends and (very) small scale buy-backs.
Risks
Primary risks in the investment are:
Vehicle manufacturing is a bad business with inherent over-capacity and high price competition due to low differentiation between vendors. A margins collapse may create low operating earnings even if the top line significantly grows.
In the theses it was assumed that South America and Asia & Africa are neutral for earnings. A Chinese economy hitting a wall may have an adverse impact on Ford's earnings. This is in fact one of the reasons I prefer Ford over GM, which is five times more exposed to China than Ford. Also, by using the One Ford, a Ford Focus built for the Chinese market could be shipped to the US to meet the rapidly growing demand.
Deteriorating market share. Ford's US market share has dropped from over 22% in 2000 to 16% presently and one of the concerns is that a continued drop would hamper top line growth and would make it difficult for Ford to maintain margins in a business with high fixed costs. I think that the One Ford approach addresses one aspect of the issue by helping to generate more income from a lower revenue level. Also, Ford has been working very hard to beat the image of a truck company that also sells cars and recent Fusion and Focus sales demonstrate that (Focus is actually the world's best-selling car, suppressing Toyota Corolla).
Current (Q2 2012) Pension under-funding stands at $15B. Changes in discount rates, rate of return, mortality, etc. may adversely affect the Enterprise Value.
The article is not a recommendation to buy or sell shares of Ford or any other company mentioned in the article.
Disclosure: Liron Manor and his partners at Capra Capital are long Ford. I wrote this article myself, and it expresses my own opinions. I am not receiving compensation for it. I have no business relationship with any company whose stock is mentioned in this article. The article is not a recommendation to buy or sell shares of Ford or any other company mentioned in the article.