Almost a month ago, I wrote an article about buying Coca-Cola (NYSE:KO) after the stock split. My goal was, and still remains, to buy shares close to the $36 mark. Since Coke has largely remained stagnant, in this article I will describe how I plan on positioning myself in the company, using options instead of stock.
Click to enlarge image.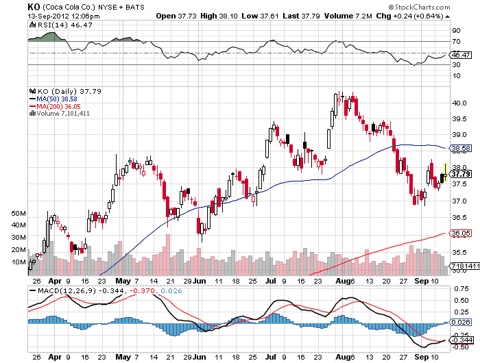 Source: Stockcharts.com.
One thing that is often quite difficult for both traders and investors is patience. When things fail to go as planned, many advance with their game plan whether it still fits the script or not. My plan is to buy Coke near $36, where it will likely receive significant support from its 200-day simple moving average. It has recently broken below its 50-day simple moving average, which is now approximately $38.50, and could act as resistance going forward.
A big part of Coke's rise, in my opinion, is that the S&P 500 just traded at multiyear highs again. With the overall market still headed up, it's hard for a blue-chip company like Coke to go down. I think that when, and not if, the broader market retreats a bit that Coke could and will have a chance at reaching the $36 level. For those of you trying to figure Coke's post-split prices, my entry price would be equivalent to Coke trading at $72, before the split occurred.
I have spent the last few weeks watching Coke, trying to decide on just the right move. I thought about owning the stock outright and I thought about ways to use options to get involved as well. What I came up with was two strategies, one for those who wish to own Coke shares outright and the other for those who wish to use LEAPs.
Trade Strategy No. 1
The first strategy I will cover will be on selling puts to enter a long position in the stock. This strategy pertains to those who wish to own Coke shares outright, possibly to write covered calls along the way, own long term, collect dividend payments, or all three. Here's the trade:
Sell to open 1 January 13 37.5 put at 1.35
What this implies is that if Coke closes below $37.50 on January 2013 expiration, the put seller will be put 100 shares of Coke for each contract that was sold short. This contract is already slightly in-the-money, and should the put seller be put 100 shares of Coke, the cost basis will be $36.15, which includes the premium collected from selling the short put option. If put the stock, here's how it will look:
(Receives) 100 KO at $37.50 = $3,750.00
Less the premium collected: - 135.00
Total Cost: $,3615.00
Cost Basis: $3,615 / 100 = $36.15
This strategy works well if the stock is received by the put writer. It allows for a relatively low price entry in a very low volatile name. Coke also pays a dividend, yielding just north of 2.5%. It's not a huge dividend, but some -- specifically those attracted to dividend paying stocks -- will appreciate the yield it provides, as well as the safety of the blue-chip quality and low volatility.
Trade Strategy No. 2
The second trading strategy I have for Coke is using options as the sole backbone of the trade. In the first strategy, we simply used options as an entry tool into the stock, with the intention of owning the physical shares. In this strategy, I plan to use longer-dated options known as LEAPs to partake in an anticipated rise in Coke shares. Here's the trade:
Buy to open 1 January 14 36.25 call at 2.50
It is important to point out that the call does not currently trade for 2.50, at the moment. With Coke shares trading above that level, and expiration being nearly 500 days away, it is much more expensive. However, should Coke share prices retreat in the coming weeks, or even in the next several months, I suspect the price of this contract will work its way to the $2.50 level.
The advantages here are simple. For a fraction of the cost to owning Coke shares, one can be long 100 shares for nearly two years at an exercise price of $36.25. The drawbacks are also simple, the first and immediate one being that the call buyer does not receive any dividend payments for owning the call contract -- only those who own the outright shares receive dividends. Although the dividend isn't huge, it would still be considered a drawback in not receiving one. Also, the purchaser is paying $250 to own the rights to Coke shares at $36.25, which means that Coke must be greater than $38.75 ($36.25 + $2.50 = $38.75) by the time January 2014 expiration comes around. However, the advantage here is that Coke has very low volatility, making the price of the options relatively cheap.
Overall, I consider both of these trades to be very good. With the recent strength in the SPY and introduction of more Fed easing, I tend to favor trading option No. 1. While I do like owning LEAPs for the pure simplicity of owning a large amount of shares for a sustained amount of time, while only paying a fraction of the price, I think in this instance selling puts to enter a quality name may be easier. However, I have not selected a method due to the current price of Coke. I will likely engage in both methods in order to get the best of both worlds.
Disclosure: I have no positions in any stocks mentioned, but may initiate a long position in KO over the next 72 hours. I wrote this article myself, and it expresses my own opinions. I am not receiving compensation for it (other than from Seeking Alpha). I have no business relationship with any company whose stock is mentioned in this article.