No, the Federal Reserve did not cut interest, but one central bank did - the RBNZ, which is short for the Reserve Bank of New Zealand.
For the first time in 5 years, the Reserve Bank of New Zealand cut interest rates by 25bp to 8 percent and signaled that rates will be cut even further.
Going into the meeting, the futures curve was pricing in 5 rate cuts over the next 12 months and this is the first of the five.
The New Zealand economy has been struggling for the past month with retail sales falling by the most in 4 years and consumer confidence hitting record lows. The New Zealand is at risk of hitting a recession.
The dovish comments from RBNZ Governor Bollard will keep the currency under water for some time. Expect the New Zealand dollar to particularly under perform currencies whose central banks are still holding onto tight monetary policies - like the Euro!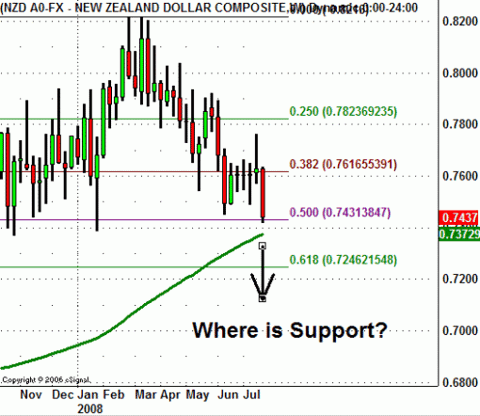 Click to enlarge
Source: eSignal