On Thursday, I wrote an article on mortgage REIT preferreds, in which I stated:
Bottom Line: Investors who want higher yields, but are wary of potential dividend cuts of the mortgage REITs, should consider the preferred stock of mREITs. While the yield is not as high as the common equity yields, the preferred stocks cannot cut the dividend, creating a more stable yield alternative.
After the article was published, I realized that I have been writing about mortgage REITs quite a bit lately and swore I was going to take a break and set my sights on other sectors (I have been working on Energizer Holdings) to avoid falling into a rut. As well, many of my readers/followers are not singularly focused on mREITs and I owe them diversity.
Well, the best laid plans of mice and men... Along comes Apollo Residential Mortgage (NYSE:AMTG) with its maiden preferred stock issue. Apollo issued an 8% perpetual preferred. Here are the details:
| | |
| --- | --- |
| Issuer | Apollo Residential |
| Issue | Series A cumulative perpetual preferred |
| Coupon | 8.00% |
| Ticker | AMTGPrA (expected) |
| Deal Size | $150,000,000 (6mm shares) |
| Optional Redemption | September 20, 2017 |
| Dividend Dates | Last day of January, April, July and October. 1st dividend will be January 31, 2013 |
| Special Redemption | Upon change of control |
| Conversion Rights | Upon change of control if not redeemed |
Issuer Description
Apollo Residential is a residential real estate investment trust that invests, on a leveraged basis, in residential mortgage assets throughout the United States. Their portfolio of assets currently consists of Agency RMBS, Agency IOs and Agency IIOs, and non-Agency RMBS. Over time, the company may invest in a broader range of other residential mortgage and mortgage-related assets, including but not limited to, residential mortgage loans and mortgage servicing rights. The company is externally managed and advised by ARM Manager, LLC, an indirect subsidiary of Apollo Global Management, LLC. The company had its IPO in July 2011.
Currently, the company is 5.5x levered. It is able to utilize lower leverage due to the inclusion of non-agency (Alt-A) RMBS in its portfolio (it has been emphasizing Alt-A in the recent quarter). Agency RMBS are levered 8x, while non-agency are levered 3x.
As of June 30, 2012, Apollo's portfolio statistics and net interest spread had the following characteristics (source: 10Q):
Click to enlarge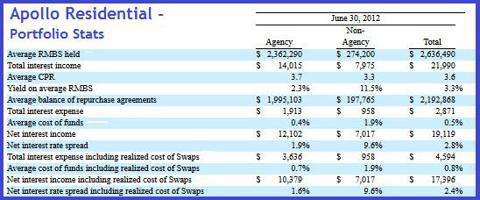 Click to enlarge
Apollo Residential also had the following sensitivity profile as of June 30, 2012:

I wrote an article showing the various mREIT sensitivities and leverage here and here if you would like to see how Apollo stacks up.
Relative Value
From my article on Thursday, here is a listing of mREIT preferred stock of American Capital Agency (NASDAQ:AGNC), Annaly Capital (NYSE:NLY), ARMOUR Residential REIT, Inc. (NYSE:ARR), Colony Financial (NYSE:CLNY), Dynex Capital (NYSE:DX), MFA Financial (NYSE:MFA), Newcastle Investment Corp. (NYSE:NCT), and Northstar Realty Finance Corp. (NYSE:NRF).
Click to enlarge

Click to enlarge
As the table above shows, the 8% yield sounds attractive, but is lower than many of the mREIT preferred stocks available. It is, however, available at par instead of a premium, which many investors prefer.
Equity Chart: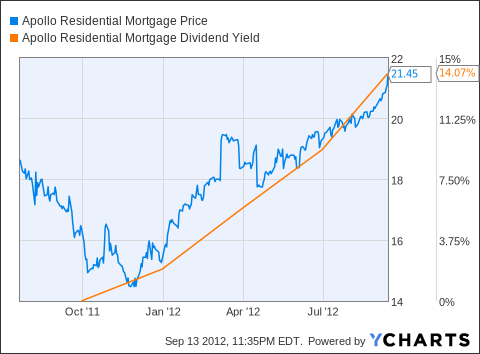 The yield on the preferred is also 6% below the common equity, which is not unreasonable in the mREIT space.
Bottom Line
Many investors concerned with the potential volatility of mREIT equity dividends (i.e dividend cuts, as no one worries about dividend increases), should consider the sector's preferred stock as an alternative to the common equity. This is not to say the preferreds are without risk, as they are still the preferred stock of levered financial entities.
Apollo Residential has one year of history to draw on, which is not as long as many of the alternatives, but the manager (a subsidiary of Apollo Global Management) has a decent track record in its other endeavors. This does not, however, mean that it will run this vehicle as successfully as past endeavors, only that it has a successful track record and hires talented managers.
Please keep in mind that this is not a full analysis of Apollo Residential Mortgage Inc, but an overview of the REIT and its portfolio for the purpose of understanding the preferred stock.
Disclosure: I am long TWO, AGNC, NRF. I wrote this article myself, and it expresses my own opinions. I am not receiving compensation for it (other than from Seeking Alpha). I have no business relationship with any company whose stock is mentioned in this article.
Additional disclosure: This article is for informational purposes only, it is not a recommendation to buy or sell any security and is strictly the opinion of Rubicon Associates LLC. Every investor is strongly encouraged to do their own research prior to investing.