Earlier this week I attended a conference in New York City where I listened to some expert commercial real estate investors, brokers, and economists. One of the primary speakers at the Interface Net Lease conference was Ryan Severino, Senior Economist with Reis, Inc. Severino's speech was centered around the national real estate economy and specifically the underlying question as to whether investors should fear the fiscal cliff.
One of the best slides that Severino utilized was a graph that compared job losses (in percent) to the number of months of recovery. The chart also compared the five recessions including the "bottom out" years of 1974, 1981, 1990, 2001, and 2009. To me, this graph illustrated a very important element to our nationally recovery and an equally important attribute for the upcoming election.
As you can see below, we are in the 56th month of the recovery period and we have not even recovered 50 percent of the jobs that have been lost in the latest recession. The other recessions illustrated were more "v-shaped" recoveries and clearly not as significant as the great recession. The dotted-lines provide three possible paths for the on-going recovery. Perhaps the most likely scenario indicates job growth of 100,000 jobs a month, or full recovery of around August 2016. However, a severe slippage of 50 percent a month (or 50,000 jobs per month) would establish a full recovery in July 2020.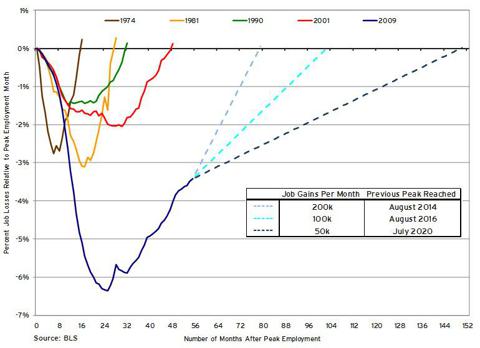 Investing in Boardwalk and Park Place
Growing up I was always trying to win at Monopoly and my strategy was plain and simple: Own Boardwalk and Park Place - at any price! I won't tell you that I always won. But I will tell you that I usually became a feared landlord when my victims got near my prized trophy properties.
Owning these "best in class" properties allowed me to charge high rent and build a "wide moat" of predictable cash flow. These premium rents gave me a considerable competitive advantage whereby I was able to leverage my portfolio and acquire other trophy addresses and some dividend paying utility companies.
Today, REIT investors should consider the same strategy as I did as a kid. Focus on the core "gateway" markets where job growth is the strongest - especially the cities where there is the highest "barriers to entry". This concept can be best explained by Victor Calanog, Chief Economist at Reis Inc., a New York based real estate research firm:
Job creation has been paltry, but some places and sectors are doing better than others. Commercial real estate fundamentals are much stronger in markets like Austin, with a high proportion of the workforce employed in tech and energy industries. At a time when GDP growth is expected to be weak for the foreseeable future, selecting high-growth markets and sectors that outperform the anemic average becomes even more important.
Roll the Dice, and Win
Population density, disposable income, traffic counts, and housing are all correlated to one thing: JOBS. Without jobs, the other economic indicators are almost meaningless and owning commercial real estate in a tier two market (or below) is not wise. By owning properties in larger metropolitan cities, REITs are able to attract higher quality tenants and increase overall occupancies. In addition, the predictable revenue is also more likely to increase and provide investors with a higher opportunity for dividend increases.
Based on my research I summarized a list of REITs that have demonstrated success in acquiring and/or developing assets in "gateway" cities. These seven REITs are focused on markets with "high barrier to entry" fundamentals and their overall occupancy levels have been sustained by premium rental revenue performance. These "boardwalk" REITs include Essex Property Trust (NYSE:ESS), Kimco Realty (NYSE:KIM), Weingarten Realty Investors (NYSE:WRI), Federal Realty (NYSE:FRT), Regency Centers (NYSE:REG), Taubman Centers (NYSE:TCO), Extra Space (NYSE:EXR), and Retail Opportunity Investment Corp. (NASDAQ:ROIC).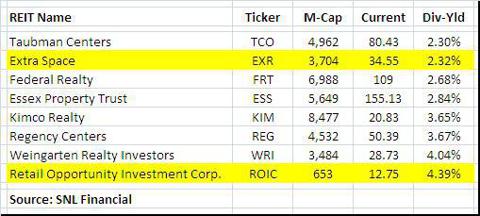 Two of the best performers of the group above are Extra Space and Retail Opportunity Investment Trust. The later is trading for $12.75 per share and the current dividend is 4.39 percent. The west coast focused shopping center REIT has potential for growing its dividend by leveraging its conservative balance sheet.
Extra Space is trading for $34.55 per share and the year-over-year total return is an astonishing 71.21 percent. There is considerable growth remaining in the self-storage sector and Extra Space is recognized for its diverse and flexible revenue model and its technologically advanced marketing initiatives. Furthermore, both REITs have highly sustainable operating platforms that are distinguished by their ability to protect revenue by investing in the most intelligent markets where the job market is the strongest. This is a snapshot of the total return (year-over-year) performance for Extra Space: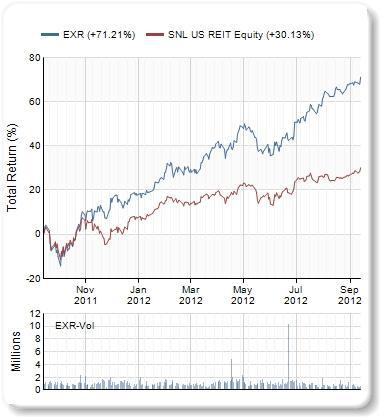 In closing, Ben Graham can always provide us with a humbling reminder that "the only thing that we can be pretty sure of, perhaps, is that we are acting reasonably and intelligently. And if we are wrong, as we are likely to be, at least we have been intelligently wrong and not unintelligently wrong".
Disclosure: I have no positions in any stocks mentioned, and no plans to initiate any positions within the next 72 hours. I wrote this article myself, and it expresses my own opinions. I am not receiving compensation for it (other than from Seeking Alpha). I have no business relationship with any company whose stock is mentioned in this article.