Many railroad stocks are trading near their 52-week highs. In some cases, it is because of massive expansionary plans, case in point being Kansas City Southern (NYSE:KSU). For others, the run up in stocks is a result of efficient future cost cutting plans being anticipated. Norfolk Southern Corp. (NYSE:NSC) is a prime example in this case. Whatever the case may be, railroads have experienced some pent-up demand in the form of increased demand for cars, lumber (that is of course because of the gradual housing recovery), and growth in intermodal mode of transportation. The major damage has been done by coal and grain carloads, which has offset any gains that had been made. Although a decline in grain carload has been majorly due to the drought, it is the coal demand that has given much grief to railroad investors. Many perceive the reason for declining coal demand to be secular rather than cyclical. However, repercussions of falling natural gas prices on railroad businesses have already been discussed in our industry analysis, so we will not go into much detail on the matter.
NSC's productivity drives have caught the attention of many investors. And this seems to be a bright opportunity to keep up with profits, despite falling carload demand from coal, which was down 15.5% YoY this quarter. The company has already been benefiting from a cost cutting program, as it reported EPS of $1.6 this quarter, 8 cents higher than what was being estimated, despite missing revenues by 28%.
Highlights of 2Q2012 and future Outlooks
Before discussing NSC's cost cutting plan, it is important to analyze the main operations of the company. The company reports its result in three divisions, namely coal, intermodal and merchandise.
Coal
Coal is further divided into utility, exports and domestic metallurgical coal. The overall decline in coal revenues was 15%, with a 12% decline in coal volumes. Utility contributed the most with a 21% decline YoY. The decline came primarily because of declining natural gas, as well as reduced electricity demand due to milder temperatures.
A 6% rise in export volumes due to renewed demand in steam coal was experienced. Also, a 2% rise in domestic metallurgical coal triggered an increase in automotive steel demand, largely offset by reduced volumes of iron ore.
Revenue per unit is an important metric of a segment. In this case, RPU declined by 4% (almost $91). This segment's future outlook is not much bright. The demand from utilities will remain low till natural gas prices rise to a level where their usage is no more affordable, despite being more greener in nature than coal. However, it does not seem likely in the near future. Also, exports of met and steam coal will decline given the weak European market. On a positive note, the demand for domestic met coal will rise in a gradually recovering auto market.
Intermodal
Revenue and volumes were up 4% and 5% YoY, respectively. However, RPU was down $3 per unit as compared to the previous year. Following shows the YoY volume changes: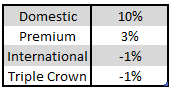 The future outlook is quite positive given that a new terminal (Memphis terminal) was opened on July 1. Also, two new terminals are expected be opened later this year. Meanwhile, the company also expects expansion in premium markets.
Merchandise
This segment involves the transportation of all other materials, like automotives, chemicals, agricultural products, paper, and construction materials. Following shows the YoY changes in the volumes of different categories: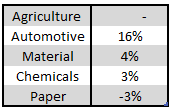 The overall revenue for this segment rose by 9%, with an increase in volume of 4%. Alongside, RPU also rose by 5% (almost $115), with the highest contributor being automotives due to pent up demand as the average age of cars on U.S. roads is around 11 years.
The demand for construction material was driven mainly by materials associated with natural gas drilling. This is an interesting revelation, since the shale gas boom has not been that harmful for business. It also gives the company an opportunity to escape losses due to declining coal demand.
Chemical volumes shot up because of new crude oil business from the Bakken Canadian oilfields.
The future outlook suggests that alongside the material transportation to natural gas drilling sites, the company will also experience growth in volumes of transportation of automotives. The housing recovery will lead to a rise in lumber transportation, which was already up 6% YoY. Also, a rise in demand of crude oil and plastics is projected in the near future. However, the management is concerned about the drought, which will lead to a decline in carload of grains for the year.
Productivity and Margin Improvements
Right now, productivity improvements seem to be the main driver for the stock. This quarter was marked by another strong operational performance. Operating ratio, one of the strong measures of performance of railroads, improved by 200bps YoY to 69.5% from 67.5%. This was achieved through a decline in per worker cost of 4% due to a sharp reduction in overtime charges. Other than this, engine service time was reduced by 16%, equipments rates by 31%, and fuel consumption by 2%. Thereby, gross ton miles per gallon improved by 1%.
Core pricing was above the 2.5%-3% of rail inflation. In the future, pricing of exports is likely to behave unfavorably due to a fall in coal exports. Other than this, the streak of strong operating performance is expected to be consistent, and will help reduce the damages caused by a decline in yields (from declining coal carloads). The following shows the past and future operating ratios expected by the market:
Click to enlarge
NSC enjoys better operating margins than its peers like CSX Corp (NYSE:CSX).
Conclusion
NSC seems to be a story of growing margins. The company gets 31% of its revenues from coal, coke and ore. However, the company has tackled very well with the 'coal crisis', by rightly addressing the cost part of the equation. The company also pays a healthy dividend, having a dividend yield of 2.7%. It recently raised its dividend by 6.4%. It has a reliable dividend policy with a record of paying dividends for 120 consecutive quarters. The CAPEX is on the rise, as the company plans to spend at least $2.4 billion in improving tracks, signal systems and trains.
Investors can buy NSC's growth cheaply as reflected by a low PEG of 0.87. Union Pacific (NYSE:UNP), on the other hand has a PEG of 1.03. Given positive cash flows, a strong productivity program, and 14% of expected annual growth in the next five years, NSC is recommended as a buy.

Disclosure: I have no positions in any stocks mentioned, and no plans to initiate any positions within the next 72 hours.
Business relationship disclosure: The article has been written by Qineqt's Industrials Analyst. Qineqt is not receiving compensation for it (other than from Seeking Alpha). Qineqt has no business relationship with any company whose stock is mentioned in this article.