The Swiss National Bank (SNB) struck a very dour note in its latest statement on monetary policy. Blaming in part the continued over-valuation of the Swiss franc - "the Swiss franc is still high and is weighing on the Swiss economy" - the SNB lowered its expectations for GDP growth and inflation. Moreover, it warned that "Downside risks to the Swiss economy will also stay high in the near term." The SNB accentuated its dour tone with a gloomy review of global economic performance in the second quarter:
"In the second quarter of 2012, economic growth weakened worldwide. Although the emerging economies continued to underpin the global expansion, their rates of growth were lower than expected. Economic performance in the U.S. remained lacklustre. In the euro area, recessionary trends were accentuated and a number of peripheral economies registered strongly negative growth rates …

… The global economy remains vulnerable. Growth prospects are being dampened by the euro area crisis, on the one hand, and the uncertainty surrounding forthcoming fiscal policy decisions in the US, on the other. The situation on the financial markets is also fragile."
In what I think is a new twist, the SNB also acknowledged that its booming residential real estate market threatens the stability of its financial system. Ironically enough, this boom is being fueled, at least in part, by the very low rates the SNB deems necessary to keep the rest of the economy from descending into a deflationary spiral.
With the Swiss franc finally losing a bit of ground to the euro, it appears the market is finally starting to accept that the franc is over-valued. Dissipation of fears over an imminent break-up of the euro are no doubt helping. With the SNB continuing to vigorously defend its 1.20 floor on EUR/CHF combined with the increasingly poor economic outlook in Switzerland, I will continue trading the franc with a bearish bias. After yesterday's Federal Reserve policy statement provided even more lift for the euro, I closed out the latest EUR/CHF long. I will be buying whatever dips the market decides to offer.
The following charts show a close-up and overall look at the EUR/CHF currency pair.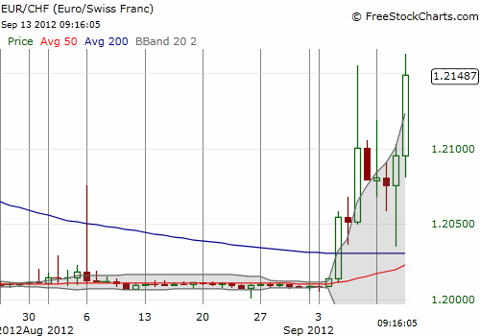 Click to enlarge
(Click to enlarge)
EUR/CHF springs to life and continues to creep higher.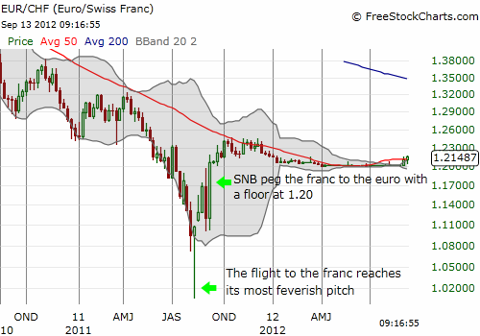 Click to enlarge
(Click to enlarge)
The overall downtrend in EUR/CHF is ending with this nascent move upward
Source: FreeStockCharts.com
Be careful out there!
Disclosure: I have no positions in any stocks mentioned, and no plans to initiate any positions within the next 72 hours. I wrote this article myself, and it expresses my own opinions. I am not receiving compensation for it (other than from Seeking Alpha). I have no business relationship with any company whose stock is mentioned in this article.