By Jared Cummans
As markets expected, Ben Bernanke announced a third round of quantitative easing yesterday in the form of $40 billion per month in mortgage-backed-securities. But unlike other programs with a definitive ending, this will perpetuate until the Fed sees meaningful growth in the economy and a better employment situation. That kind of open-ended policy has many cringing in their seats, as it seems like printing more money is the only weapon that the Fed has left in its arsenal. But despite how you feel QE3 will perform, there is no question that gold investors were overjoyed to hear the news.
During Bernanke's speech and up to its conclusion, gold suffered a swift dip, but that was only temporary. The precious metal went on to surge nearly 2% along with big gains for major equities and other commodities. Now, the precious metal has its sights set on $1,800 per ounce and beyond as money printing will surely prop up gold prices in the near term. But this precious metal was not alone, as silver surged more than 3.5% along with both platinum and palladium making a run higher. Below is a chart of gold's trading throughout yesterday's session.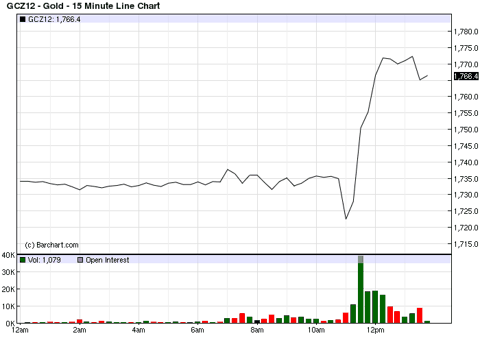 Now the only question you have to ask yourself is whether or not you think gold will pullback anytime soon, or if it slated to make another run towards $2,000 per ounce. The commodity certainly may slow down in the next few days as the excitement wears off, but with money printing plans from the U.S. as well as the ECB, it would seem that all of the stars have aligned for gold to make a run at its historical high. What do you all think, how high can gold go? Let us know in the comments below!
Disclosure: No positions at time of writing.
Disclaimer: Commodity HQ is not an investment advisor, and any content published by Commodity HQ does not constitute individual investment advice. The opinions offered herein are not personalized recommendations to buy, sell or hold securities or investment assets. Read the full disclaimer here.