New York Mortgage Trust Inc. (NASDAQ:NYMT) is a mortgage REIT that pays one of the best dividends in the business at 15.30%. Its chart below contains multi-family commercial real estate investments, agency interest only (IO) RMBS, and agency RMBS. Its legacy investments include residential securitized loans, collateralized loan obligations (CLOs), and distressed residential loans.
On Thursday September 13, 2012, the Fed announced that it is beginning a new QE program of buying $40B in MBS per month. This is in addition to Operation Twist, which will still run until the end of 2012. The new QE program is open-ended. The Fed can and may put any length on it and almost any value to the amount of buying. It has said it will assess the program as it goes along. This may put more pressure on many of the other mortgage backed securities REITs. They specialize mostly in agency RMBS, which have already low interest rate spreads between the yields and the cost of funds through repo's. NYMT instead specializes in a more diverse group of MBS investments. A chart showing the chart below from NYMT's core investments is below.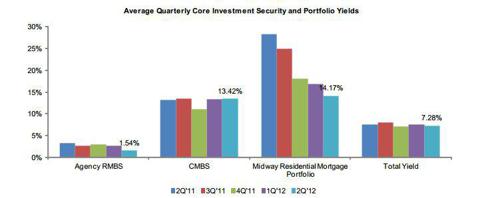 As you can see, the returns from the CMBS and the Midway Residential Mortgage Portfolio are the highest. NYMT specializes in multi-family CMBS, these are being pushed up now by the historically low levels of single home ownership currently. This not only makes them a good investment. It makes them safer than they might otherwise be. The chart below shows the investment portfolio spread. As you can see, the spread is much wider than the 1.5%-2.7% spreads that most other mortgage REITs operate with.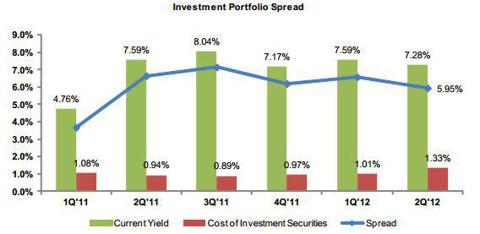 The most recent spread in Q2 2012 was 5.95%, which is more than double the spread of most of the primarily agency RMBS mortgage REITs. The constant prepayment rates are a bit higher than normal too (bad), but only slightly higher (see chart below).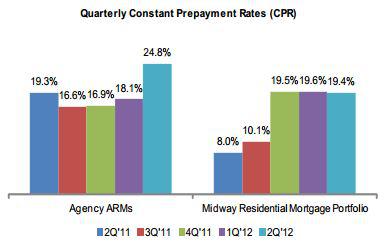 In 2012 the company received money from public offerings in May ($20 million), June ($33 million), and more recently in August ($75 million). In some cases the company took its time putting this money to work. It waited for appropriate opportunities. This meant that the Q2 results were not quite as good as they might have been. However, it also means that the $108.2 million acquired in Q3 should help to boost total earnings. However, it may be a slight drag on earnings per share, as it has been / will be invested at appropriate opportunities in Q3. Still it should overall help the company keep growing.
NYMT is trying new directions. In May 2012, it completed its first multi-family CMBS re-securitization. This resulted in $26 million in net proceeds of a permanent financing of $47 million of securities deposited into a trust. Those were issued on a bond equivalent yield of 9.5%, which is significantly less than NYMT's own dividend. This created a net equity position of $21 million with a return of approximately 18% with very low risk. The company may do more of these in the future. They are a promising new avenue of investment.
The table below from the NYMT's Form 10-Q shows the approximate break out of NYMT's assets.

You can easily see that the company is growing quickly. This should in time translate into increased earnings and profits for its unitholders/shareholders. Unfortunately there have been some events that have been negative for the mortgage REIT business, especially the narrowing of the spreads between cost of funds and earnings on those funds. Still all mortgage REITs are experiencing these difficulties to varying degrees. NYMT seems to be adopting to the differing conditions, and it seems set to prosper. Plus it is growing through new offerings. This is drawing some attention from institutional investors. They have purchased an added 145,659 shares (+2.09%) from the previous quarter to this quarter. This is a good sign. They are generally very savvy investors.
At the end of Q2 2012 NYMT had a book value per share of chart below. This was up from the previous quarter's value of $6.49. I doubt there will be a big jump in Q3, but subsequent quarters may see better appreciation. Given this, I don't expect the stock price to appreciate much in the near term. The last stock offering was for $6.73 just a month ago in August 2012. However, the company is expanding, which is good for a micro cap company of only $159.16 million in market cap. You need to have a certain size to operate effectively in this environment. Plus NYMT is expanding its menu of lucrative investments in order to deal effectively with the changing environment. It should be able to continue its great distributions; and its current 15.30% distribution/dividend is already one of the best in the industry.
The five year chart of NYMT gives some technical direction to this trade.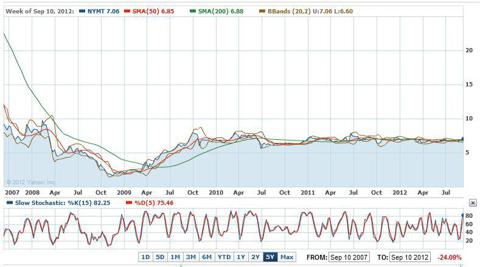 The slow stochastic sub chart shows that NYMT is near overbought levels. The main chart shows that it has been in a consolidation phase since late 2009. With its new growth in investor monies, it seems more likely to be able to break out to the high side than to the low side. The new investment strategies should help too. I would tend to buy NYMT for its dividend/distribution. It is small, but it seems well managed. Plus the multi-family real estate market should be a good place to be for the next few years. New apartment complexes that are built should only serve to drag up the value of the old ones. The tightness in the market due to all the people who have recently moved out of their homes should help too. I am optimistic about NYMT's prospects, and I am not the only one. NYMT has a mean analysts' recommendation of 1.8 (a buy) and a five star CAPS rating. It trades at a quite reasonable PE of 10.19.
If you think you like this kind of investment, you may also wish to look at American Capital Agency Corp. (NASDAQ:AGNC), Annaly Capital Management (NYSE:NLY), Two Harbors Investment Corp. (NYSE:TWO), and Apollo Residential Mortgage Inc. (NYSE:AMTG).
Note: Some of the fundamental financial information above is from Yahoo Finance.
Good Luck Trading.
Disclosure: I have no positions in any stocks mentioned, but may initiate a long position in NYMT over the next 72 hours. I wrote this article myself, and it expresses my own opinions. I am not receiving compensation for it (other than from Seeking Alpha). I have no business relationship with any company whose stock is mentioned in this article.