Dollar General (NYSE:DG) is the single largest discount retailer in the United States by store count. Its 10,203 locations cover approximately 71,774,000 square feet. Wal-Mart (NYSE:WMT), who is the largest discount retailer by revenue, has approximately 3,029 U.S. stores covering 552,237,000 square feet. That is, Wal-Mart covers 7.6 times more square feet than Dollar General -- but with its compact size, where Wal-Mart does $106 per square foot in revenue, Dollar General does about $213 per square foot. (Those interested in Wal-Mart, I have written about them here.)
Macro Situation
Dollar General has had 22 consecutive years of same-store sales growth, indicating that it can grow in good and bad economic times. Its continued and increasing success suggest an interesting macro trend: as discretionary spending remains narrow, more people are spending less per trip when they shop for consumables. With 25% of its merchandise priced at $1 or below, Dollar General provides a good service within this macro picture. Accordingly, the WSJ reports (video) that Dollar General's average transaction is only $10.89.
U6 unemployment, defined as the unemployed including discouraged workers and part-timers looking for a full time position, remains at around 14 to 15%. The continued height of that figure does not indicate that the small transaction trend will reverse just yet. That is to say, Dollar General's business model is designed to accommodate these types of shoppers -- and the shoppers have no reason, as yet, to start shopping in a larger venue. See U6 unemployment below: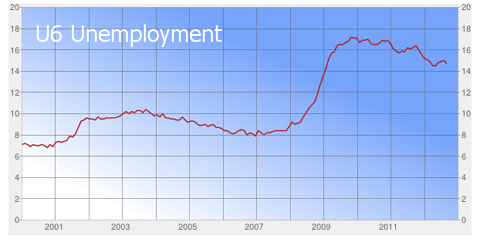 (Source: Portal Seven)
Consumables
Dollar General's revenue breaks down as follows:
(Source: 2011 10-K, p. 5)
As I noted on the table, consumable revenue has a higher likelihood of recurrence than, say, apparel purchases, since consumable goods are repurchased after they are consumed.
Trends
The share price has been increasing over the past couple years: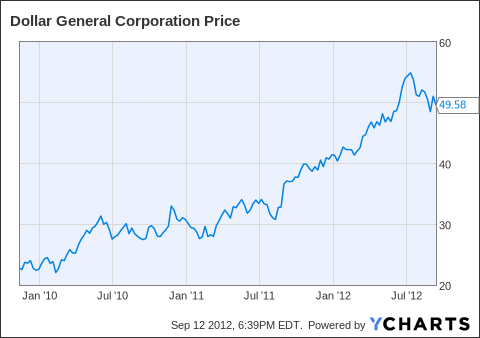 This is on the tail end of a long record of increasing earnings, increasing cash from operations, and increasing revenues (the little recurring peaks below indicate the seasonality due to the fourth quarter holiday shopping season):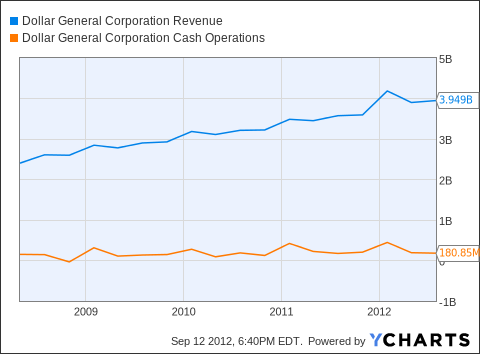 DG Revenue data by YCharts
From a management stand point, there has also been a notable reduction of debt. Correspondingly, interest payments have declined: from $328 million at the end of 2010 to a projected interest expense of about $150 million this year.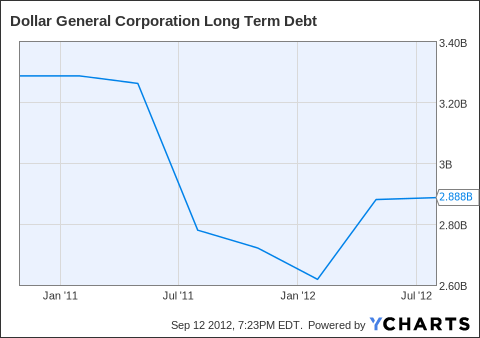 DG Long Term Debt data by YCharts
The greater than 50% reduction in interest expense can be seen below (figures in graph are quarterly):
DG Interest Expense data by YCharts
One of the most striking trends is the store count. Dollar General's store count within the last few years has accelerated in its new unit growth:

(Source: 2011 10-K, p. 6)
Indeed, because of the currently favorable commercial real estate market:
"[Dollar General] made a strategic decision to purchase certain of our leased stores and continue to purchase some stores in 2011." (2011 10-K, p. 31)
If it continues, this means, of course, higher future capital expenditure for the promise of better operating margins. Currently, it appears as if its gross margin and operating margin have stabilized since its shares were reintroduced into public trading in November 2009: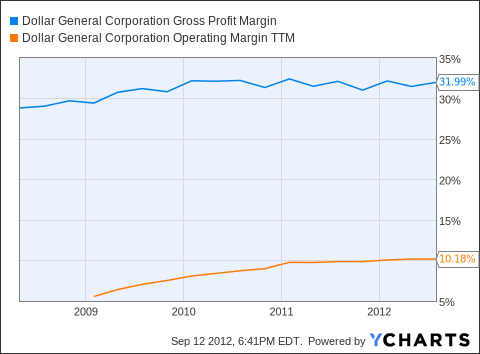 DG Gross Profit Margin data by YCharts
Again, if it continues its investment in store ownership, it ought to decrease its free-cash-flow [1] in the short-term while increasing operating margins in the longer-term.
Other Distinguishing Characteristics
Dollar General, by maintaining only a limited number of SKUs per category, uses this focus approach to derive power with its suppliers, such as the giants Procter & Gamble (NYSE:PG), Kimberly Clark (NYSE:KMB), Unilever (NYSE:UL), Kellogg's (NYSE:K), General Mills (NYSE:GS), Nabisco (through Kraft (KFT)), Coca-Cola (NYSE:KO) and PepsiCo (NYSE:PEP).
This is to say that if it stocked a high level of SKUs, Dollar General would lose the purchasing power it achieved by focusing on fewer product categories -- because in so doing it leverages its bargaining power. This is opposed to some other retailers who appear to consider it a matter of pride to increase SKUs.
Dollar General also maintains a private label brand which, like other private labels, typically sells with greater gross margins. And lastly -- and only of anecdotal value for us -- Dollar General has only ten distribution centers for its nearly 10,000 stores.
Valuation
The current market capitalization of Dollar General stands at about $16.5 billion. Its FCF during fiscal year 2011 was about $500 million. Its TTM FCF was about $425 million. Using those figures, we get the following FCF yields:
FCF yield for fiscal 2011: 3%

TTM FCF yield: 2.57%
Those yields are pretty low. However, given that Dollar General is growing, does the growth justify purchasing the shares the present valuation?
From 2010 to 2012, revenue grew approximately 12% year-over-year. If that growth was sure to continue, today's prices would probably be justified. But note that the stock is at the most expensive level -- relative to FCF -- since it restarted trading in 2009 (a lower yield indicates a higher price):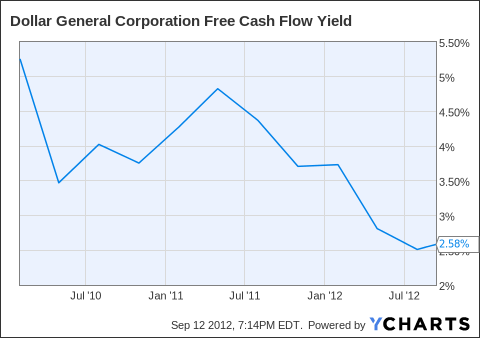 DG Free Cash Flow Yield data by YCharts
Conclusion
Dollar General's position and future are appealing -- so appealing, in fact, that people may be over paying for the shares. Dollar General is overvalued if it cannot continue its current growth rates. And if it can, then it is basically fair-valued because the stock price already appears to takes the growth into account. Either way, buying the shares at this level is not an instance of buying something worth $1 for $0.50. In other words, at the present prices there is no margin-of-safety.
That is not to say there might be some speculative money to be made, but for the disciplined investor, wait for a pullback in the share price before picking up shares of this successful retailer.
Free-Cash-Flow = FCF = Operating Cash Flow - Capital Expenditures
Disclosure: I have no positions in any stocks mentioned, and no plans to initiate any positions within the next 72 hours. I wrote this article myself, and it expresses my own opinions. I am not receiving compensation for it (other than from Seeking Alpha). I have no business relationship with any company whose stock is mentioned in this article.