On September 12th, Apple Inc (NASDAQ:AAPL) released its widely anticipated iPhone 5 smartphone device. Despite a couple of hitches involving the leaking out of the iPhone 5 product name and the fact that it is LTE enabled, we can see that Apple handled its annual new smartphone product launch event much better than Nokia (NYSE:NOK). We don't see that as a concern because everyone was expecting it anyway. Apple's CEO, Tim Cook, started off the presentation with a video on Apple's Barcelona retail store. He noted that Apple has 380 stores in 12 countries. On Friday, September 14th, it will open a store in its 13th country: Sweden. Tim Cook also touched upon Mountain Lion's July release and how it has already seen 7 million downloads of its product. Based on the sales of Apple's notebook computers versus traditional computers, we couldn't help but remember those delightful old Mac versus PC commercials. Apple's notebooks have a 27% market share over the last 3 months and Apple is the market leader in the U.S. notebook market segment. The most impressive thing about the Mac is that it has seen 15% year-over-year unit volume growth versus 2% for the PC.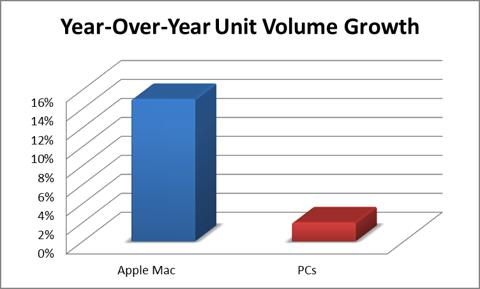 Click to enlarge
Source: Apple's 2012 New Product Launch
Apple's iPad
Tim Cook revisited the smashing success that is the iPad tablet computing device. Despite the introduction of hundreds of new tablet computing devices by Apple's competitors since the 2010 iPad debut, the iPad retains 62% of the tablet computing market in the April to June 2012 period. But what really caught our eye was that the iPad accounted for 91% of all web traffic for all tablets during that same time period. We think Tim Cook said it best when he said "I don't know what these other tablets are doing! They must be in warehouses or on store shelves or maybe in someone's bottom drawer! iPads are being used everywhere by everyone." Cook also pointed out that 94% of the companies that make up the Fortune 500 are testing or deploying iPads. We think that Research In Motion (RIMM) should be embarrassed that it is hardly an afterthought in the enterprise computing segment. In RIMM's defense though, we could not even find a BlackBerry Playbook tablet computing device at any of the major wireless carriers, so how exactly are Fortune 500 companies going to find out about the Playbook?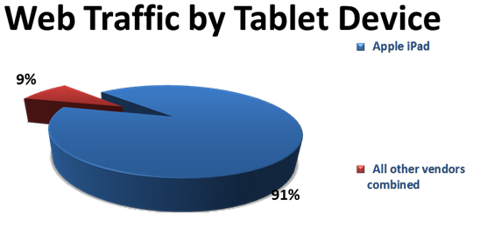 Click to enlarge
Source: MacObserver
Apple's iPhone 5
Apple's Senior Vice President of Worldwide Marketing Philip Schiller had the honor of formally introducing the iPhone 5. The iPhone 5 is the thinnest and lightest phone Apple has ever made: 7.6 mm thin, which is 18 percent thinner than the iPhone 4S and the world's thinnest smartphone. It's 112 grams, 20 percent lighter than the iPhone 4S. It has a 326 PPI Retina display. The new screen on iPhone 5 is 4 inches, 1136 by 640 pixels with a 16 x 9 aspect ratio. The iPhone added a fifth row of icons to the home screen to better display apps users downloaded. The calendar shows more events, email shows more emails and unlike Nokia's Lumia WP7 Window Phones, all of Apple's software is being updated to take advantage of this display. The big knock on the iPhone 4S was that it was not LTE enabled. The iPhone 5 has remedied that deficiency with its LTE capability, which allows the iPhone 5 to download up to 100 megabits per second.
The iPhone 5 has 44% more color saturation than the 4S and it features an A6 processing chip, which has doubled its graphics and CPU speed. The chip is also 22% smaller than previous chips. It exceeds the battery life of the 4S too at 8 hours of 3G talk time, 8 hours of LTE or 3G browsing, or 10 hours of WiFi browsing, and 225 hours of standby time. The iPhone 5's as an 8 megapixel sensor, 3264 by 2448, backside illuminated, hybrid IR filter, 5 element lens, f/2.4 aperture. It is the same camera as in the 4S, but is 25 percent smaller and has new features. Apple has announced a new 8 signal dock connector called Lightening to replace the old 30 pin connector. Apple has paired up with manufacturers in creating compatible accessories, including an adapter to plug into old 30 pin dock connectors. The iPhone 5 operates with iOS 6 software. Siri has also seen a number of enhancements as well and Electronic Arts's "Real Racing III" will be coming later this year to the iPhone.
Mobile Carrier Partners for the iPhone 5
In the US, the three mobile carriers will be AT&T (NYSE:T) (naturally), Verizon (NYSE:VZ) and Sprint Nextel (NYSE:S). The reason why we see Sprint carrying the iPhone as noteworthy is because the iPhone 5 is LTE enabled and Sprint has been replacing its 2G Nextel iDEN network with 4G LTE coverage as part of its Network Vision program. Another reason why we like to note Sprint carrying the iPhone is that it is the only Big Three US Carrier that has a direct link to the iPhones for sale at its website as well as under its Virgin Mobile USA prepaid brand. However, AT&T is the only Big Three US Carrier that has a direct link to the iPads for sale at its website. In order to keep ahead of its 4 year $15.5B iPhone purchase commitment, Sprint had begun selling it in June through Virgin Mobile USA and decreased the price of the iPhone 4S by $50 in August. This was done ahead of the iPhone 5 launch. Apple matched that $50 discount and applied it to the iPhone 4 as well. The last point we make is that Sprint has been gaining market share in the iPhone device space and 40% of its iPhone sales were to new customers in Q2 2012 versus 25% for Verizon and 22% for AT&T.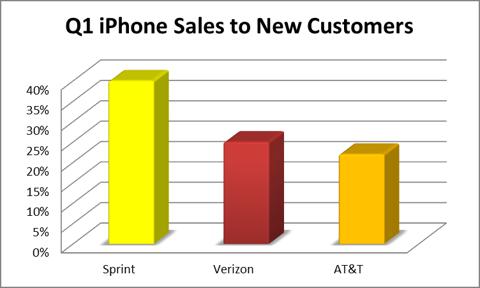 Click to enlarge
Sources: Wireless Company Q2 Earnings Releases and Conference Calls
Now, with the iPhone 5 formally introduced, Apple has reduced the price on the iPhone 4 and 4S by another $50. When our iPhone contract expires next year, we'll be able to get the iPhone 4S 16GB for free assuming this trend remains constant. Other carriers include Deutsche Telekom in Europe but not T-Mobile USA. Canadian Carriers include Rogers Communications, TELUS, Bell, Fido and others. Carriers in Asia include Softbank, SingTel and others and Australian Carriers include Virgin Mobile, Telstra and others.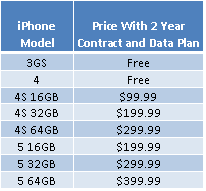 Source: Apple's 2012 New Product Launch
Music and iPod Products
Apple's SVP of Internet Software and Services, Eddy Cue, talked about how the iTunes Music offering is available in 63 countries and has over 435M registered users. The iTunes storefront apps have been upgraded to iOS 6 to allow for easier browsing. Apple is introducing a simpler version of iTunes for the Mac and for PCs. Apple's VP of iPod, iPhone and iOS product marketing Greg Joswiak presented the new iPod Nano. The iPod Nano has a larger screen, with touch controls, a home button like the iPhone, the same "Lightening" connector, and once more supports video. It has built-in Bluetooth to support wireless steaming of music to speakers. Battery life is now longer at 30 hours. Apple also introduced a new iPod Touch that runs on the A5 processing chip and which has seen its graphics boosted by 7X versus its predecessor. We are glad to see Apple come out with new products in the iPod space because iPod revenues have declined by 24% YTD 2012 versus YTD 2011 and was the only Apple product to register a revenue decline.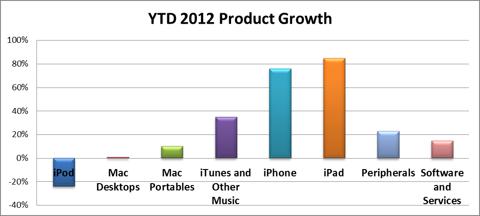 Click to enlarge
Source: Apple's Q3 10-Q
In conclusion, Apple has shown that it is the game-changer in the mobile communications industry. Based on the difference between Apple's Keynote product launch and Nokia's, we can see why Apple sells more smartphones than Nokia, and this is reinforcing our long Apple thesis. Apple had shown greater clarity with regards to its product launch date than Nokia, and while Nokia will begin selling the Lumia 920 and 820 devices in November, Apple will have had a 6 week advantage to sell its iPhone 5. We also like the fact that Apple devoted time to highlighting new products in its iPod product line, as the iPod has been the only one of Apple's products to register a YTD revenue decline in FY 2012. Apple's App Store has over 700K apps to choose from, including 250K for the iPad. That compares with the 100K Apps offered by Windows Phone. Apple has more apps, easier to use products, and the iPhone doesn't rattle on the vibrate mode. Apple has a better mousetrap than its competition, and a much better ability to provoke consumers to beat a path to its door.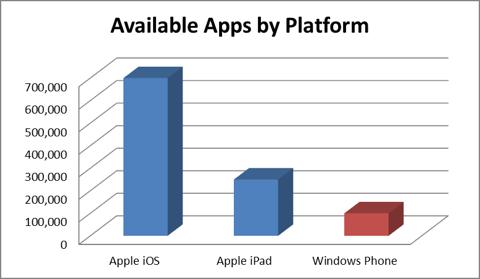 Click to enlarge
Source: Barron's and Windows Phone Website
Disclosure: I am long AAPL. I wrote this article myself, and it expresses my own opinions. I am not receiving compensation for it (other than from Seeking Alpha). I have no business relationship with any company whose stock is mentioned in this article.
Additional disclosure: This article was written by an analyst at Saibus Research. Saibus Research has not received compensation directly or indirectly for expressing the recommendation in this article. We have no business relationship with any company whose stock is mentioned in this article. Under no circumstances must this report be considered an offer to buy, sell, subscribe for or trade securities or other instruments.