When it comes to growth stocks, retail investors tend to look at the bottom line. That makes sense. You get a little queasy investing in stocks with underwhelming profits. You've been working hard to earn your money. Why take on a money-losing company?
The pros use a different approach, focusing on the top line. They reason: Earnings can flow through later. Who's right?
Check out big tech's revenue growth. Consider Apple (NASDAQ:AAPL), Amazon (NASDAQ:AMZN), salesforce.com (NYSE:CRM), Google (NASDAQ:GOOG), Qualcomm (NASDAQ:QCOM), and Microsoft (NASDAQ:MSFT).
Apple leaves its peers way behind. In fact, you can run the numbers for 1 year or 2 or 3 or 5 or 10 and Apple wins by a mile.
Amazon's revenue has been increasing at sensational rates despite an underwhelming bottom line. Ditto for Salesforce.com. This cloud company has made only minimal to no profits for years.
Google, Qualcomm, and Microsoft bring up the rear in that order - despite real profits.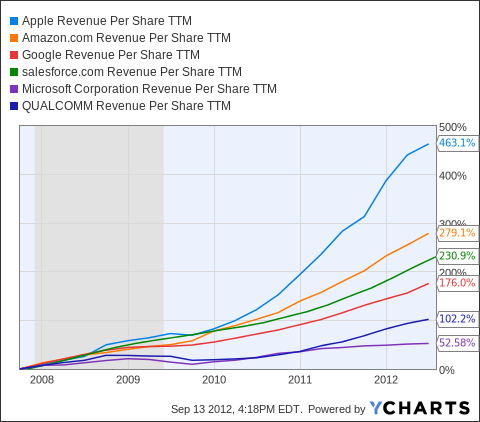 How Did Their Shares Do?
Again Apple led the pack. Salesforce.com and Amazon follow with strong price appreciation. Qualcomm, Google, and Microsoft trail in that order.
Sales growth is king in determining stock appreciation in growth stocks!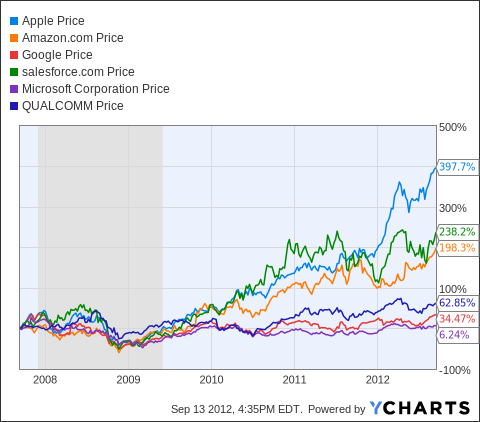 Not convinced. Check EPS growth at the same companies. You'd have picked Apple but you would have missed Amazon and salesforce.com. Worse, you might have gone with Microsoft for a humbling 6% return ex dividends rather than Amazon or salesforce.com.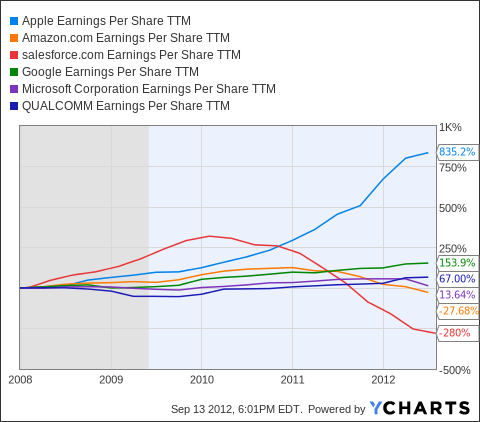 Amazon is a great example. It's become the poster boy of bad boy stocks. Nothing earnings. Sky-high PE multiple. Despite the pounding Amazon has taken from the pundits, shareholders have wisely focused on the extraordinary revenue generation. Shares are up almost 200% over the last 5 years and 260% over the last 3 years.
While we all love earnings, focus on sales. Too little attention is paid to the top line. Revenue strength drives growth stock prices, one and all.
Disclosure: I am long AAPL. I wrote this article myself, and it expresses my own opinions. I am not receiving compensation for it (other than from Seeking Alpha). I have no business relationship with any company whose stock is mentioned in this article.
Additional disclosure: The opinions in this document are for informational and educational purposes only and should not be construed as a recommendation to buy or sell the stocks mentioned. Past performance of the companies discussed may not continue and the companies may not achieve the earnings growth as predicted. The information in this document is believed to be accurate, but under no circumstances should a person act upon the information contained within. We do not recommend that anyone act upon any investment information without first consulting an investment advisor as to the suitability of such investments for his specific situation.