In the wake of State Street Corporation's (NYSE:STT) Q2 2012 earnings results, we published reports expressing our concern that State Street was still perceived as being on a deal-crazed buyout binge. We believe that the company is still an undervalued industry leader in the asset management and administration industry and we can see why Nelson Peltz of Trian Fund Management has a bigger position in it versus Legg Mason (NYSE:LM) or Lazard (NYSE:LAZ) - Trian's other asset manager holdings.
We also believe that the most important strategic initiative for State Street with regards to utilizing shareholder capital should be to complete its $1.8B buyback. While State Street repurchased more shares than Bank of New York Mellon (NYSE:BK) and Northern Trust (NASDAQ:NTRS) combined in Q2 2012, BNY Mellon and NTRS's management have not been bringing up acquisitions at the conference calls of those respective companies.
After reviewing STT's presentation at the Barclays Financial Services Conference, we have softened our recent constructive criticism of STT's management because we see that STT's management has seen the light in regards to effective capital management versus acquisitions.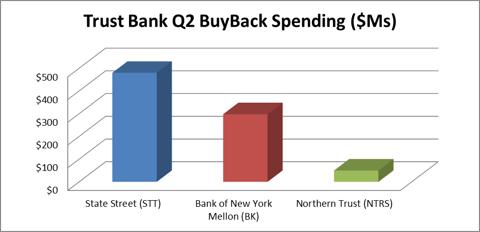 Source: Morningstar Direct
State Street's Repurchase Program
State Street had presented Tuesday, September 11, at the Barclays Capital Global Financial Services Conference. We were disappointed that on page 4 of the presentation, the company mentioned Acquisition Strategy; in the presentation, however, it did not talk about them further on the slides. We were consoled that STT's management intended to at least maintain its level of dividend growth and share repurchases when it undergoes the 2013 edition of the Federal Reserve CCAR Stress Test.
We were pleased that State Street clarified that although it is looking at acquisitions, its implied priority (which is now an explicit priority) is to return capital to shareholders in this challenging macroeconomic environment. In our July report, we were concerned that State Street was not going to follow through with the $1.8B, but rather spent $1.25B repurchasing shares and using the remaining $550M to acquire Goldman Sachs Administration Services. We had no problem with the $550M cash acquisition of GSAS because we modeled out that State Street could easily afford to acquire GSAS for cash and to complete the $1.8B acquisition program.
Click to enlarge

Source: Saibus Research's July Report on State Street
We believe that State Street's management is sincere about meeting the implicit return of capital obligations to shareholders because 10 minutes after clarifying the return on capital versus acquisition strategies, STT's CEO Jay Hooley reiterated that returning capital to shareholders is State Street's highest priority. Hooley pointed out that STT had repurchased ~18M shares at a total cost of ~$760M for an average price of $42.22.
We can tell that STT is on track to complete the buyback on time relative to its March 31st, 2013 due date. Based on the $480M spent to repurchase 11.1M shares in Q2 2012, we can see that the company has repurchased 6.9M shares and spent $280M to do so.
While it can be noted that STT's repurchase program is gross of share issuance to employee compensation programs, we saw that equity compensation share issuance in Q2 2012 was only 23% of shares repurchased. Despite the fact that BNY Mellon has a 30% larger market capitalization than STT, STT's repurchase program of $1.8B dwarfs BNY Mellon's $1.1B repurchase program.
Because of STT's strong capital position and ability to generate nearly $2B in annual net income, STT stated that it was looking to return substantially all of its expected net income going forward to shareholders through dividends and share repurchase programs subject to CCAR Stress Tests and regulatory approval.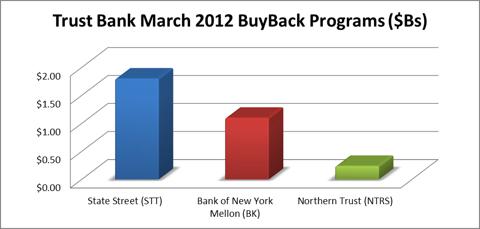 Source: Saibus Research's April 23rd report on State Street
State Street's Net Interest Margin
We believe that despite the recent disclosure that STT's net interest margin will decline by 10-12BP, State Street is the best place to be in the trust and custody banking segment. We don't believe that BNY Mellon and Northern Trust would be avoiding the net interest margin pressures that State Street will be seeing next year and even though STT's NIM will decline by 10-12BP relative to its estimated adjusted NIM of 145-155BP for FY 2012, it is still higher than the H1 2012 NIMs for BNY Mellon and Northern Trust. Furthermore the projected NIM for STT excludes interest accretion from conduit investments in run-off mode, resulting in GAAP-reported NIM exceeding Recurring NIM From Continuing Operations by at least 20BP.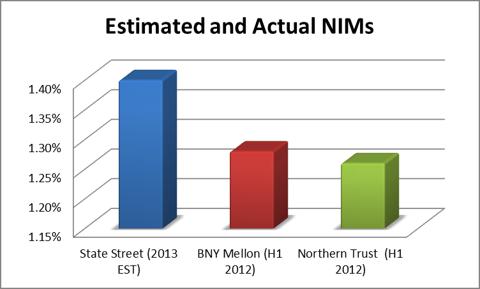 Sources: CNBC and Earnings Releases for BNY Mellon and NTRS
State Street's Business Operations and IT Transformation
State Street's Business Operations and IT Transformation project is under way in order to enhance efficiency and reduce cost. This is helping to keep compensation-to-revenue in line in the wake of weaker-than-expected trading services revenue. STT is expected to save $180M in annual pre-tax expenses this year from the program and is targeting $400M next year.
As for the foreign exchange lawsuits,State Street has faced, it was reported that BNY Mellon has seen a number of foreign exchange lawsuits brought against it dismissed for lack of evidence. We are not expecting State Street to have a significantly different result than BNY Mellon. We believe that these lawsuits are nothing but legalized extortion and rent-seeking by fiscally reckless governments looking to get a micro-bailout of sorts from BNY Mellon and State Street.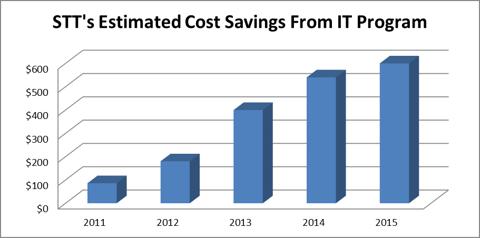 Source: STT's Presentation at the Barclays Conference
Nelson Peltz's October 2011 White Paper
We believe that though Nelson Peltz and Trian Partners has not been an activist shareholder of State Street other than for his October 2011 White Paper, we believe that his presence has kept State Street's management somewhat grounded with regards to management's acquisition impulses. We believe that if it wasn't for Nelson Peltz's ~$440M position in State Street company, State Street probably would have acquired Deutsche Asset Management from Deutsche Bank (NYSE:DB) or UBS Asset Management from UBS.
Considering that Trian Partners's standstill provision in Legg Mason will expire at the end of November and considering that LM's CEO Mark Fetting has resigned due to health issues (LM's board was sick and tired of seeing continued outflows from its investment management products, while Fetting was leading the company), we believe that STT's Jay Hooley has no desire to be put out to grass along with Fetting.
As such we believe that while Peltz had no direct impact on STT, we believe that his presence has indirectly served to keep Jay Hooley and STT's management team honest and humble. Jay Hooley's recent clarification of State Street's return of capital program is very similar to Peltz's demand that STT set a target capital ratio and commit to return the vast majority of excess capital above that level plus the majority of future years' capital generation to shareholders.
Conclusion
In conclusion, we still maintain our buy rating on State Street Corporation. We believe that while the company will see headwinds to performance in 2012, we believe that the company will begin to see the benefits of its corporate transition efforts as well as increased top line growth. We have also adjusted our comparative perspective on STT.
Although we see STT's primary competition as BNY Mellon and Northern Trust, we also believe it is important to compare STT against LM and LAZ since Peltz owns shares in those companies and is pushing for the same efforts to improve operations and unlock shareholder value. We are glad to see progress being made on State Streets Operations and the IT Transformation program, which will help offset the soft revenue environment.
We are also glad to see that State Street has formally announced that it has targeted a 10% Tier 1 Common Ratio under Basel III (STT is currently at 11%) and the company will see an 11.8% Tier 1 Common Ratio under Basel III by 2015 assuming the impact of the Goldman Sachs Administration Services Acquisition and its plan to return substantially all net income to shareholders in the form of dividends and share repurchases.
We are also glad that State Street has announced a formal program to return capital to shareholders to offset the dilutive capital issuance it made in 2009 to exit TARP (even though it didn't need or want TARP in the first place and even Sheila Bair of the FDIC was shocked that healthy banks were forced to take TARP). Despite seeing the headwinds of soft trading revenue and 2013 Net Interest Margin, we have reinforced our long position in STT due to STT's management seeing the light and getting on board with Peltz's capital management proposal.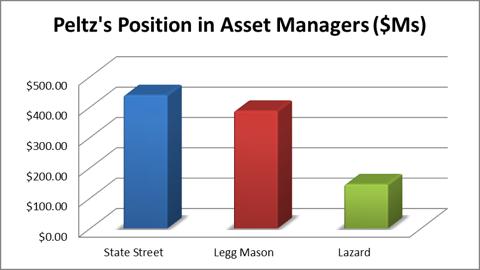 Source: Trian's Q2 2012 13-F
Disclosure: I am long STT. I wrote this article myself, and it expresses my own opinions. I am not receiving compensation for it (other than from Seeking Alpha). I have no business relationship with any company whose stock is mentioned in this article.
Additional disclosure: This article was written by an analyst at Saibus Research. Saibus Research has not received compensation directly or indirectly for expressing the recommendation in this article. We have no business relationship with any company whose stock is mentioned in this article. Under no circumstances must this report be considered an offer to buy, sell, subscribe for or trade securities or other instruments.