In a time when nearly every large cam technology company is wrapped up in producing smartphones and tablets for the general consumer, International Business Machines Corporation (NYSE:IBM) has been quietly offering the business world software-as-a service, or customized technology services. More importantly, it is practically creating a market that it is, in turn, leading.
Over 80% of Chief Marketing Officers (CMOs) surveyed last year plan to increase their usage of social media over the next three to five years. IBM's acquisition of Kenexa Corp. (KNXA), which uses Software-as-a-service, data analytics and consulting services to provide human resource management solutions, will keep it on top of this expanding market.
Although demand for cloud computing continues to rise globally, it is only one of several services that IBM is profiting from. Many of IBM's latest efforts include creating solutions for using social media to shape marketing strategies, as well for recruiting and managing talent. The market for social software services is growing fast with no end in sight. IBM's place at the top of this market and an enviable financial footing makes purchasing shares of IBM an easy recommendation.
Last year, IBM surveyed over 1,700 Chief Marketing Officers and found that there is a huge shift happening regarding how companies engage existing and potential customers. It found 82% of CMOs have plans to increase their usage of social media to bolster their marketing strategies. Most importantly, most CMOs feel unprepared to do that on their own. Currently, over 60% of Fortune 100 companies are using IBM social software to improve the efficiency of their customer interaction.
In 2010, IBM announced a five-year plan to spend $20 billion on acquisitions. Since its announcement, it has made 25 purchases and closed on eight acquisitions already this year. Despite making a great deal about the acquisitions, the market has responded positively to IBM's strategy. With respect to the company's latest acquisition, Moody's announced that the Kenexa purchase is credit positive because it complements IBM's strategy to create cloud-based software technology and consulting services. A quick glance at IBM's share price steady gain of over 50% since announcing its plan to drop $20 billion tells me that investors agree with Big Blue's laser guided acquisition strategy.
Click to enlarge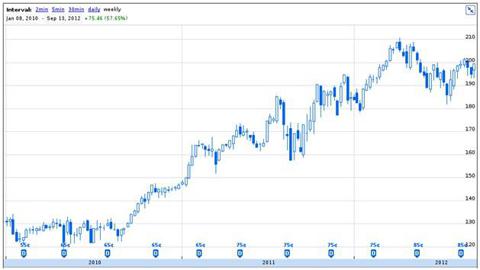 Click to enlarge
Since announcing a plan to spend $20 billion on acquisitions in 2010, IBM has gained over 50%, while maintaining steady dividend growth.
In the second quarter of 2012, IBM's revenues dropped 3% compared with the same period a year ago, but cutting costs helped to boost earnings 6%. Earnings per share were surprisingly higher compared with the same quarter last year, despite a drop in revenues. IBM posted earnings of $3.38 per share in Q2 2012 versus $3.04 in Q2 2011. IBM's first and second quarters of this year show a similar pattern of increased earnings per share despite decreased revenues.
A closer look at the causes of the company's revenue decline shows that it can be attributed to a strengthening dollar. Adjusted for fluctuations in currency, sales in the second quarter were more or less equal to the first. In a difficult market filled with smart competitors like Oracle (NASDAQ:ORCL) and Cisco (NASDAQ:CSCO), IBM is doing far better than a first glance at its latest earnings report would suggest.
| | | | | | |
| --- | --- | --- | --- | --- | --- |
| Cash Flow | Q2 2011 | Q3 2011 | Q4 2011 | Q1 2012 | Q2 2012 |
| IBM | 3.663B | 3.839B | 5.49B | 3.066B | 3.882B |
| HPQ | 1.926B | 239.00M | 1.468B | 1.593B | -8.857B |
| CSCO | 1.807B | 1.232B | 1.777B | 2.182B | 2.165B |
| ORCL | 3.209B | 1.84B | 2.192B | 2.497B | 3.452B |
A quick look at net income over the last five quarters shows IBM clearly leading its competitors.
In addition to its human resources social service acquisition Kenexa, IBM has also been smart enough to bring Twitter and Facebook into the fold. IBM's custom social networking tool called Connections now enables streaming from the existing big players. IBM's social service will be able to track and analyze immense amounts of data generated on existing social networks, like Facebook and Twitter, then integrate it with employee tools, like calendars, data flags and email services. Connections is available on site, in the IBM SmartCloud and on mobile devices, so employees can gain insight on information being created and put it to work in real time.
Other companies trying to copy IBM's SaaS model are also making some waves in the social networking arena. In July, Microsoft (NASDAQ:MSFT) purchased Yammer Inc, which is a tool similar to Facebook designed for corporate networking. How well it will integrate customer data from existing social networks though, remains to be seen. Existing data being constantly created by current and potential customers on established social networking sites presents an amazing opportunity for boosting sales growth. In the Software-as-a-Service market, I think IBM is going to stay well ahead of the competition.
Disclosure: I have no positions in any stocks mentioned, and no plans to initiate any positions within the next 72 hours. I wrote this article myself, and it expresses my own opinions. I am not receiving compensation for it (other than from Seeking Alpha). I have no business relationship with any company whose stock is mentioned in this article.