3Com (COMS) is a drastically undervalued and oversold stock that should be trading 50% higher than its current price of just $1.97 a share. The company has a healthy $1.25 per share in cash and the stock trades below its book value of $2.49. The forward price to earnings ratio is less than 9, yet the estimated earnings growth rate is estimated to be approximately 33% YOY. These figures have been based on analyst estimates.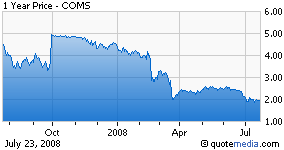 Although the company has issued guidance on the lower end of the analysts' range for FY09, it would not be surprising if the actual numbers significantly exceed expectations. The company has beaten analyst estimates the past four quarters by a minimum of 50% each quarter, because management has been quite conservative on its guidance and provided near- flawless execution on its strategies.
It should be noted that 3Com was just awarded $70MM to resolve a patent dispute earlier this month, which is almost 10% of its current market cap of 790MM, and this has not been factored into the stock price. Another great sign is that insiders bought 960,000 shares in the range of $2.23 to $2.34 a share. Also, Goldman Sachs increased its holdings significantly.
As most investors know, Bain Capital Partners LLC tried to buy 3Com for $2.2 billion or $5.30 cash per share, but the offer was withdrawn due to objections from the Committee on Foreign Investment in the United States [CFIUS]. 3Com's Tipping Point business unit supplies sensitive monitoring equipment to US Government's Defense Department. Although the market has discounted the possibility, 3com is still very mush so a potential takeover candidate. I believe that there are many potential suitors, such as Cisco (NASDAQ:CSCO), Verizon (NYSE:VZ), or AT&T (NYSE:T).
I expect investors and traders to be rewarded by long positions in this company, especially in this range. The stock should easily see $3.00 on future earnings growth, and potentially see north of $4.00 on any takeover talks. Fasten your seat-belts and stay plugged in.
Disclosure: Long COMS