It's no secret that Liberty Media (NASDAQ:LMCA) is hot on the path to gain de jure control of Sirius XM (NASDAQ:SIRI), but quite often investors are left wondering what the exact status of the Liberty stake is. There is also a lot of debate as to exactly how many shares Liberty needs because of issues like stock warrants, option shares, and convertible bonds. I have outlined a handy chart that will fill in a lot of blanks.
The first thing to understand is that the percentage of ownership that Liberty reports is on an as converted basis of its preferred shares, assumes that Liberty takes physical delivery of just over 41 million shares on its second forward purchase contract, and assumes that Liberty converts its $11 million in 7% convertible notes into 5,866,666 shares. The percentage ownership Liberty is reporting considers SEC guidelines, and technically FCC guidelines, but does not necessarily meet the requirements for conducting a Reverse Morris Trust. This is why the common assumption is that Liberty will want to, at some point, go more toward a 55% stake that would keep it above a 50% stake in the event of a dilutive event (i.e. another 7% bond holder converting its note to shares).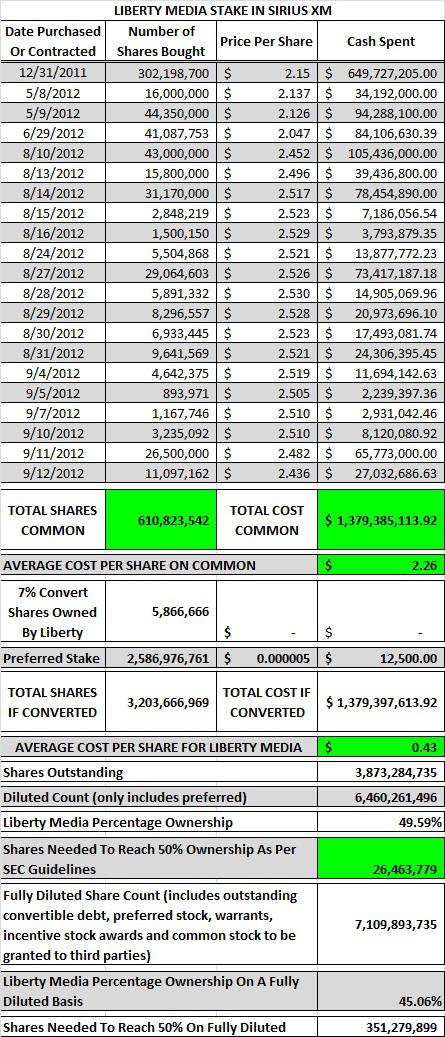 Here is where things stand. Liberty ownership is now at 49.6% of Sirius XM. The reason that the ownership is at this level and not 49.7% is that additional shares are entering the market. By example, each time Sirius XM CEO Mel Karmazin sells shares, the share count is increased, and the Liberty percentage of ownership (as well as every other shareholder) is diluted.
Liberty Media needs about 26.5 million more shares to hit the 50% level. This is important because Liberty may well pause at 49.9% and await an FCC decision on de jure control. Liberty Media's open market purchases have been holding up and supporting the stock price. If a large buyer leaves the market, the demand for shares can diminish, and the result would be that Sirius XM could have a correction to the downside. No one can predict that will happen with 100% certainty, but the simple laws of supply and demand should allow an investor to arrive at a reasonable assumption.
Another important point is exactly how much money Liberty Media has spent on common shares. This is important because Liberty Media has expressed that it wants to get that money back at some point in the future. To date, Liberty has spent nearly $1.4 billion for almost 611 million shares. The average price Liberty has paid on common shares is about $2.26.
The common assumption is that Liberty will gain back that money via a share buyback program. In order to do that, the company would need to buy back an equal number of non-Liberty shares. What we need to also consider is that CEO Mel Karmazin still has about 35 million more option shares to exercise and sell. This would add 17.5 million more shares that Liberty will need to acquire to get to 50% ownership. Thus, there is potential that Liberty will need at least 44 million more shares. If we add that to the 611 million Liberty already has, we can arrive at a few reasonable assumptions:
Liberty will have bought 655 million shares to arrive at 50%.
Sirius XM would need to do a share buyback of 1.31 billion shares for Liberty to get back approximately $1.5 billion back from the common stock purchases made.
At $2.50 per share, Liberty would need to invest another $110 million into common shares.
If Sirius XM were to initiate a share buyback of 1.3 billion shares at current prices, it would require about $3.275 billion.
Liberty has stated that Sirius XM is under levered (can handle more debt). If $3 billion in debt were to be added to Sirius XM at 5.25%, the result would be $157.5 million in annual interest payments above and beyond the $180 million the company currently has. The debt load on the company would be $342.5 million per year. Total debt would be $5.45 billion.
If Sirius XM guides to $1.1 billion in EBITDA in 2013, the debt to EBITDA ratio would be 4.95 to 1. This is higher than the desired goal of Karmazin, which is 3 to 1.
We then have to consider the possible dilutive shares that tie to options, convertible debt, etc. If we consider all of that Liberty Media has just over 45% ownership. In my opinion, the likely path is that once Liberty is in technical control, the company will initiate a share buyback of about 351 million shares that Liberty Media will not participate in. This will have the effect of increasing the Liberty stake and negating the possibility that dilution would bring Liberty below 50%. At current prices, that share buyback would cost about $878 million.
As you can see here, the numbers are substantial, and the company does not have the cash to do all of this is short order. Sirius XM could take on debt to do a chunk of it, but there exists a possibility that it would become over levered (too much debt) in order to do so. This is exactly why you hear Liberty state that it is not in a hurry to get these things accomplished. In fact, it could be well into 2013 before the numbers make sense across the board.
Liberty will indeed gain control, and it has expressed a desire to gain back the cash invested. It will take time, but it is doable. What investors should be prepared for is that once in control, it will take a few quarters to formulate a game plan. The wheels will be in motion, but it will still take some doing. In the near term, the key element is knowing when Liberty eases up on buying. The removal of a big buyer from the market will carry short-term impacts.
Disclosure: I am long SIRI, LMCA. I wrote this article myself, and it expresses my own opinions. I am not receiving compensation for it (other than from Seeking Alpha). I have no business relationship with any company whose stock is mentioned in this article.