The Question
If you have equity in your home, would it make sense to tap it in order to invest the proceeds in stocks? Consider the Federal Reserve actions that are providing us with ultra low, subsidized mortgage rates and possibly higher future inflation rates. Although I have always been anti-debt, I believe this strategy can make sense for the financially disciplined and patient investor. Don't forget the well known Wall Street axiom: Don't fight the Fed.
Home Equity Loan
For our example, let us assume that we have $50K in home equity that we can borrow against. According to bankrate.com, the average interest rate for a 30 year mortgage is 3.5%. The rate would be higher for a home equity loan. We will assume that we are able to qualify for a 4.75% interest rate on a fixed rate, 30 year loan. Therefore, the loan would require a total of $3,130 in interest and principal payments each year.
Our Portfolio
Now let us assume that we invest the $50K in loan proceeds evenly between the following ten stocks:
| | | | | |
| --- | --- | --- | --- | --- |
|   |   | Trailing | Forward | Dividend |
| Name | Symbol | P/E | P/E | Yield |
| Boardwalk Pipeline (NYSE:BWP) | BWP | 22.26 | 18.39 | 7.9% |
| ConocoPhillips (NYSE:COP) | COP | 6.73 | 10.23 | 4.7% |
| Exelon Corporation (NYSE:EXC) | EXC | 11.88 | 11.62 | 4.1% |
| General Electric (NYSE:GE) | GE | 19.05 | 12.69 | 3.1% |
| Intel Corp (NASDAQ:INTC) | INTC | 9.90 | 10.46 | 3.9% |
| JPMorgan Chase (NYSE:JPM) | JPM | 9.57 | 7.96 | 3.0% |
| Johnson & Johnson (NYSE:JNJ) | JNJ | 21.90 | 12.62 | 3.6% |
| McDonald's Corp (NYSE:MCD) | MCD | 17.19 | 15.35 | 3.1% |
| Procter & Gamble (NYSE:PG) | PG | 18.83 | 16.32 | 3.3% |
| Waste Management (NYSE:WM) | WM | 17.28 | 14.33 | 4.2% |
| Average |   | 15.46 | 13.00 | 4.1% |
Source: Yahoo!Finance
Dividend Growth
These ten stocks have an average dividend yield of 4.1%. This is approximately twice the dividend rate of the S&P 500. We would expect to receive approximately $2,050 in dividends during the first year. Although, we would be short $1,080 during the first year, this shortfall should quickly decrease in subsequent years as our dividend stream increases. The graph below compares the mortgage payments to our dividend payments assuming a 5% annual dividend growth rate over the next 30 years. This seems plausible to me given the 5.4% dividend growth rate for the S&P 500 from 1960 through 2011 as detailed in this Seeking Alpha article.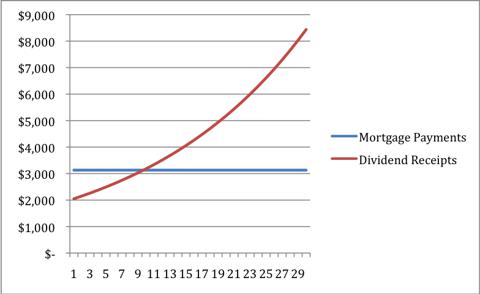 Click to enlarge
As you can see in the chart above, after the ninth year our dividend receipts begin to exceed our mortgage payments. Over the 30 year period, our dividend receipts would have exceeded our mortgage payments by $42,300. More importantly, our loan would have been fully repaid at this point.
Portfolio Growth
How much would we expect our portfolio to be worth by the end of the 30 year period? There is no way to be sure, but an interesting approach is to use the forward earnings yield as a guide. The earnings yield is simply the inverse of the p/e ratio. This is not a perfect indicator of future returns by any means but does work reasonably well on broad indexes over longer periods of time. In our case, our forward earnings yield is 7.7%. We then subtract the 4.1% dividend yield since we are not reinvesting it (this means we get to spend the $42,300 in dividend payments that exceeded the mortgage payments). We also need to add the expected inflation rate. Since these companies own real assets and produce real products and services, their stock value should increase along with the inflation rate. Assuming a 3% inflation rate, we get the following:
7.7% Earnings Yield + 3% Inflation Rate - 4.1% Dividend Yield = 6.6% Est. Growth Rate
Using a 6.6% portfolio growth rate, our portfolio would have grown to $319,102 at the end of 30 years. Our debt would be paid off and we would have had a good time spending the extra $42,300 in dividends.
Summary
This is not a strategy for everyone. Investors should carefully consider their own situation and risk tolerance. I am afraid that many investors would sell their positions at exactly the wrong moment during our next market crisis. However, I do believe the financially disciplined and patient investor would likely be handsomely rewarded over the long term for purchasing a portfolio of dividend stocks using mortgage proceeds despite a market that, in my opinion, is reasonably priced, (neither too expensive nor particularly cheap). Of course, there is nothing wrong with patiently waiting for a market pullback to employ this strategy.
Disclosure: I am long BWP, EXC, GE, INTC, JPM, JNJ, MCD, PG, WM. I wrote this article myself, and it expresses my own opinions. I am not receiving compensation for it (other than from Seeking Alpha). I have no business relationship with any company whose stock is mentioned in this article.