As we close out the summer IPO season the last deal is an unlikely one: a sand provider offering a 9.5% yield. Hi-Crush Partners (NYSE:HCLP) positions themselves as a "premium" sand producer who specializes in the sought after "Northern White" variety. It certainly sounds far more appealing than the "Brady Brown," which is another common sand type.
The company is structured as a Master Limited Partnership ((NYSE:MLP)) and plans to offer favorable yields in comparison to the 6-9% yields common in other areas (Gas, E&P, Natural Gas and Coal). The current planned distribution per unit of $1.90 would result in a 9.5% yield at the mid-point of the range. A significant portion (~40%) of the distribution should be tax-free.
The $225M deal is being led by Barclays, Morgan Stanley, Credit Suisse and UBS with co-mangers Raymond James, RBC and Baird. There are 11.25 million units being offered between $19 and $21. Proceeds will be used to build out the last facility and pay off the current outstanding debt used to build out the first facility. Proposed minimum quarterly distribution is $0.475.
Sand is used in hydraulic fracturing recovery of oil and gas. The use of sand has expanded dramatically in the past few years and is projected to grow from the current 22 million tons to 30 million in 2016 and 40 million by 2021. The growth is driven by horizontal drilling and increased use of hydraulic fracturing.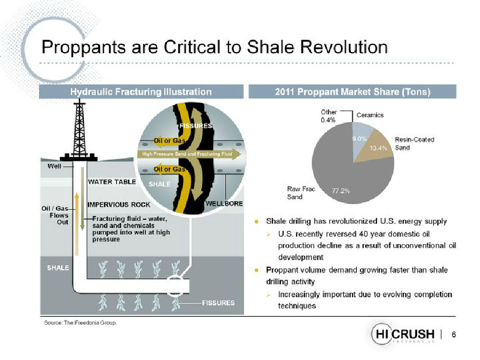 Proppant aka Sand as it's used in horizontal drilling.
We've seen a version of this story before in the case of U.S. Silica Holdings (NYSE:SLCA) which went public in February of 2012. U.S. Silica priced at $17, right in the middle of their proposed range of $16 to $18. Immediately after the IPO the shares held their price and even traded above $20 for a few weeks before dropping to $10 over the course of two months on slim news.
So if there is a "sand shortage" as some have speculated, why is at $10? In their case, at least, it turns out that demand is more variable than roadshow presentations make it appear. Well operators can ebb and flow their level of intensity based on energy prices, end market demand, transportation and raw material costs. These types of risks are absent from IPO presentations (although covered in the S-1 filings).
One major difference between these two stocks is that U.S. Silica doesn't pay a dividend. They have authorized a $25M share repurchase but it's harder to translate that into a floor for the share price. A cash dividend would be far more effective.
Hi-Crush asserts that finding large amounts of high quality sand that can be efficiently delivered is now very difficult. Barrier to entry is basically "it's hard work." It's true that Hi-Crush has a management team with a long tenure in this business and that is an advantage. It is, however, mostly a commodity and end-users will seek the best value available in the market, regardless of source.
Logistics are important. Moving by train requires coordinating with large providers like Union Pacific (NYSE:UNP).
Cost structure has been optimized to yield $15-20/ton cost which is said to be substantially below what competition can offer. The only other datapoint handy is a quote for similar sand from an alternative source at a price of $25/ton.
Long-term contracts help provide visibility and generate efficiencies by being able to plan better. Key customers are large and include Baker Hughes (NYSE:BHI) and Halliburton (NYSE:HAL). Large contract duration is 4.6 years and most are well below spot pricing, but this relationship moves around based on contract timing and spot prices.
Growth is coming from a new facility (Augusta) that will bring on new capacity. This facility should ultimately be equivalent to the 1.5 million tons their current main site (Wyeville) produces.
On a preliminary basis this can be an attractive stock for yield. There is some complexity to the distribution structure and two classes of units but all this is run-of-the-mill MLP stuff (an area in which we do not consider ourselves expert.) In summary, the common units offered here have a preference to the subordinated units (owned by the sponsor) although the subordinated units have some "distribution upside" *after* the common quarterly dividend reaches and exceeds $0.55/share (an 11% annual yield.) After a year of meeting or exceeding the $1.90/year dividend target for common unit holders the subordinated units will convert.
These levels of yield are solid but not jump-out-of-your-chair exciting. After the shares trade for a bit we will see where the price settles. When listed options are available for HCLP stock, the opportunities for higher return investments around the name will expand and might provide some exciting entry points. On a fully converted basis the market value of the units would be $560M, which is 5x projected sales. Ultimately, the share price does come down to yield but 5x is fairly high.
This issue will be of interest to investors who like commodity/yield stocks like Terra Nitrogen (NYSE:TNH), CVR Partners (NYSE:UAN), Rentech Nitrogen (NYSE:RNF) and PetroLogistics (NYSE:PDH).
The biggest material operational risk to HLCP investors is that this is a one-commodity, one-end market, and right now even a one-facility revenue stream. Hydraulic fracturing has also come under some scrutiny for potential environmental risks. While the industry likes to describe the process as "safe as kittens," the advent of tap water that can be set on fire due to high gas content tells a different story.
Finally, the interest rate environment today is very favorable for investments like this one. Higher yields in general would diminish some of the attractiveness of these yields given the one-commodity/one-industry/one-facility risk.
Disclosure: I have no positions in any stocks mentioned, and no plans to initiate any positions within the next 72 hours. I wrote this article myself, and it expresses my own opinions. I am not receiving compensation for it (other than from Seeking Alpha). I have no business relationship with any company whose stock is mentioned in this article.