On Thursday, Ben Bernanke fired the biggest bazooka the Fed could imagine: unlimited QE. The effect of QE on stock prices is pretty well documented. It has been very bullish. Ultimately, I don't expect QE to benefit the underlying economy much, but it should help lift asset prices for some period. However, while stocks have fared well during previous QE periods, Treasuries have not. Discussion of this has been relatively limited. Perhaps because the Fed states that lower interest rates are a goal of QE, folks believe that's actually case. Kind of like the "Dollar stability" that was promised in 1913, I suspect it's not actually the Fed's goal. And as with the Dollar, the opposite of their stated goal is what has occurred.
Looking back at QE1 and QE2, we can see that Treasury yields rose fairly dramatically in the early stages of QE. I would speculate that this was money leaving the "safe haven" of Treasuries to find riskier assets. Whether the Fed was buying or "supporting" Treasuries wasn't a primary price driver. The desire for risk assets (or lack thereof) was, and is, the primary driver of bond demand.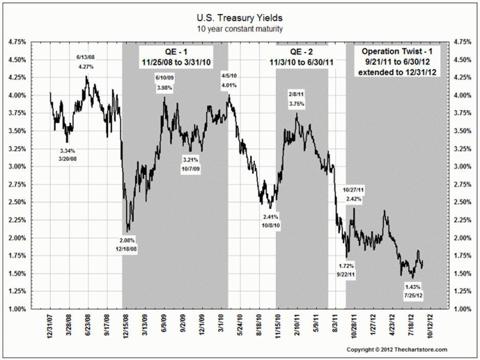 With that background in mind, I want to look at the rise in 30 year Treasuries (using TLT as my proxy) over the last two years. TLT has made steadily higher highs since 2009. Since 2011, the lows have also been rising as bond bears have increasingly come around to side with the bulls. This chart configuration is typically called rising wedge. It is a bearish construct that typically resolves to the downside.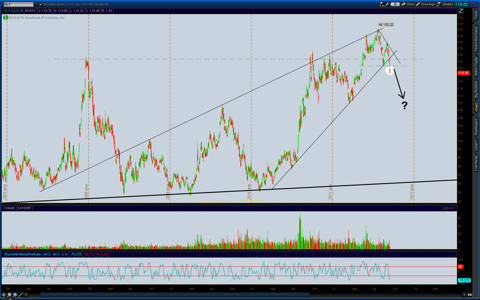 The reason that rising wedges typically resolve to the downside is pretty simple when you think of it in terms of market sentiment. The rising highs since 2009 show that bulls have grown steadily more bullish. The rising lows since 2011 show that even bears have grown steadily more bullish. As bulls and bears have developed an increasingly shared perspective, the price range on TLT has narrowed into a range. That price range is even higher than we saw in the 2008 crisis. In short: everyone has agreed on the bullish side of the trade in Treasuries.
That narrowing of consensus leaves a big air pocket when the consensus starts to crack. What we see in the chart above a very clear break of the rising support line in TLT. TBT has lost a lot of people a lot of money in recent years, but its time may finally be at hand.
The obvious play in this environment appears to be long positions in commodities like gold, silver and oil. But I don't expect QE3 to benefit the underlying economy at all. I expect both interest rates and commodity prices to rise, further squeezing consumers. I also expect that as speculators push commodity prices higher, political unrest will once again become a major issue - especially Europe and the Middle East, but perhaps even in the U.S. as well. As such, I don't expect a broad rise in equities to continue unabated. We could wind up with a situation like 2007-2008, where the indexes declined while oil and commodity prices spiked higher. All of that is just to say that I'm not convinced a large exposure to broad equities is the best approach over the coming months. I think I'd rather be short Treasuries. The overwhelmingly bullish sentiment towards Treasuries means that there could still be quite a bit more unraveling to go before Treasuries find a bottom.
Disclosure: I have no positions in any stocks mentioned, but may initiate a long position in TBT over the next 72 hours. I wrote this article myself, and it expresses my own opinions. I am not receiving compensation for it (other than from Seeking Alpha). I have no business relationship with any company whose stock is mentioned in this article.
Additional disclosure: I am long TLT puts