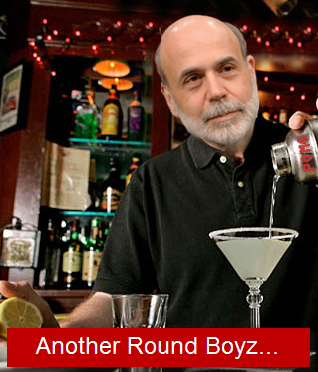 Basically the Fed has gone too far done the money printing mode to stop now. They believe what their policies will stimulate employment but all operations in this regard have failed. The Bernank will spin this as an apolitical move coming two months before an election that could cost him his job…just sayin'.
The highlights include: Fed to keep policies stimulative for a considerable time. The Fed will buy $40 billion Mortgage Backed Securities continuing Operation Twist and extends (aspirationally) ZIRP into 2015.
The key language is the following sentence from the official announcement:
"If the outlook for the labor market does not improve substantially, the Committee will continue its purchases of agency mortgage-backed securities, undertake additional asset purchases, and employ its other policy tools as appropriate until such improvement is achieved in a context of price stability."
This policy is intended to boost asset prices and prevent a Japanese style deflationary cycle. No matter what they say, TPTB will always choose inflation vs deflation every time. Thus far they've succeeded in supporting their primary clients, the mega-banks. Beyond that these operations might see liquidity trickle down to the 99%. For the rest of us now, it might be better to just toss money out the window like the bank robbers yesterday. At least this would go directly to the people, again…just sayin'. Price stability which they believe exists, exits only in the conjured-up data from the flawed structure of the CPI and other measures.
My understanding is there isn't enough MBS debt around for them to buy at $40 billion a month. Maybe they'll start going to garage sales to buy stuff thus pumping up prices.
The bottom line for us is we're long markets from stem to stern so why should we complain? Being disciplined and systematic is more important than raging at the machine. One thing QE has done is to make a hash of normal technical analysis since "the more money than brains" theme trumps everything.
Let's just say everything was higher today with the exception of the dollar and conventional bonds. Volume on this bullish QE day was much higher than recently putting previous light volume melt-ups in the rear view mirror. Breadth per the WSJ was quite positive but shy of a 90/10 overall.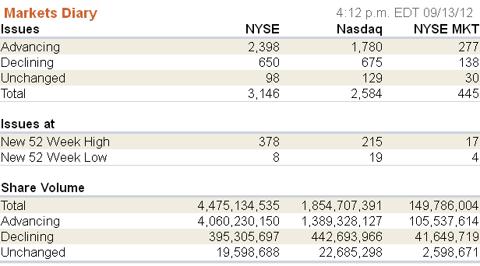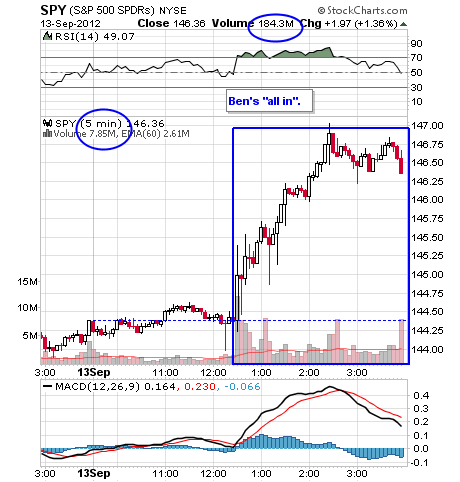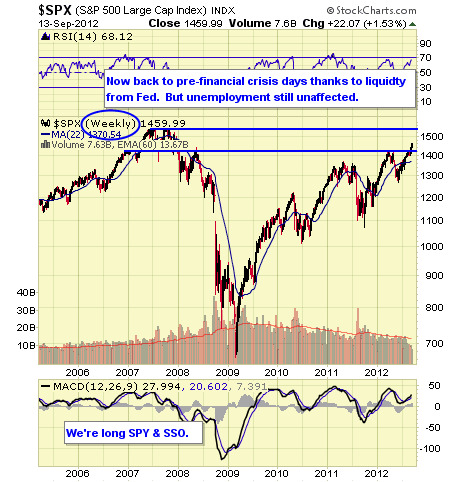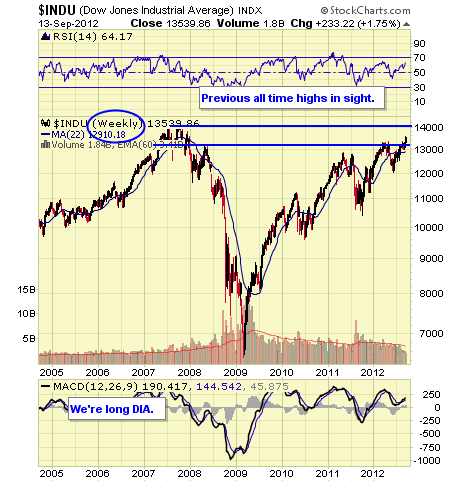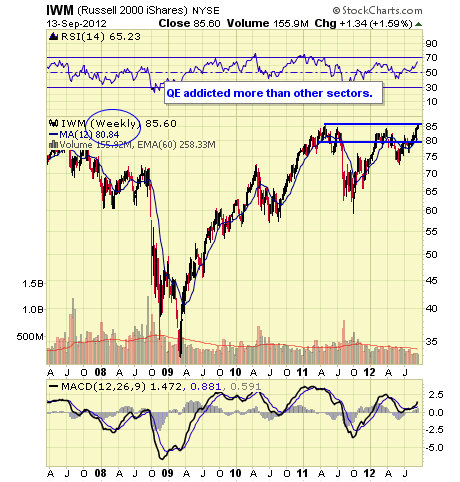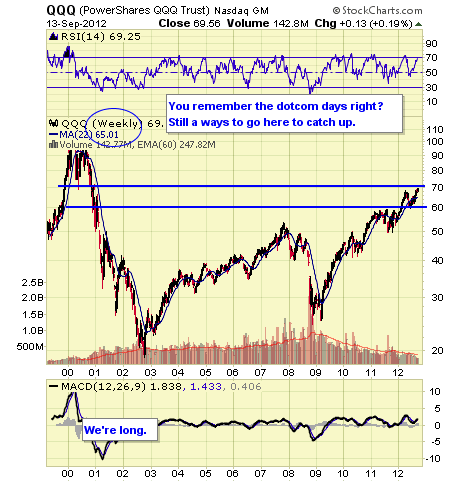 Continue to U.S. Sector, Stocks & Bond ETFs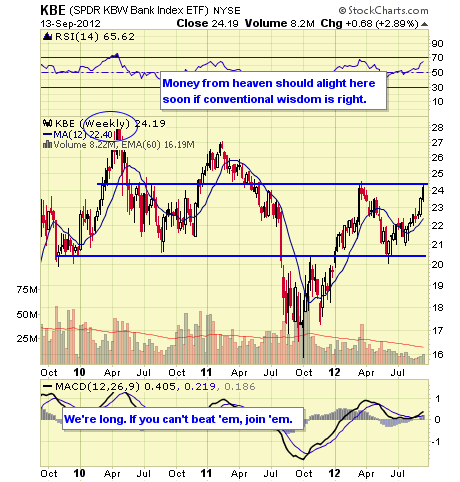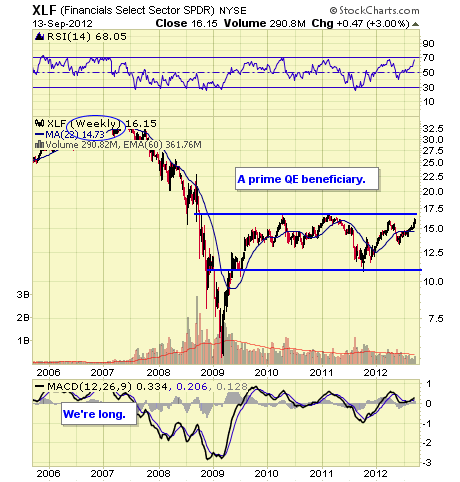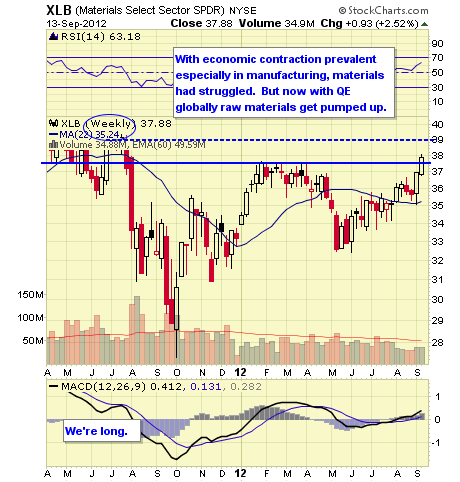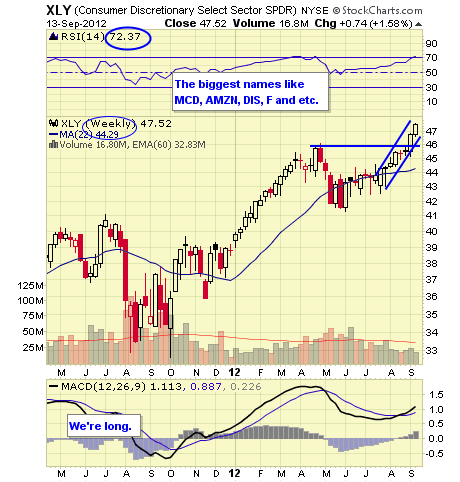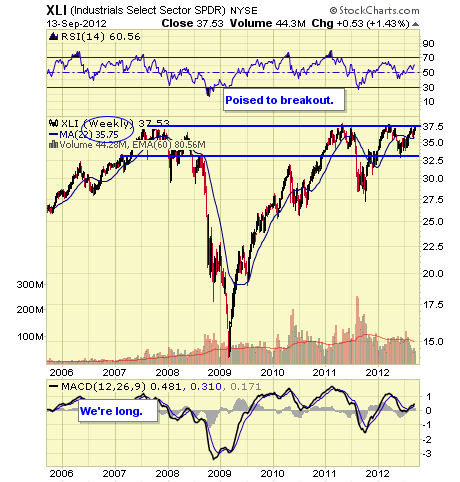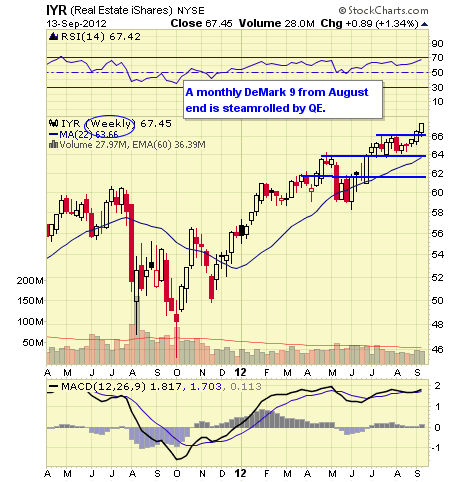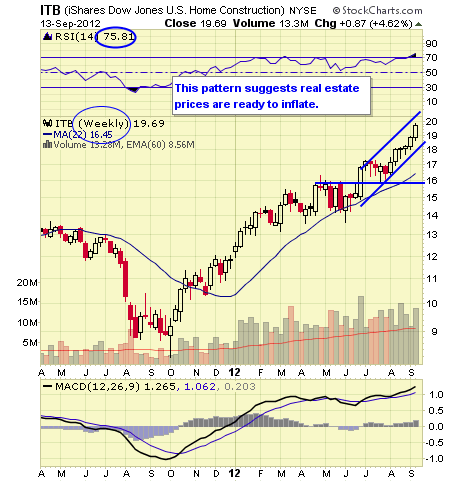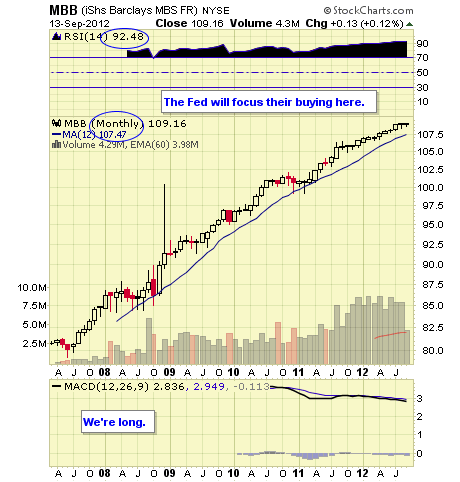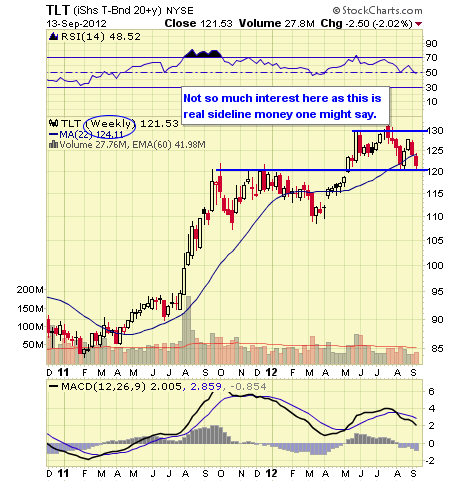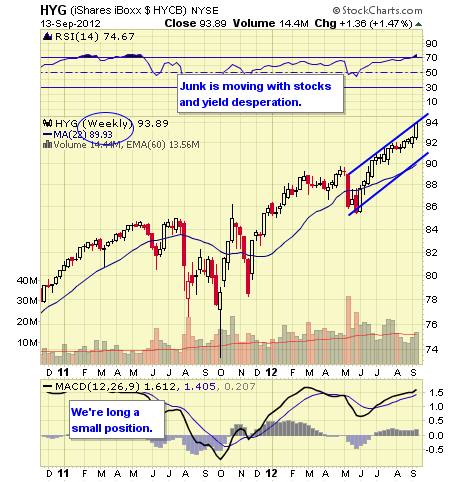 Continue to Currency & Commodity Market ETFs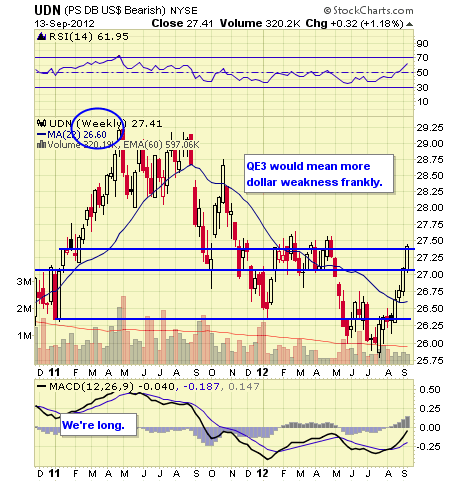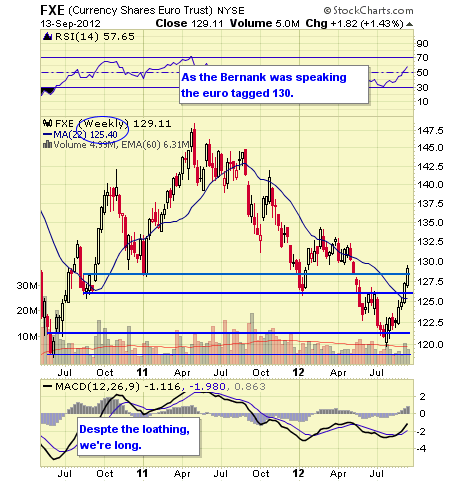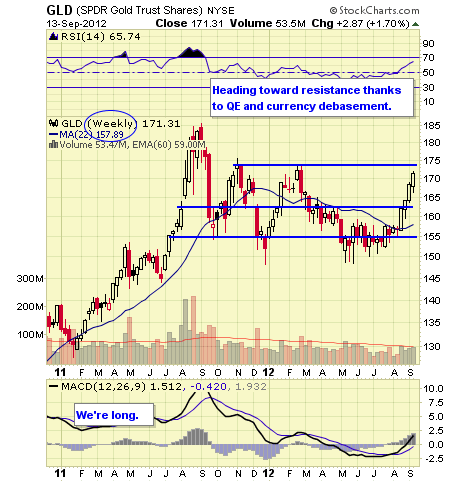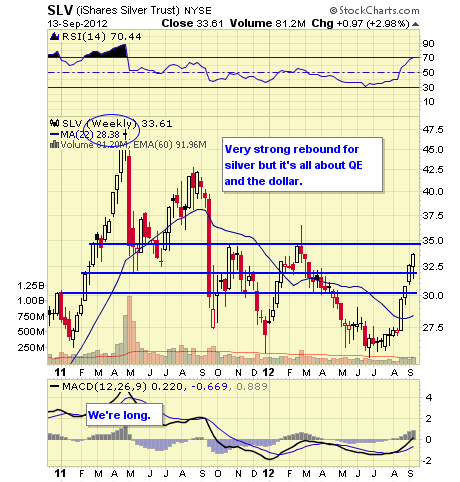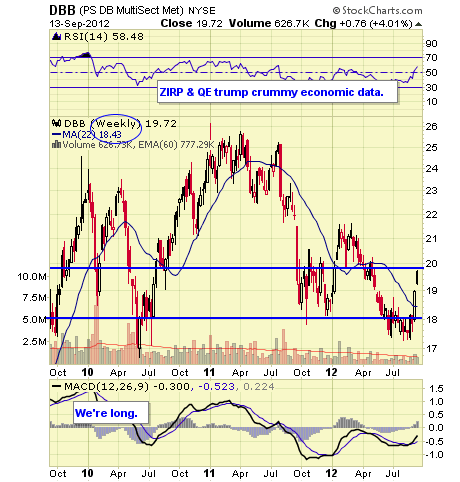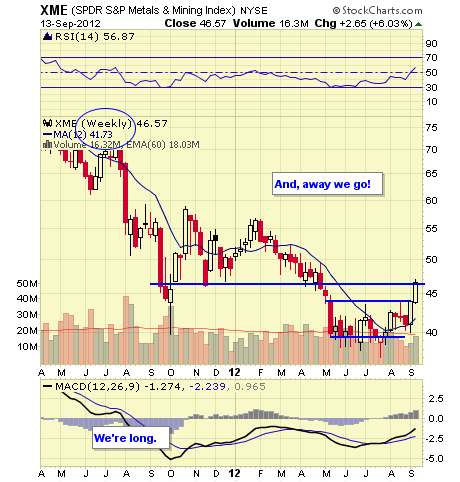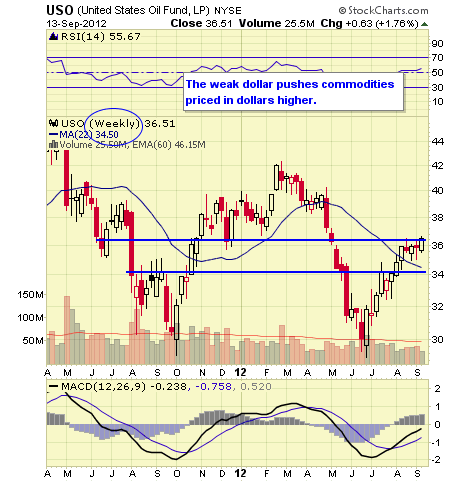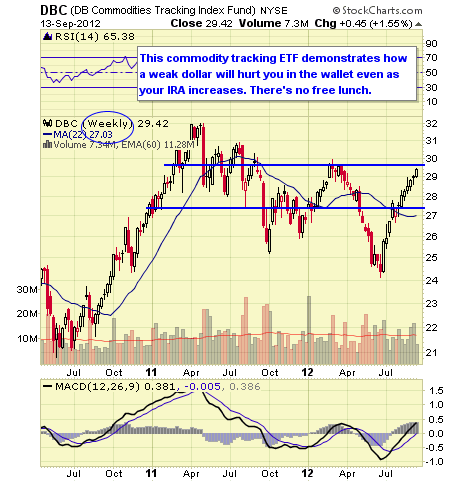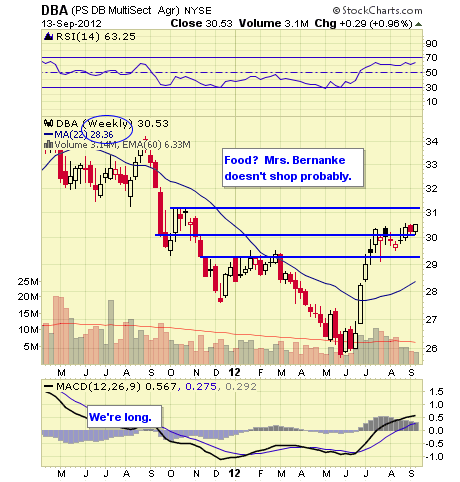 Continue to Overseas Sectors & ETFs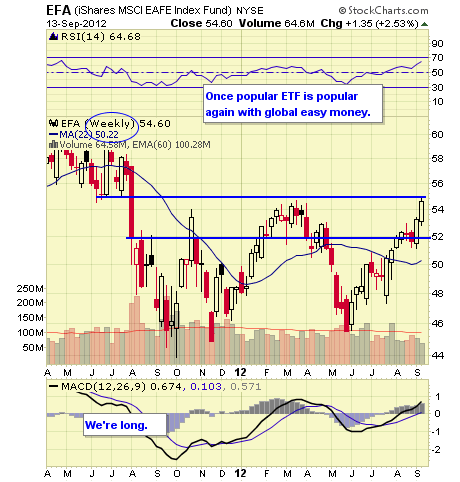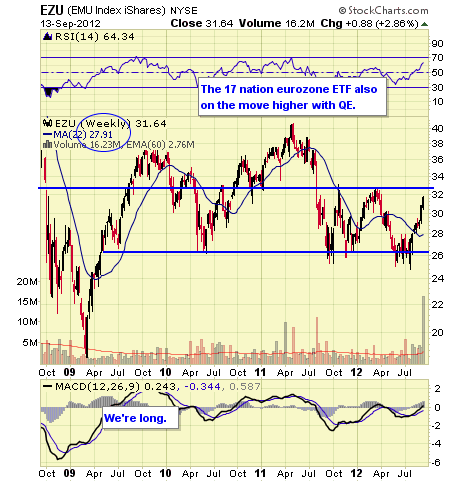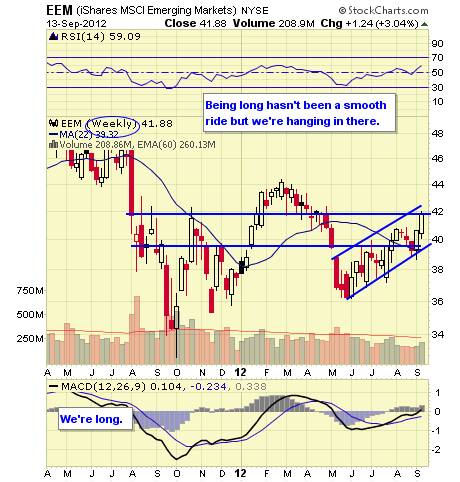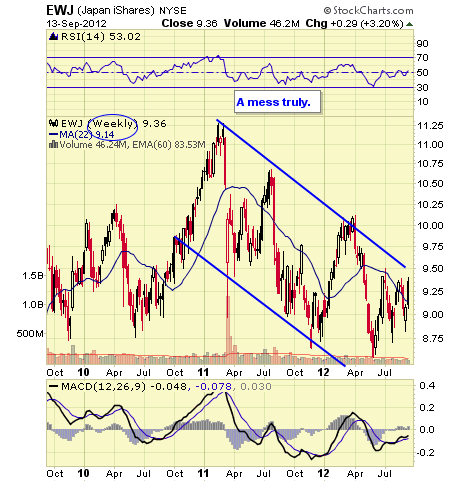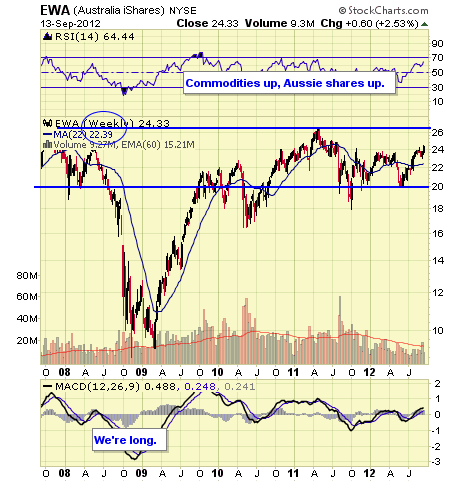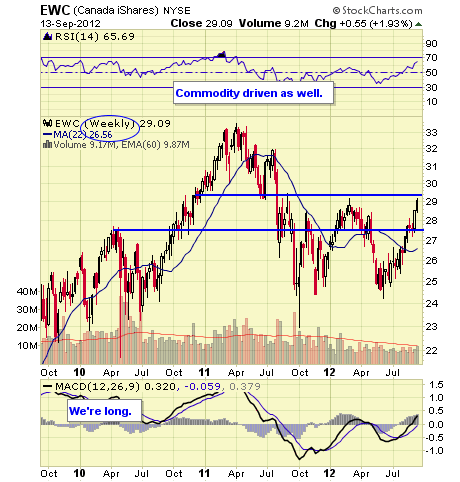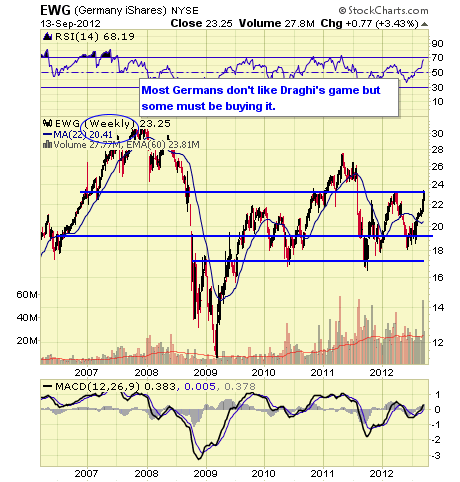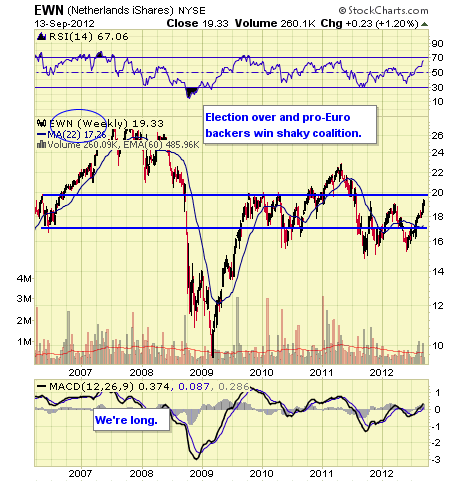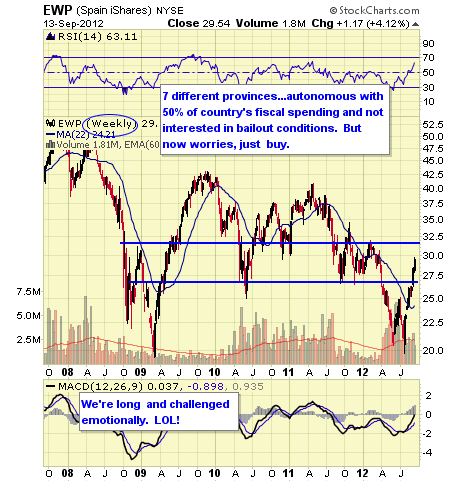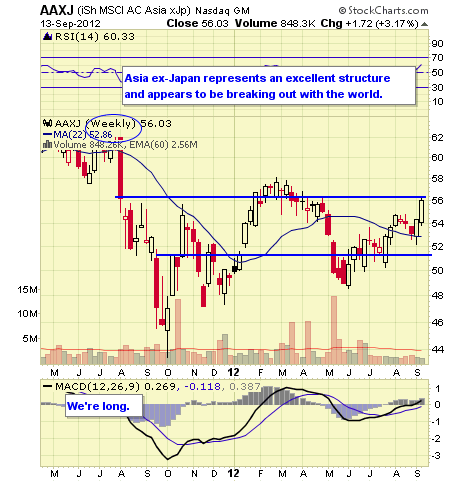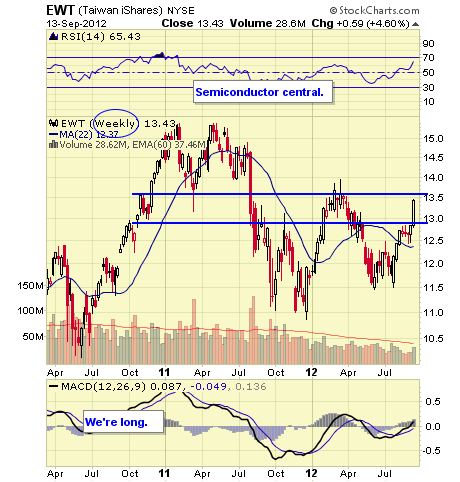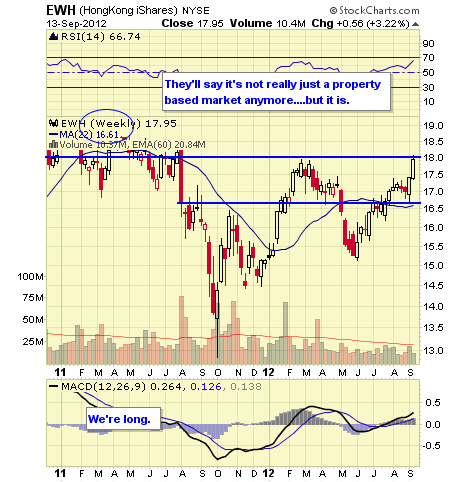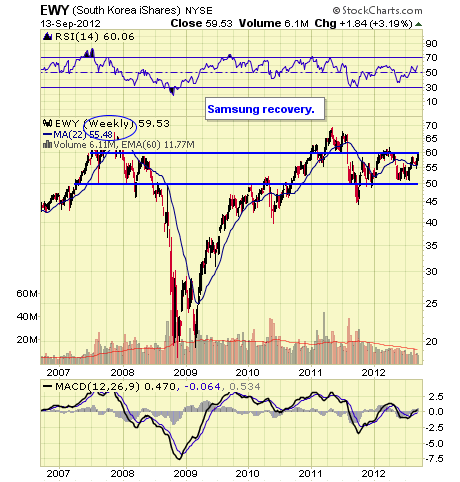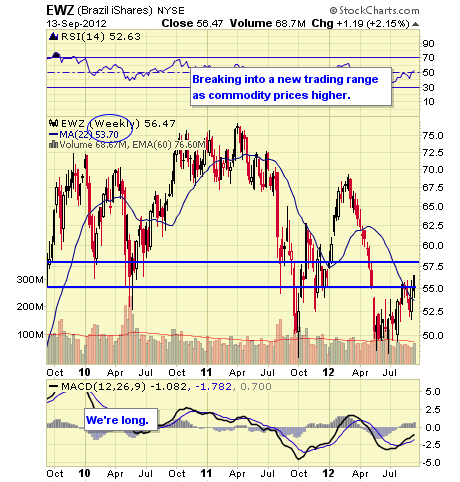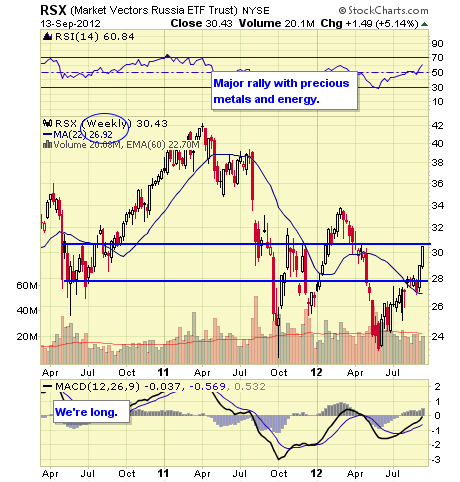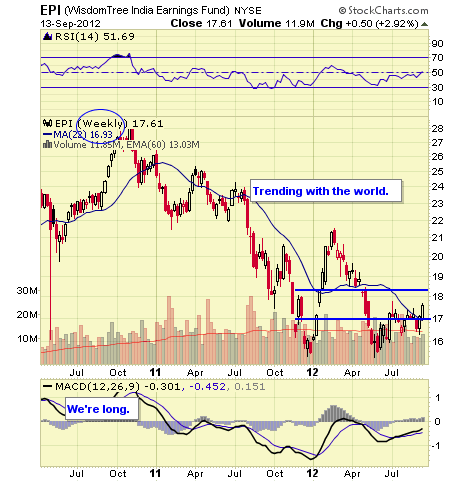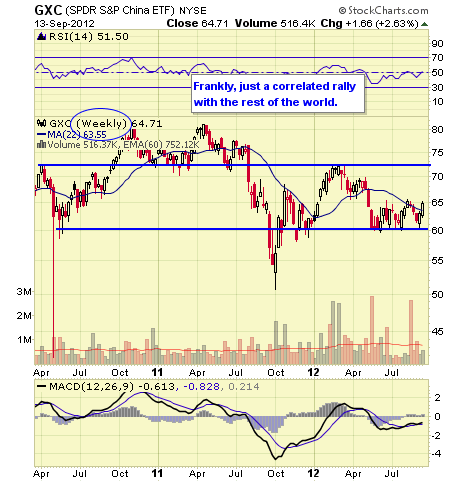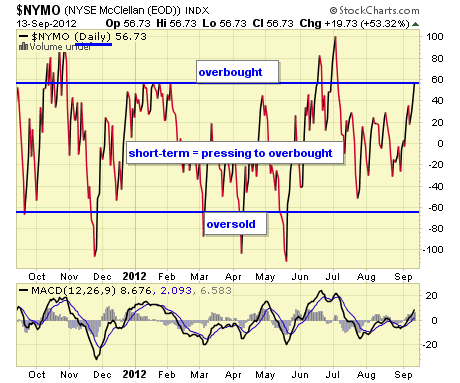 The NYMO is a market breadth indicator that is based on the difference between the number of advancing and declining issues on the NYSE. When readings are +60/-60 markets are extended short-term.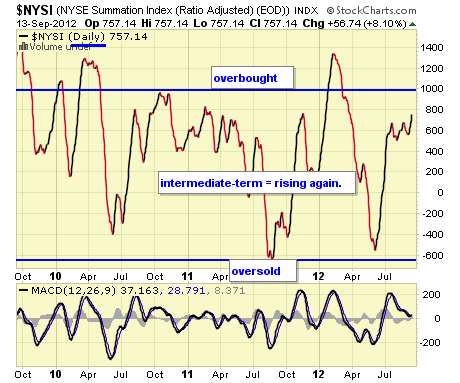 The McClellan Summation Index is a long-term version of the McClellan Oscillator. It is a market breadth indicator, and interpretation is similar to that of the McClellan Oscillator, except that it is more suited to major trends. I believe readings of +1000/-1000 reveal markets as much extended.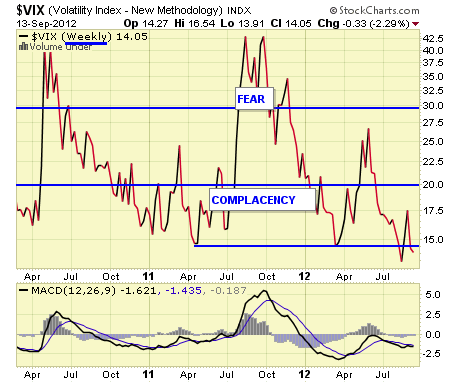 The VIX is a widely used measure of market risk and is often referred to as the "investor fear gauge". Our own interpretation is highlighted in the chart above. The VIX measures the level of put option activity over a 30-day period. Greater buying of put options (protection) causes the index to rise.
There are plenty of charts to review but many have the same look and trend. Since ZIRP and QE have been dominating markets you don't need a gazillion ETFs to fill out a portfolio since equity correlations globally remain high.
Friday features many normally important economic data reports: CPI, Retail Sales, Industrial Production, Consumer Sentiment and Business Inventories. These aren't normal times and with QE back in the driver's seat little else may matter.
Disclaimer: The ETF Digest maintains active ETF trading portfolio and a wide selection of ETFs away from portfolios in an independent listing. Current "trading" positions in active portfolios if any are embedded within charts: Lazy & Hedged Lazy Portfolios maintain the follow positions: VT, MGV, BND, BSV, VGT, VWO, VNO, IAU, DJCI, DJP, VMBS, VIG, ILF, EWA, IEV, EWC, EWJ, EWG, & EWU.
The charts and comments are only the author's view of market activity and aren't recommendations to buy or sell any security. Market sectors and related ETFs are selected based on his opinion as to their importance in providing the viewer a comprehensive summary of market conditions for the featured period. Chart annotations aren't predictive of any future market action rather they only demonstrate the author's opinion as to a range of possibilities going forward. More detailed information, including actionable alerts, are available to subscribers at www.etfdigest.com.
Disclosure: I have no positions in any stocks mentioned, and no plans to initiate any positions within the next 72 hours. I wrote this article myself, and it expresses my own opinions. I am not receiving compensation for it. I have no business relationship with any company whose stock is mentioned in this article.