On Thursday, September 13, 2012, the U.S. Treasury Department reported that the U.S. Government had a budget deficit of $190.5B for the month of August. The Federal Reserve also announced another round of quantitative easing, QE3, that had more stimulus than expected.
Gold and stocks surged on the news with SPY today rising to a new, all-time high when adjusted for dividends.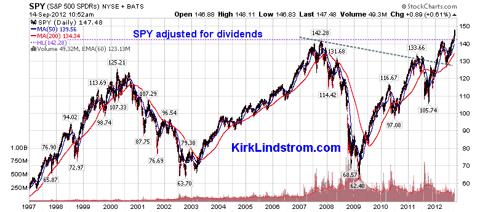 Click to enlarge
(Click to enlarge)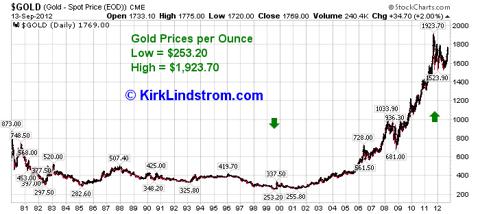 Click to enlarge
(Click to enlarge)
For the month of August 2012, the U.S. government had to borrow 51.6¢ of every dollar it spent.

Data from here.
This shows the information graphically.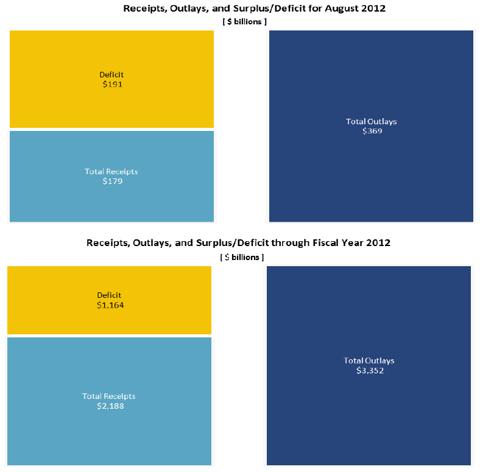 Click to enlarge
(Click to enlarge)
This table calculates that the U.S. government, so far in fiscal 2012, has borrowed about 34.7¢ of every dollar spent.
The stock and bond markets took the news with mixed results:
Today all four major stock market index ETFs, (DIA, SPY, VTI and QQQ) were up, while the bond market represented by five major index funds (AGG, BND, LAG, SCHZ and TIP) is down.
Ticker

Name

9/14/12
Price

Change

Yield %

DIA

SPDR Dow Jones Industrial Average

136.284

0.89

2.44

SPY

SPDR S&P 500

147.86

1.27

1.93

VTI

Vanguard Total Stock Market ETF

75.79

0.69

1.99

QQQ

PowerShares QQQ

70.33

0.77

AGG

iShares Barclays Aggregate Bond

111.38

-0.45

3.54

BND

Vanguard Total Bond Market ETF

84.3288

-0.37

3.51

LAG

SPDR Barclays Capital Aggregate Bond

58.77

-0.06

3.16

SCHZ

Schwab U.S. Aggregate Bond ETF

52.36

-0.18

TIP

iShares Barclays TIPS Bond

121.43

-0.09

2.48
Bonds vs. Stocks
Currently the 10-year U.S. Treasury bond (Treasury rates at a glance) yields only 1.87% as investors continue to fear stocks and European debt for the relative safety of U.S. debt. DIA, SPY and VTI pay a dividend higher than the 10-year U.S. Treasury bond. This could change if the U.S. government continues to spend far more than it takes in and investors lose faith in getting paid back like we saw in Greece.
I doubt the U.S. will default on Treasury debt but it will probably continue to dilute the value of the dollar by having the Fed print money to buy U.S. debt to keep rates artificially low. This will eventually lead to higher inflation so I own equities like SPY and the index fund version of VTI along with individual TIPS (TIPS or Treasury-Inflation Protected Securities) and Series I Bonds (Current Series I Bond Rates and More about I-Bonds).
Note, I am not saying massive inflation in the double digits is a done deal. It is possible the Federal Reserve will restore economic growth with yesterday's announced QE3 and keep inflation under 5% because the job market is so poor. If you expect massive inflation, then you should also buy gold via its ETF GLD and/or premium quality real estate. Other than small amounts of gold I own in the event of an "Armageddon event," I went the route of premium real estate in the San Francisco Bay Area over gold since I enjoy living on my land more than I would enjoy looking at bars of gold and it saves on rent. Top land here is now at all-time highs. I also bought and recommended in my newsletter investing in REITs which have done very well and they pay a dividend.
In any event, you want to position your portfolio for moderate to massive inflation. For me, this means you want to have the majority in equities, real estate, inflation protected bonds and gold. I keep the cash in short term, FDIC backed instruments that lose a bit now to inflation which is offset by gains in my other investments.
Disclosure: I am long SPY. I wrote this article myself, and it expresses my own opinions. I am not receiving compensation for it (other than from Seeking Alpha). I have no business relationship with any company whose stock is mentioned in this article.