I recommended buying Canadian oils a little over two months ago, but now it is time to take profits (if you haven't already).
Here is the performance of the stocks recommended from the article written on July 5. Prices are from the Canadian TSX exchange. Prices are in Canadian dollars.
July 5 Sep14 high Now $ Change
WTI (near futures) $86.69 $100.42 $99.45 +1.14
OTCQX:COSWF $20.03 $22.34 $22.19 +0.43
OTCPK:LEGPF $5.97 $7.73 $ 7.58 +0.44
PBKEF.PK $12.61 $15.25 $15.31+0.71
We also added Talisman (NYSE:TLM) to the list afterwards
TLM $12.61 $14.69 $14.51 +0.53
My reasons for the recommendation to sell the oils are several:
1) I think there is a good chance Israel will attack Iran before the Nov 6 U.S. Presidential elections. The IEA will release strategic oil reserves. I think the Obama administration's recent slight (not meeting Israeli Prime Minister Benjamin Netanyahu) might have been an attempt to provoke it. If WTI oil prices rise above $100 US, Obama risks his election chances, because U.S. voters will blame him for high gasoline prices.
2) US national gasoline average price was $3.847/gallon on September 10. High prices and reduced gasoline consumption as the driving season winds down, make gains above $4 contractionary.
3) The high CAD is hurting the Canadian oils Q3 even as the commodity and stocks go higher. CAD at $103.27 USD versus 96 cents
4) Some of the squeeze in WTI oil prices was caused by the aftermath of Hurricane Isaac causing Gulf of Mexico rig shutdowns and disrupting tanker liftings of oil imports. This effect is going to fade unless we have another hurricane soon (the only current major storm in the Atlantic is moving away from the Gulf). I expect U.S. and Canadian domestic oil production to continue to depress WTI and WCS prices.
Europe has successfully passed several political and economic trials after hitting a nadir in May on the Greek elections. The commodity markets look free to break out with the euro gaining ground on short covering. But the higher euro is going to hurt export competitiveness for Germany and other countries, and reduce growth there and exacerbate the recessionary conditions in the periphery. Offsetting this, the stronger euro currency reduces effective Brent oil price. But that is not enough.
Basically, investors and traders and sovereigns are breathing a sigh of relief, but the unemployed person in the U.S. and Europe isn't getting any relief from Helicopter Ben and Super Mario solving the confidence problem by buying bonds. I think political instability especially in Greece, could still hurt the save the euro plan.
So take some profits on Canadian oils. It's a Friday afternoon anyway, eh? You can buy them back when the world seems to be falling apart (again).
If you want to get double leverage with the euro repairing, the CAD strong, and oil prices declining, you can buy airlines. They could be an especially good buy if Iran is attacked by Israel, as I suspect will happen, because the airlines will crap out on that day. But the weakness should fade as the US and the IEA flood the market with crude oil.
We recently bought Air Transat (OTC:TRZBF) or TRZ.B and Air Canada (AIDEF.PK) or AC.B on the TSX, at $4-$4.05 and $1.07-8 respectively. I don't expect you to run out and buy airlines without detailed reports, but my gut is the airlines are a good contrarian area and can be bought for a small part of one's portfolio. I hope to provide the full argument at some point with more detailed work.
I have much experience in analyzing and trading airline stocks as I researched not only all the big U.S., European and international airlines during the 1990's and early 2000's, but also the airframe and component manufacturers. AMR and Continental in particular, were big winners for us post 9/11.
You might want to consider them as high-leverage ways to play improved consumer and business confidence and lower jet fuel prices. In my experience, the economy trumps oil prices when looking at airline stocks. And the Canadian has better confidence than in most countries these days.
These are trading situations and not for the faint of heart. TRZ.B has gained 20% since our purchases but we sold it in the $4.60 area yesterday on the good Q3 earnings but cautious guidance (too bad - TRZ.B hit $5.17 today and is currently trading at $4.98 on 210K volume). I am a buyer in the $4-$4.25 area.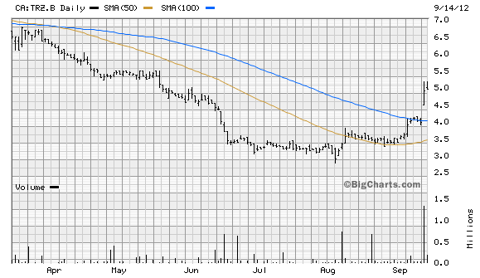 AC.B is currently at $1.18. I took some profits and hold half my position. I plan to buy it back on weakness. They are starting a low-cost carrier to serve the vacation market, in competition with Transat, Sunwing, and Westjet (OTC:WJAFF), and could be the sleeper winner of 2013 if things pan out as I expect.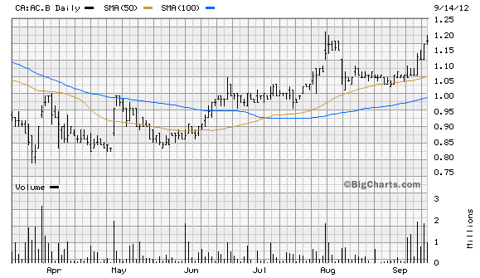 It's worth repeating that airlines are high risk, and so you must consider the money you use to buy them as a potential write-off at any time. They are speculative in nature no matter how much research one does on them, and therefore suitable for speculators with a high risk tolerance.
Disclosure: I am long AIDEF.PK. I wrote this article myself, and it expresses my own opinions. I am not receiving compensation for it (other than from Seeking Alpha). I have no business relationship with any company whose stock is mentioned in this article.