The recent volatility and short interest in Skullcandy (NASDAQ:SKUL) has presented some interesting opportunities for those wishing to take a leveraged position in the stock to capitalize upon the wild swings in the stock price. I'd like to examine both some of the opportunities as well as the potential risks of taking such a leveraged position. All data will be taken from open sources such as Yahoo Finance or Google Finance that are free for everyone to access.
Background and Analysis
Skullcandy, Inc is a designer and distributor of audio accessories that targets the youth fashion and action sports segment by dealing with independent snow, skate, and surf shops. Their products are additionally available through several major retailers including Target (NYSE:TGT), Dick's Sporting Goods (NYSE:DKS), and Best Buy (NYSE:BBY). Shares of Skullcandy have only been traded publicly for just over one year. Since then, the price has generally ranged between $12 and $20. If you have seen a teenager listening to an iPod with brightly colored headphones bearing a skull logo, you have been exposed to Skullcandy's product line. The company does face some increasing levels of competition in the premium headphone market, as products by music artists such as 50 Cent and Dr. Dre gain popularity.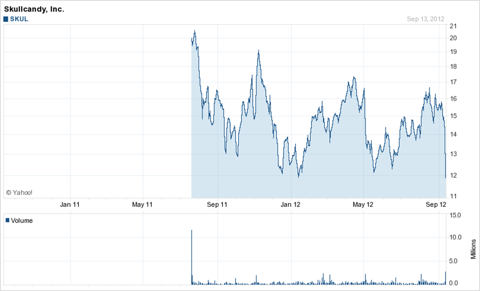 Click to enlarge
Analysts anticipate earnings growth for the company, as evidenced by the forward P/E of 11.05 compared to the TTM P/E of over 20. The company maintains a responsible level of debt relative to assets, observed by an analysis of the financial ratios to include a current ratio of 2.97. During the most recent quarter, the company reported just over $5 million in short term debt while maintaining cash on hand of almost $7 million. The company carries zero long term debt. The general downtrend of cash on hand could be seen as troublesome to some investors, however you can also see total assets are increasing compared to a decrease in liabilities. Analysts hold a favorable view on the stock, as the target prices range from $17 to $33 with a mean target of $22.86.

Click to enlarge
Several articles have already been written proclaiming that the large short interest in this stock will invariably lead to a short squeeze. The numbers do show that there is an extremely high short interest in this stock. Although a short squeeze might be considered by some as sort of the Holy Grail of being long in an unpopular stock, experience shows that sometimes the shorts have it right. It is likely unwise to make a large wager on either side of this issue without performing significant due diligence.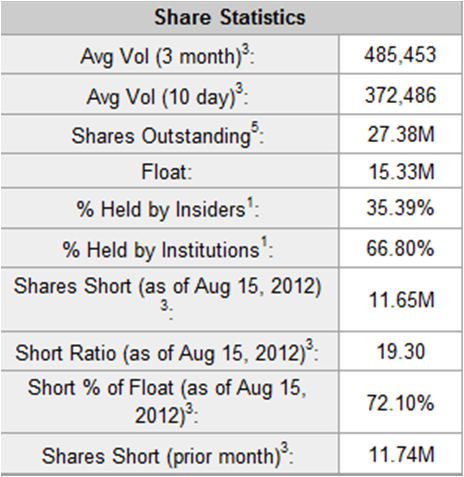 What is clear about this stock is that there is significant volatility. An examination of the available options chains shows that there may be a potential mismatch between price of the option and the value of the underlying stock. Given the historical price swings, the best opportunity to capitalize on future movements in either direction could be a longer term option, such as March 2013. This allows the maximum time available for future earnings reports or unexpected news to drive the price in one direction or the other. If the goal is to capitalize on movements in the price of the underlying stock, then we should attempt to find option chains which value the stock as closely to the current market price as possible, while also attempting to minimize the initial cash required for the trade.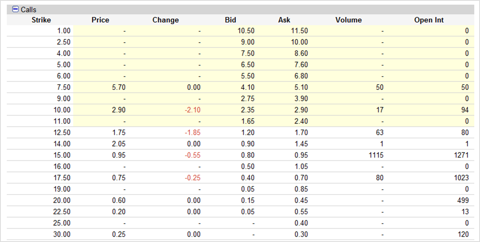 Click to enlarge
Looking at the chart above, someone with a bullish view on this stock could purchase $10.00 calls for approximately $2.65 (midpoint of bid/ask). This would place a current value on the stock of $12.65 ($2.65 premium plus $10.00 strike price). As long as the stock swings in a positive direction more that 72 cents or about 6% anytime in the next six months, this investor would theoretically be in positive territory. As you can see, this stock displays no shortage of volatility over the past year.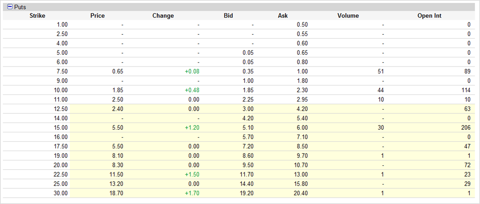 Click to enlarge
Correspondingly, the same bullish investor could determine that even with the extreme short pressure the stock is unlikely to fall very far outside its established range of $12 to $20. Selling $10.00 uncovered puts would enable this person to pocket a premium of $2.05 up front (again midpoint of bid/ask), and the stock would have to fall below the cost basis of $7.95 ($10.00 strike minus $2.05 premium) before any actual loss was incurred.
In contrast, someone who believes the company is overvalued and that the competition by Dr. Dre and 50 Cent will prove too much can take the opposite position. Selling an uncovered $12.50 call would net approximately $1.45 up front (midpoint of bid/ask). This position will remain profitable as long as the stock remains below $13.95 (strike plus premium) between now and expiration, but maximum profit will be limited to the premium received. The risk in this move is that a short squeeze could incur significant losses rather rapidly. Risk could be limited by playing a bear call spread, but this would also serve to further limit potential profit. Purchasing a put at this time would require a larger percentage of cash up front, so it would likely not be a move made by someone seeking to maximize their leverage.
Conclusion
Based upon the demonstrated volatility in the price movements of Skullcandy stock for the past year, potential exists to profit upon future price swings by playing either side of the options coin. The company does appear to display decent if not promising fundamentals, but there is uncertainty on the horizon as competing products look to erode market share. Based on the high level of short interest, this may already be priced into the stock price.
It is important to remember that by using options and leverage, an investor will incur larger profits or losses based upon smaller movements in the underlying share price. The risk associated with options trading is not for everyone.
Disclosure: I am long SKUL. I wrote this article myself, and it expresses my own opinions. I am not receiving compensation for it. I have no business relationship with any company whose stock is mentioned in this article.