Given the unexpected rally in stock prices in general and the large and mega-cap asset classes in particular the last three months, it has been difficult to find "oversold" stocks that might represent low-risk buying opportunities in today's stock market. Intel (NASDAQ:INTC) and its price action this week could represent one such opportunity in our opinion.
As a money manager specializing in managing high net-worth accounts for individuals via separate accounts at Charles Schwab (NYSE:SCHW), we try and blend value and growth in client accounts primarily through individual stocks, but we also use ETFs and occasionally some mutual funds.
Part of our research process for individual companies is fundamental analysis with a strong emphasis / reliance on earnings per share and revenue estimates and revisions as provided by Thomson Reuters.
Despite Intel recently lowering 3rd quarter, 2012 revenue guidance from its $14.3 billion midpoint given in July to $13.2 billion as of the announcement in early September, earnings per share estimates have not moved downward as much as I thought they might given the pre-announcement.
Here is the history of Intel's 2012 and 2013 earnings per share estimates as of September 11th (looking backward):
Current: $2.18 and $2.27
Aug 31,12: $2.38 and $2.54
July 31,12: $2.39 and $2.55
Apr 30,'12: $2.49 and $2.68
Jan 31,'12: $2.41 and $2.60
Oct 31'11: $2.56 and $2.70
For both calendar 2012 and 2013, Intel's earnings per share estimates have been revised lower by about 15% in the last 12 months. Is that something we like to see in our stocks - absolutely not, but we suspect the pre-announcement cleared the decks for the 3rd quarter report due in October.
Since the 2009 market low, Intel has traded around 10(x) 4-quarter trailing earnings, but since the March 2000 market top, Intel has averaged 6% revenue growth and 20% earnings per share growth.
Today at $23 per share Intel is trading at 10.5(x) the $2.18 2012 consensus estimate and 10(x) the $2.27 2013 consensus estimate for an expected decline in earnings per share this year of 9% and 4% earnings per share growth next year.
More importantly, at $23 per share, Intel is trading at 7(x) enterprise value to cash-flow and 15(x) enterprise-value to free-cash-flow, with a dividend yield of better than 3% currently.
The key question around Intel remains whether management can shift the business to Ultrabooks and mobile (not to mention servers and such) and away from the PC business where it maintains an 80% market share, and where AMD is practically an after-thought to microprocessors.
There is no question Intel is peddling uphill as Intel's capital expenditures as a percentage of revenues is now 20% versus just 12% - 13% a few year ago. That is a steep hill to climb every year, and puts tremendous pressure on management to sustain the "economic capex" of the business. However, Intel's prodigious cash flow valuation helps sustain this difficult dynamic: for every $3 in revenue Intel generates, they get about $1 of cash flow.
Also, with this sizable reinvestment required (annual capex), Intel maintains a formidable barrier to entry in terms of its competition.
No question with all of the attention on Apple (NASDAQ:AAPL) and iPads, the long-term growth of the PC is in doubt. However, if you look back at the 1980s and 1990s, PC growth was closely correlated to job growth, and with sub-par job growth in payrolls the last 4 years, if the economy can create jobs at a rate that is more consistent with historical GDP growth, some of this PC growth will likely return. Granted the iPad and others will take some corporate I/T share, but I don't think the PC is completely dead or expecting zero growth for the foreseeable future.
Technically, we will add to Intel down to $21 per share. Below $21 and we would've grown concerned about the stock. Intel is now very oversold on the attached weekly chart, and is sitting on top of long-term technical support, particularly the trend line off the March '09 market bottom.
To conclude, we were buying Intel this week, starting at $23.50 and will continue to lower our cost basis on the shares until the $21 area. We think Intel is worth (in terms of "intrinsic value") high $20's - low $30's in terms of price, which would be a roughly 30% return (not including the dividend) over the holding period. The question remains how quickly can Intel bounce, probably on 3rd quarter earnings release in October, but will it be enough? We will likely hold our Intel position through the year-end 2012 depending on capital gains rate changes and how the election turns out, and how Windows 8 is initially received after it launches in October.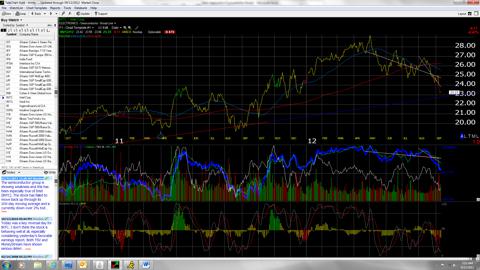 Disclosure: I am long INTC. I wrote this article myself, and it expresses my own opinions. I am not receiving compensation for it (other than from Seeking Alpha). I have no business relationship with any company whose stock is mentioned in this article.
Additional disclosure: We custody client assets at Charles Schwab and Co. Inc.