In a previous report on Equinix Inc. (NASDAQ:EQIX), we mentioned that the company might redefine itself as a real estate investment trust (REIT). EQIX is a leading global interconnection platform, connecting companies through hundreds of its data centers across the world in almost 40 strategic markets. In a recent press release, the company announced that its board of directors had approved a plan to give the company "REIT" status. After the news came out, the stock jumped almost 8% to close at $200.5.
The company provides data services to its clients, ranging from financial institutions to telecom operators. Demand for its services has rocketed, as businesses have increased their reliance on EQIX to manage their internet traffic and mobile applications. Further evidence of this increased reliance is that the company, through its internet business exchanges, routes over 90% of the world's internet traffic. The earlier than expected announcement of a possible REIT conversion has surprised most analysts. However, the majority view is that the stock will continue to trade higher on the news, which has already shown substantial gains since the start of the year. REITS are required by law to distribute 90% of their taxable income as dividends, and they are subject to lower taxes, which is one of the reasons why companies aim to acquire REIT status in the first place. The company, expecting to achieve the more tax efficient REIT status in the beginning of 2015, will make a special distribution to its shareholders of approximately $0.7-to-$1.1 billion, which it will finance through a combination of cash and equity issue. A significant portion of the above-mentioned distribution is expected before 2015, with the balance to be paid out after its REIT conversion.
Equinix is a growth story, with a staggering revenue growth of 40% since FY2007. On average, the company has been able to generate a revenue growth of over 30% per year for a number of years now. This growth is in line with the company's goal of generating over $3 billion in annual revenues by FY2015. In the financial year ended 2011, revenues came in at $1.6 billion.
Gross margins are high, and they have been rising consistently. In the year 2007, the company posted gross margins of 37%, and as at financial year ended 2011, they have expanded to over 45%. The same growth can also be seen in its bottom line, with a quarterly earnings growth of 37%. EQIX had an excellent quarter, as it was able to beat the consensus EPS estimate by a significant 22%. Moreover, it showed an improvement across all of its business metrics, a summary of which is presented below.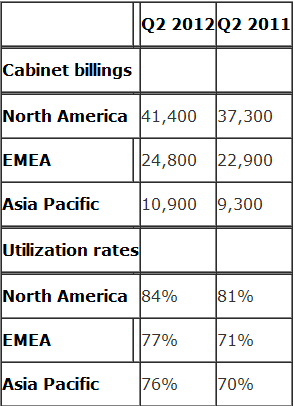 We are bullish on the company, as it has tremendous growth potential, and has not let that potential go to waste. Data center expansion, as well as rising demand for digital media services, will bring further growth for the company. Moreover, the recent development on its possible REIT conversion will likely bring growth to the stock as well, which is already up almost 100% on a YTD basis. The stock is trading at 50 times its forward earnings, which even though is high, is below its historic average. The only thing it was missing from an investor point of view was that it didn't pay out dividends, and now with that possibility, we expect the strength in its stock to continue.
Disclosure: I have no positions in any stocks mentioned, and no plans to initiate any positions within the next 72 hours.
Business relationship disclosure: The article has been written by Qineqt's Technology Analyst. Qineqt is not receiving compensation for it (other than from Seeking Alpha). Qineqt has no business relationship with any company whose stock is mentioned in this article.