Diamond Foods (NASDAQ:DMND) has been broiled in controversy for the past year. The maker of the popular Kettle potato chips and Emerald Nuts, amongst other things, has been stuck in an accounting issue with regards to payments they make to walnut growers for the past year, a story that is well known by the public. However, this issue appears to be coming to an end very soon as the company works through restating its financial statements.
The stock was at one time a huge momentum stock and topped out at $96 12 months ago. The hedge fund manager David Einhorn recently noted this about DMND in his first quarter 2012 letter:
"Last quarter, we noted that we had closed a brief and successful short position in Diamond Foods. Our thesis was that the company had engaged in significant accounting chicanery. When the stock fell by 66% a couple of months after the Partnerships established their position, we chose to cover and take a profit. We hadn't changed our thinking about the accounting, but we were skeptical that anyone would do anything to actually curtail this behavior. Imagine our surprise when DMND announced that its own audit committee had actually investigated, found the wrongdoing, restated earnings and dismissed the management. This sort of self-policing happens too infrequently and we think it deserves to be noticed and applauded."
The stock is extremely cheap based on current earnings relative to other companies in its industry. After adjusting for its debt, Diamond shares could fetch triple their current price if the company regains a multiple comparable to its peers. The brands that DMND owns have far more growth potential than most. Pringles, a brand that DMND was trying to acquire prior to its accounting scandal, was recently acquired for $2.7 billion, which equates to 1.8x sales, and this product has arguably already achieved market saturation. DMND is expected to do roughly $1 billion in sales in 2012 yet its stock is only valued at $425 million.
I believe when the accounting restatements are issued, the stock could rally from $19 to $40+. Right now it's a great risk reward setup.
TECHNICALS: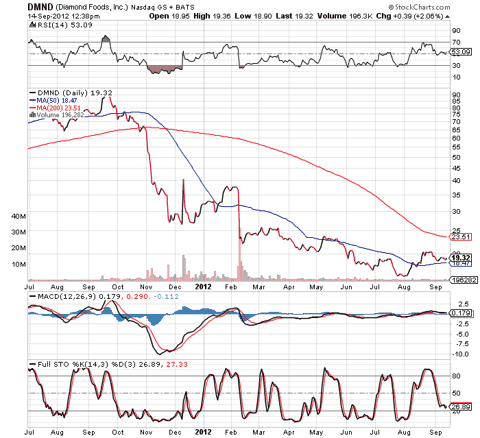 Click to enlarge
After pulling back about 85% over the past year, DMND made a low around $16 in August 2012. It then rallied to over $20, breaking above the most recent high in July, triggering a potential reversal in the charts. MACD bottomed in November 2011 and has positively diverged while the price continued lower. In addition to this RSI never broke below the November lows which is another positive divergence. Stochastics and MACD are signaling a buy signal right now on the pullback to the 50 DMA. Now is a great time to get long this heavily beaten down and heavily shorted stock.
Disclosure: I have no positions in any stocks mentioned, but may initiate a long position in DMND over the next 72 hours. I wrote this article myself, and it expresses my own opinions. I am not receiving compensation for it (other than from Seeking Alpha). I have no business relationship with any company whose stock is mentioned in this article.