In early May, I wrote an article about why I expected Ford (NYSE:F) to have significant trouble moving forward. At the time, shares were trading at $10.62. Since then, after breaking significant support at the $10 level, it reached a low of $8.82 in early August. Needless to say, it has been a rough 2012 for Ford shareholders. Could things be turning around for Ford shares? Let's take a deeper look inside the company.
Click to enlarge images.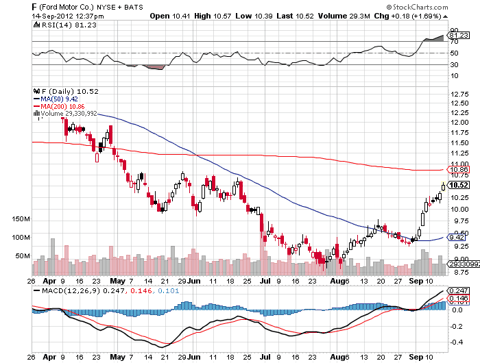 Click to enlarge
Source: Stockcharts.com.
As you can see on the chart above, Ford has been in a deep decline for some time now. I originally expected to see about six to nine months of trouble for Ford going forward, and it looks like it may be shaking free. With an RSI of 81, the charts are suggesting an overbought condition on Ford. I was analyzing the company approximately two weeks ago when I noticed it perk up over the 50-day simple moving average. The 50-day SMA provided resistance to an increasing Ford share price, but eventually gave way and will now hopefully act as support.
For all of September, Ford has been ripping higher, something bulls have been waiting to see. On Sept. 4, the first trading day of the month, Ford opened at $9.37. Today, Ford has touched a high of $10.57, a gain of almost 13%. With a grim global outlook, Ford shares have been driven down -- not so much by short-sellers, but by the lack of buyers. People knew Ford would have a hard time going forward, and thus did not buy shares. But perhaps many of the doubters are now feeling optimistic on Ford.
But what is really needed to get Ford going? Many here on Seeking Alpha said that a looming credit upgrade would get the share price moving. A credit upgrade would make it cheaper for Ford to borrow money, which it finally got on May 22. The upgrade moved Ford from junk bond status to investment grade status, but did not give the jump start to shares that many were hoping for.
On Sept. 4, domestic auto sales numbers were announced, again beating the consensus with 14.5 million total auto sales compared to an estimate of 14.3 million. The pessimistic nature surrounding automakers allows for them do better than many think, especially at home. Below is a graph displaying this strength.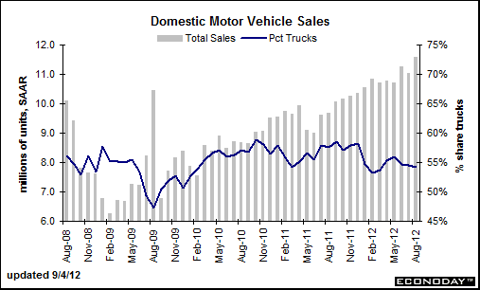 Click to enlarge
Source: Econoday.com.
As you can see, domestic sales have been on the rise. July did have a sudden pullback, but for the most part sales have been on the rise since the bottoming in mid-2009. Ford sold nearly 200,000 vehicles, 28,188 of which were Ford Escapes. For the Escape, this represents an increase of 37% year over year, and just 312 units short of a new monthly record for the model (June 2012 currently holds the record).
While auto sales have been doing well domestically, global sales have left Ford stuck in the mud. On June 25, Ford reported second-quarter earnings. Surprisingly, Ford beat estimates of $.28 by two cents, earning $0.30 per share. This was good news for the automaker, which had been struggling throughout the year. This included a 57% drop in profit from the previous year, noting severe slowdowns in international sales. Ford lost an estimated $1,125 per vehicle shipped in Europe, as consumers worried about a further stalling economy. Ford did bring in $1 billion in the previous quarter, although that was down significantly from the $2.4 billion it made in the same quarter last year.
The real anchor is Europe. Ford took a $190 million loss in its international division during the first quarter. Of that sum, nearly $150 million of it was in Europe. The most recent quarter was worse, with Ford posting an operating loss of $403 million in Europe. Ford now expects to lose more than $1 billion in Europe for the year 2012. Alan Mulally, the CEO for Ford, said, "We are assuming that this is a structural issue, not a cyclical issue. It's not going to come back fast."
But with the S&P 500 reaching four-year highs yesterday and European leaders announcing an "unlimited bond-buying program," Ford shareholders are perking up, lighting up the bid button. Prices have been rebounding for Ford in recent trading and I expect the trend to continue. I would expect significant resistance near the 200-day simple moving average near $10.75. I am not bullish on Ford yet, as international sales are still weak and the outlook on Europe remains bleak.
The Trade
I have thought about several ways to play Ford. It doesn't really move enough to make buying LEAPs very attractive, especially when paying for so much time premium. Instead, I decided selling puts would allow for the best entry. The $9 strike doesn't provide a very attractive premium, but the $10 strike does, in my opinion.
Sell 1 Ford December expiration $10 put for 0.38
The December 2012 $10 strike put can be sold today for 0.38, or $38. This represents a 3.8% return on investment, or 13.40% annualized. Also, if Ford is below $10 when December expiration comes around, put sellers will be put the stock at $10. But because of the $0.38 credit that was taken in, put sellers will have a cost basis of $9.62. Ford has stood up well at the $9 level as it has acted as solid support, and I expect that to be the case in the future as well.
Ford has the products, management, and finances to get moving. It is deeply discounted (with a 2.4 P/E ratio) and if Europe can produce just better-than-expected growth, Ford should do great. Despite all of the issues the company is having now, it still continues to do pretty well. With more stimulus coming from the U.S. Federal Reserve, domestic auto sales should see a boost -- something that is already doing very well and should continue to get better under more fiscal spending.
If Europe can spur growth with its new bond buying program, I think Ford will benefit immediately. Remember, Ford is doing superb in America; it's the international division, and specifically Europe, that continues to drag Ford's share price down. Mulally is a fantastic CEO who steered Ford out of the 2008-09 recession and avoided bankruptcy. My feeling is that he will be able to steer Ford clear of major European headwinds, which appear to be getting better as we speak, while supporting the long-term outlook at Ford. I am a buyer closer the 50-day simple moving average, around $9.50.
Disclosure: I have no positions in any stocks mentioned, but may initiate a long position in F over the next 72 hours. I wrote this article myself, and it expresses my own opinions. I am not receiving compensation for it (other than from Seeking Alpha). I have no business relationship with any company whose stock is mentioned in this article.