Ford has the latest Retail Sales Report to thank for its outsized gains today. Ford (NYSE:F) shares were higher by 1.9% at the hour of scribbling here. In comparison, the SDPR S&P 500 ETF (NYSEARCA:SPY) was higher by just 0.4%. The news for the automaker was tied to good sales results, which also benefits its domestic and foreign competitors. Thus, the shares of General Motors (NYSE:GM), Toyota (NYSE:TM), Honda (NYSE:HMC), Daimler A.G. (OTCPK:DDAIF) and Volkswagen (OTCPK:VLKAY) were also higher on the day.
Ford was outpacing the gains of its Japanese rivals, but was trailing the Germans. The group as a whole has the Retail Sales data to credit for its rise. Within that report, sales of Motor Vehicles and Parts Dealers were reported up 1.3% against July and 10.7% over the prior year's August. Considering the broader weakness witnessed in consumer sentiment (despite today's University of Michigan data) and, more importantly, consumer spending, the news relieves concerns for these shares.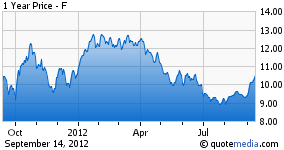 Ford has not had the best of years, considering the last 12 months trading trend. The stock is 19.5% off its 52-week high. However, it benefited yesterday as well, along with the rest of the market, on the Federal Reserve added stimulus. As a matter of fact, Ford is higher by 19% since it touched down at $8.82 intraday on August 2.
Ford is dealing with the same issues most automakers are dealing with in some degree or another. Those issues being: the deteriorating European economy and related consumer spending; slowing economic growth in China and its impact on auto sales projections there; and finally the direction of the American economy, which is now in question.
These issues explain the poor action of Ford shares seen in the chart above. The stock trades at 7.7X my EPS estimate for the next 12 months, which is simply derived by taking an average of the current fiscal year and the coming fiscal year. That exact EPS figure is $1.375. Looking at analysts' forecasts for growth in FY 2013 (Dec.) and over the coming five years, we have growth estimates of 18.3% and 10.5%, respectively. This gives us PEG ratios of 0.4 and 0.7, respectively.
Each PEG ratio depicts value, and we should draw some comfort in the 5-year relative PEG of 0.7. However, the basis of these valuation metrics is increasingly coming under question. Will Ford really earn $1.37 per share over the next 12 months? The latest trend for estimates is a declining one, with EPS estimates for FY 13 cut over the last 90 days from $1.72 to $1.49. If we're banking on $1.49 being the bottom, we may be trying to catch that proverbial falling knife.
This reasoning explains why Ford's shares have come down over the 52 week period, and also why they are rising today. The shares have come down as developing economic drivers have impacted sales expectations. But today, the stock is rising on the surprisingly strong August result for the industry's selling dealers.
Whether gains hold or not will depend on ongoing and dynamic global macroeconomic drivers. Thus, today's gains could go toward regaining more of the valuation penalty baked into the shares on concerns, but it will probably take more corporate specific evidence to recover all of it. I continue to favor automakers with increasing exposure to Asia. It's important to note that word, "increasing", because the valuations of the companies with the most exposure today already reflect that. Ford can, therefore, lift its valuation toward its foreign peers by increasing such exposure. For these reasons, I would say buy Ford short-term. Over the longer term, I am more cautious due to the current direction of global economic activity and that proverbial falling knife.
Disclosure: I have no positions in any stocks mentioned, and no plans to initiate any positions within the next 72 hours. I wrote this article myself, and it expresses my own opinions. I am not receiving compensation for it (other than from Seeking Alpha). I have no business relationship with any company whose stock is mentioned in this article.