All of the companies with exposure to the PC are not particularly well liked by the markets, and Microsoft (NASDAQ:MSFT), developer of the widely used Windows line of operating systems, is certainly no exception. The dismal PC sales numbers coming out of Hewlett-Packard (NYSE:HPQ) and Dell (NASDAQ:DELL) were a painful blow, and the Intel (NASDAQ:INTC) and Western Digital (NYSE:WDC) revenue warnings further rubbed salt in the wound.
However, Microsoft is a fundamentally strong company well-positioned to take advantage of both a rebound in the PC space, as macroeconomic headwinds calm, as well as the growth in the smartphone and tablet markets.
Windows 8: A Big Deal
Windows 8 is Microsoft's next-generation operating system the the PC and tablet space. The operating system combines the "best of both worlds" and works well for both traditional keyboard and mouse interfaces, as well as for touch-enabled devices. This allows Microsoft to unify its PC and tablet ecosystem, which should be highly advantageous when it comes to making sure that its tablet platform has a lot of software right off the bat.
Furthermore, if a broad paradigm shift toward tablets happens, it'd be a lot easier to convince the average Windows user (still the overwhelming majority of users at an 83% market share) to move to a tablet that runs his or her existing programs, rather than a foreign operating system such as Google's (NASDAQ:GOOG) Android (ever wonder why most Android tablets simply don't sell well?) or even Apple's (NASDAQ:AAPL) iOS. In addition to positioning Microsoft in the emerging tablet space, the Windows 8 launch on the traditional notebook and desktop form factors should bring in the PC buyers who are holding off on upgrading until systems based on the new operating system are available.
Windows Phone 8: An Even Bigger Deal
While the release of Windows 8 is a huge deal, its success is pretty much a foregone conclusion at this point: Most people use Windows, and people upgrading will most likely buy Windows 8 systems. The much more interesting entry from Microsoft is Windows Phone 8. While various Windows Phone variants have been around for ages (yes, Microsoft has been making mobile operating systems since 2000), Microsoft seems to really be going full force with its latest Windows Phone 8.
On the technical side, Windows Phone 8 is a beauty, supporting all the modern bells and whistles for both end users and programmers. Furthermore, all of the phones based on Windows Phone 8 seem to be running on Qualcomm's (NASDAQ:QCOM) Snapdragon S4, a system-on-chip that handily crushes its competitors in terms of performance and performance per watt in the phone space. While it will be up to the handset manufacturers to develop compelling designs to win share in the space, Nokia's (NYSE:NOK) Lumia 920 is certainly promising, and Samsung's track record of being a dominant force in the smartphone space, both give credence to the potential success of Microsoft's new phone platform.
Fortress of a Balance Sheet
Microsoft has a fortress of a balance sheet. With $62 billion in cash and $12.78 billion in debt, this is as secure as it gets. The great thing about Microsoft's cash position is that it can afford to keep trying new things. If these initial attempts are unsuccessful, the firm will try harder until it finally gets it right. Remember the initial Xbox? It was a decently successful console, but no world beater. The Xbox 360 came in and put all of the other console makers to shame by providing world-class development tools, easy-to-work-with hardware, and compelling first- and third-party games.
It is this financial security that will allow Microsoft to take the risks needed to crack the smartphone market with its Windows Phone, and the tablet market with its Windows 8/Windows RT operating systems.
Return of Cash to Shareholders
In addition to having an exciting pipeline of products, Microsoft is quite generous to shareholders with both buybacks and dividends. On the buyback side, the share count has decreased substantially over the last five years:
Click to enlarge images.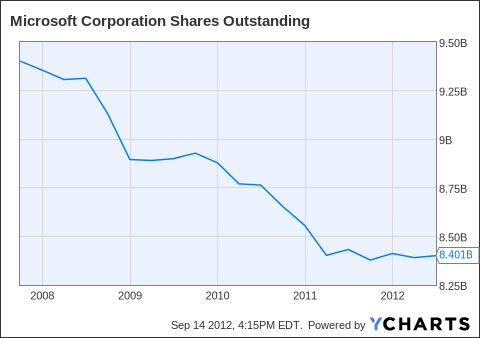 The dividend growth has also been quite nice, with a near doubling in the quarterly dividend over the last five years: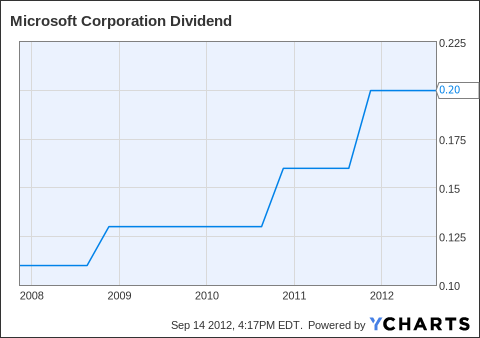 For the long-term investor, it seems that Microsoft is good to its shareholders and will continue its shareholder friendliness.
Conclusion
Microsoft is an excellent company that is in amazing financial shape. Iits products are well designed, and it is putting its resources to good use by expanding upon its core PC-centric business and attempting to become a major player in new markets. It's also extremely shareholder-friendly.
And one more thing: Don't let that 15.60 P/E quoted fool you. This is due entirely due to a $6.19 billion write-off related to a $6.19 billion impairment of good will charge. Basically, its acquisition of aQuantive in 2007 turned out to be a dud and Microsoft is taking the hit for it. Microsoft's "real" P/E ratio would be 11.19 as of the most recent close, putting it in "value" territory.
I'll be buying Microsoft on the next dip. Will you be?
Disclosure: I am long INTC, NOK. I may initiate a long position in MSFT over the next week. I wrote this article myself, and it expresses my own opinions. I am not receiving compensation for it (other than from Seeking Alpha). I have no business relationship with any company whose stock is mentioned in this article.