An investor usually sells a put option if his/her or her outlook on the underlying security is bullish. The buyer of the put option pays the seller a premium for the right to sell the shares at an agreed-upon price. If the stock does not trade at or below the agreed-upon price (strike price), the seller gets to keep the premium. Exelon Corporation (NYSE:EXC) is trading significantly off its one-year highs of$ 45.45 set back in Nov 2011 and the yield of 6% is quite tempting in this low-rate environment. Selling puts is generally a good strategy to use on stocks that have taken a severe drubbing and are trading in the extremely oversold ranges.
Its total operating revenue for second-quarter of 2012 was $6.4 billion, a year-over-year growth of 42%, but it missed the Zacks estimate of $6.9 billion. The rise in operating expenses affected margins despite the growth in total revenue. Total operating expenses increased dramatically by 61% year over year to $5.3 billion. Operating income for the second quarter came in at $1.03 billion, a decline of 13% year over year, but it sports a pretty healthy quarterly revenue growth rate of 32.4%.
It ended the 2nd quarter with cash and cash equivalents of $1.34 billion versus $1.05 billion at the end of 2011. Cash from operating activities in the first 6 months came in at $2.72 billion versus $1.01 billion compared to the same period last year. Management reaffirmed its earnings guidance for the year and stated that they would fall in the $2.55 to $2.85 ranges per share and operating earnings in the $0.65 -$0.75 ranges per share for the 3rd quarter.
Technical outlook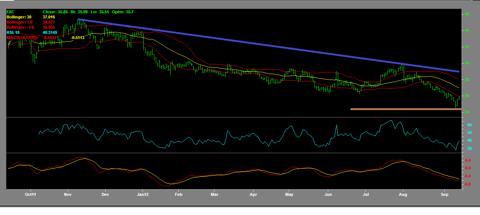 The stock is trading at 2 year lows and so far has it has failed to put in a bottom. It is trading significantly below the - 1 standard deviation Bollinger band and historically when this occurs it is a signal that the stock is close to putting in a tradable bottom. A good sign will be for it to test the $34.54 ranges again but end the day on a positive note. It could even drop below $34.54 but as long as it ends the day above this level it will be a move in the right direction. A weekly close above $38 would be a stronger development and signal that it is at least ready to test the $42-$44 ranges. The stock is extremely oversold and individuals willing to take a bit of a risk could do well in the months to come.
Charts and data of interest on Exelon Corporation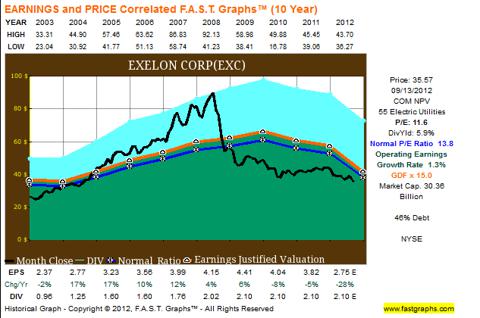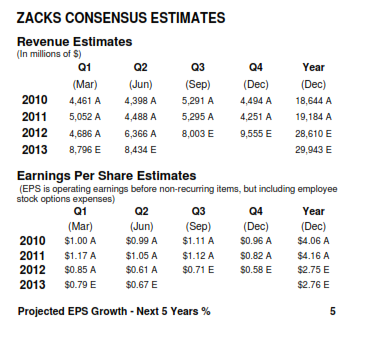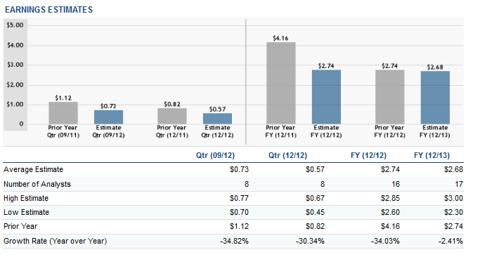 Suggested strategy for Exelon Corporation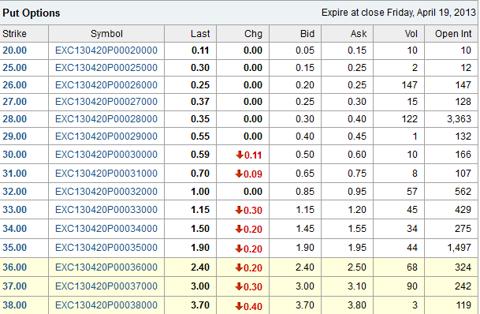 The April 2013, 34 puts are trading in the $1.45- $1.55 ranges. If the stock pulls back to $34.50 these options should trade in the $2.00-$2.20 ranges. We would wait for the stock to pull back to these ranges before putting this strategy to use. We will assume that each put can be sold for $2.00 or more. If the shares are not assigned to your account, you will walk away with gains of 5.88% in roughly 7 months. If the shares are assigned to your account, your final price will be $32 per share.
Benefits and risks associated with selling puts
In essence, you get paid for entering a "limit order" for a stock or stocks you would not mind owning.
It allows one to generate income in a neutral or rising market.
Acquiring stocks via short puts is a widely used strategy by many retail traders and is considered to be one of the most conservative option strategies. This strategy is very similar to the covered call strategy.
The safest option is to make sure the put is "cash secured." This simply means that you have enough cash in the account to purchase that specific stock if it trades below the strike price. Your final price would be a tad bit lower when you add the premium you were paid up front into the equation. For example, if you sold the NextEra Energy, Inc. (NYSE:NEE) Dec 2012, 65 puts, which are trading in the $1.05-$1.15 ranges for $1.05 or better. $105 per contract would be deposited in your account. If these shares were assigned to your account your final price when the premium is factored in would be $63.95.
Time is on your side. Every day you profit via time decay as long as the stock price does not drop significantly. In the event it does drop below the strike you sold the put at; you get to buy a stock you like at the price you wanted. Time decay is the greatest in the front month.
If you are bullish on the stock, then the only risk is that you might have a possible change of heart and now feel that the stock could trade below the strike price you sold the puts at. You can remedy this by rolling the put. Buy back the puts you sold and sell new out of the money puts.
Conclusion
As this stock is still trying to put in a bottom, it carries a slightly higher risk than say plays such as Duke Energy (NYSE:DUK) and Southern Company (NYSE:SO), which are currently both experiencing healthy corrections and have not violated their long term up trends. Thus only individuals willing to take on a little of risk should consider this play. If you are not willing to take a bit of risk then Duke Energy and Southern Company are plays you should consider. Net income and cash flow for both companies have been trending up nicely for the past 3 years and they offer good yields of 4.7% (Duke Energy) and 4.3% (Southern Company) respectively.
However, keep in mind that Exelon has taken a severe beating and offers a very good yield of 6%. Contrarian investors could do well in the months and years to come by establishing a position now. The benefit of this strategy is that it provides you with the chance to get in at a lower price, but you also have the option of rolling the put if you feel the stock could trade lower.
EPS consensus estimates and EPS surprise charts and some of the Research and historical data used in this article was obtained from Zacks.com. Earnings estimates sourced from dailyfinance.com.
Disclaimer
It is imperative that you do your due diligence and then determine if the above strategy meets with your risk tolerance levels. The Latin maxim caveat emptor applies - let the buyer beware.
Disclosure: I have no positions in any stocks mentioned, and no plans to initiate any positions within the next 72 hours.
Business relationship disclosure: This article was prepared for Tactical Investor by one of our analysts. We have not received any compensation for expressing the recommendations in this article. We have no business relationships with any of the companies mentioned in this article.