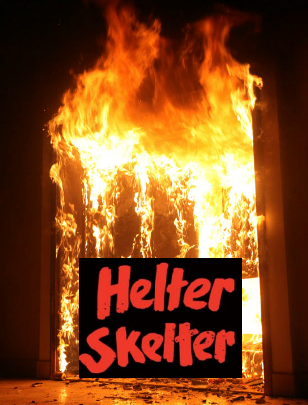 The chaos in MENA continues over some stupid movie few have watched but now will, one supposes. It's no coincidence all this began on 9/11, and one would assume Al Qaeda and Iran are stimulating this stuff. Now there are deaths and injuries throughout the region. But this all still remains a sideshow to QE3, which is center stage for investors. Nevertheless, given that it's Friday, some good returns have been made, and MENA chaos could continue over the weekend, some investors decided to take profits, limiting some gains.
Economic data released Friday would normally be significant, but not in this QE "more money than brains" environment. The CPI came in as advertised (.6% vs. .6% expected, and prior .1%; "core" .1% vs. .2% expected, and prior .1%), but remains the manipulated joke passed off as legitimate data. Retail Sales were also about as expected (.9% vs. .8% expected, and prior .9%), but then comes more comedy as Retail Sales ex-gas & autos (.1% vs. .4% expected, and prior .8%) provides a better picture. Industrial Production laid an egg (-1.2% vs. 0% expected, and prior .5%), which is more difficult to manipulate. Consumer Sentiment jumped (79.2 vs. 73.5 expected, and prior 74.3), but this too isn't as reliable a view as the Conference Board's Consumer Confidence data, which was crushed previously. Why the difference? The current data point is more heavily skewed to stock prices. Lastly, Business Inventories (.8% vs. .5% expected, and prior .1%) -- you can draw two conclusions: companies are building inventory to meet demand, or they're stuck trying to unload what has accumulated.
The infrequently modified DJIA dropped Kraft (KFT) and substituted United Health Care (NYSE:UNH) as the former is restructuring and spinning off subsidiaries. And, as if it matters, lesser known but increasingly well regarded Egan Jones downgraded U.S. debt once again from AA to AA- with the idea QE3 will do more harm than good. (They're so off the main narrative, eh?)
So QE3 is in hand and stocks followed through modestly higher, led by financials (NYSEARCA:XLF), banks (NYSEARCA:KBE) and materials (NYSEARCA:XLB). The dollar (NYSEARCA:UUP) continued its decline (inflationary), while base (NYSEARCA:DBB) and precious metals (NYSEARCA:GLD) and (NYSEARCA:SLV) continued to rise. Bonds (NYSEARCA:IEF) and (NYSEARCA:TLT) continued to decline.
Volume continued to rise Friday, but we saw afternoon profit-taking as markets are short-term substantially overbought. Breadth per the WSJ was positive once again.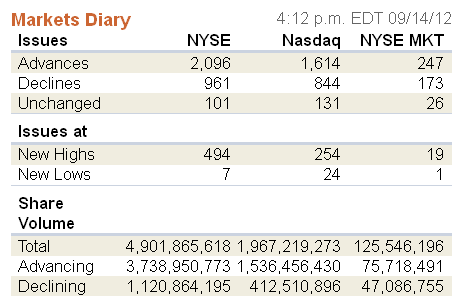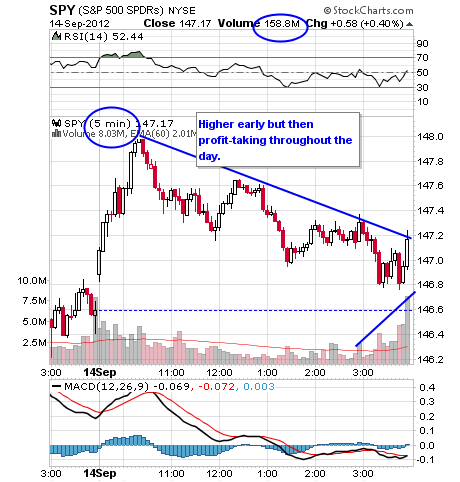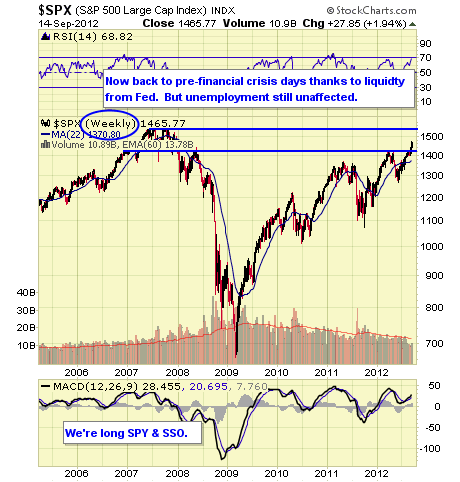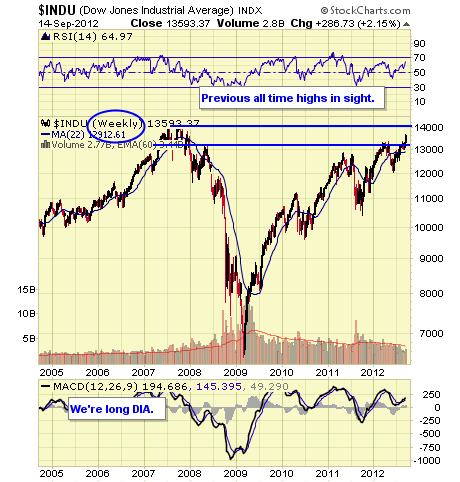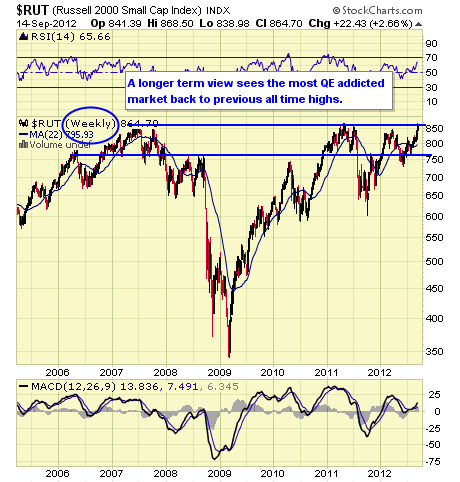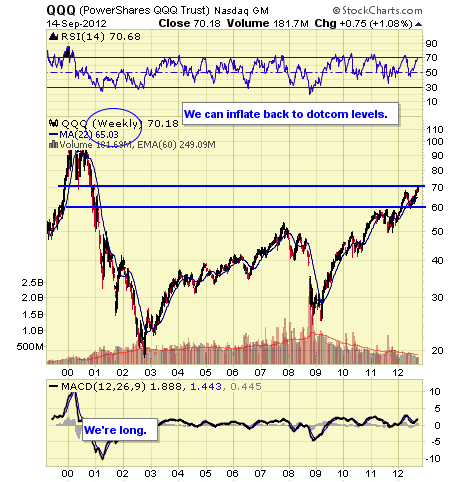 Continue to U.S. Sector, Stocks & Bond ETFs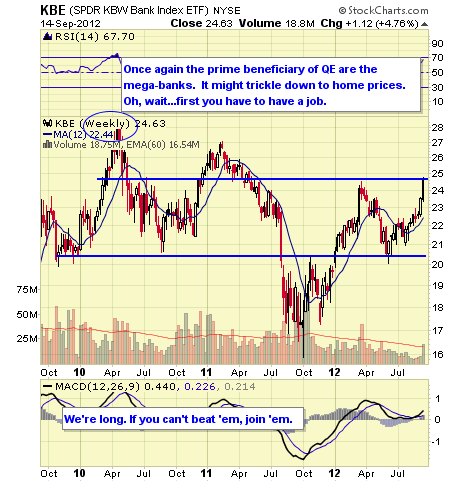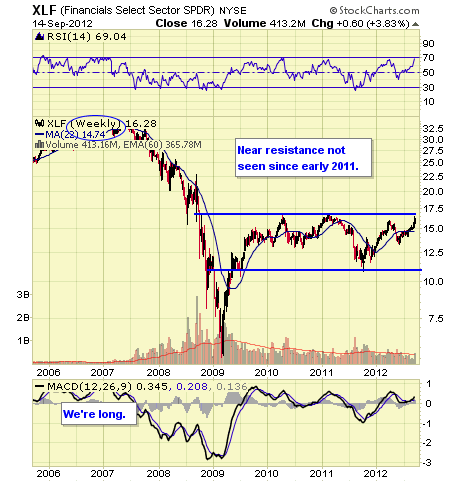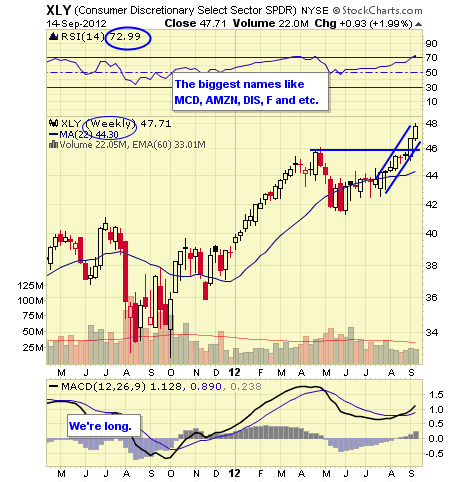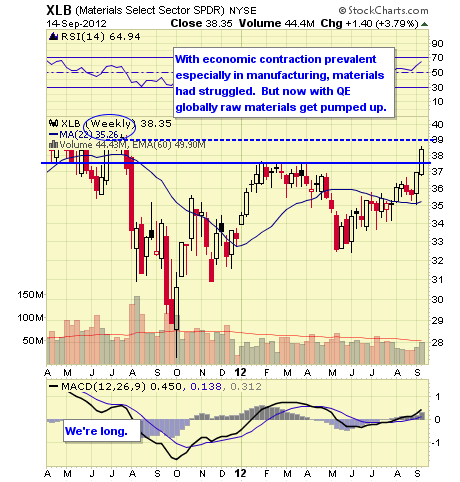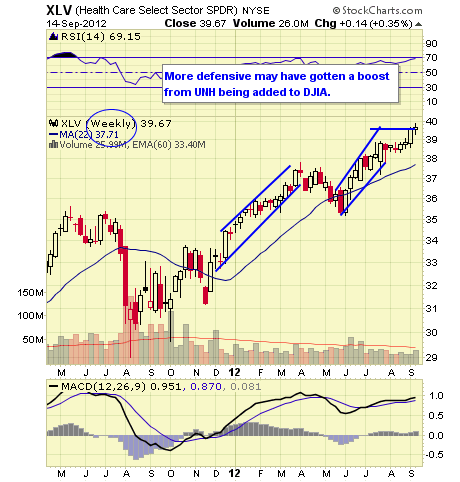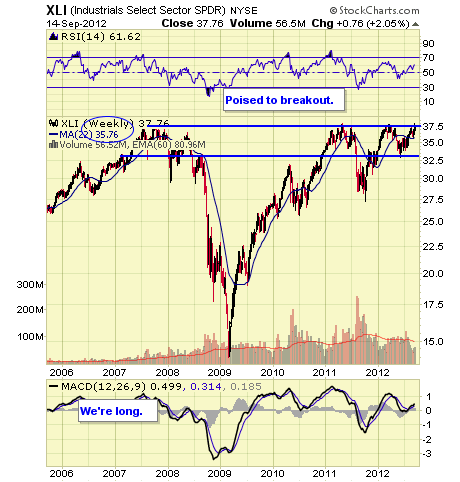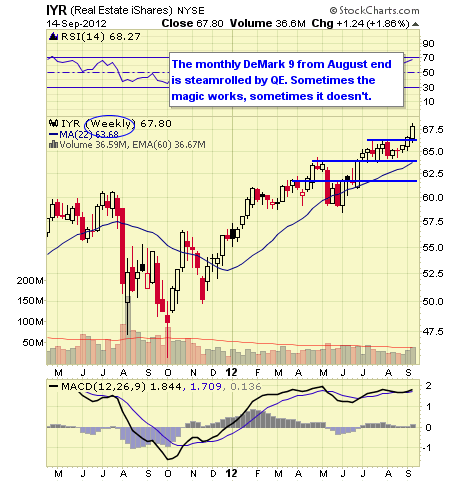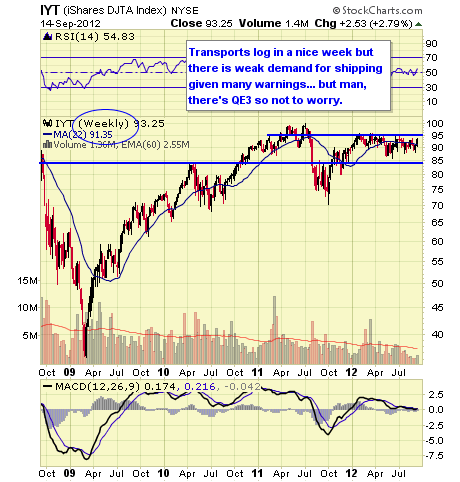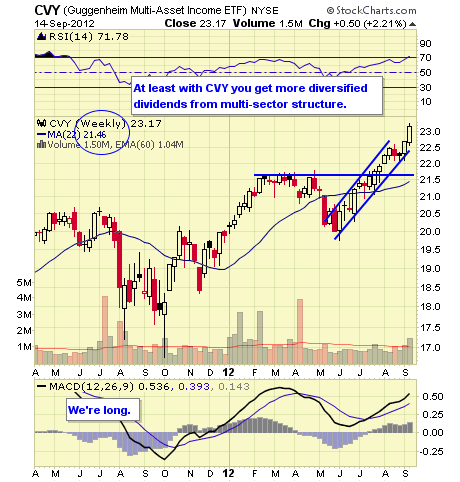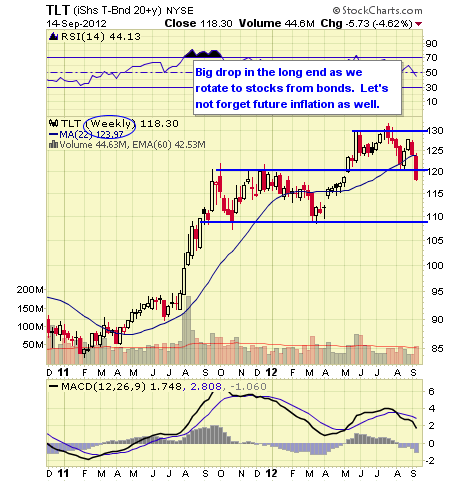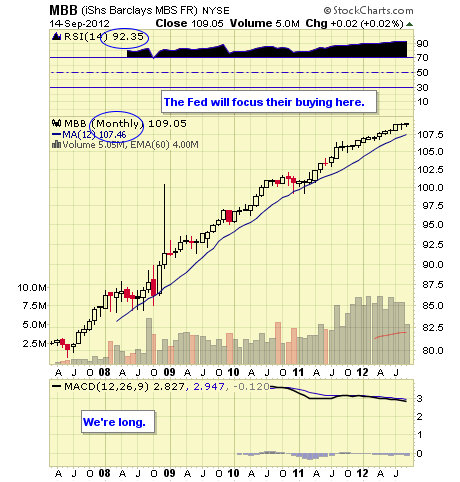 Continue to Currency & Commodity Market ETFs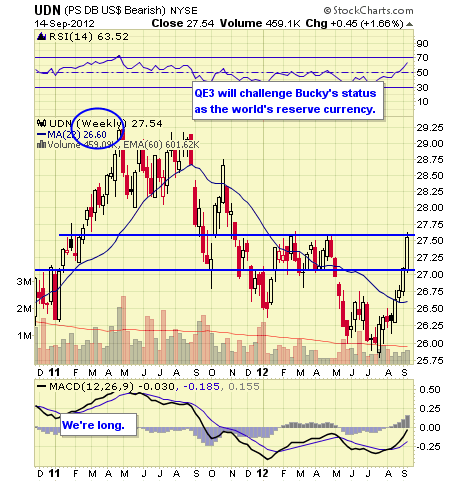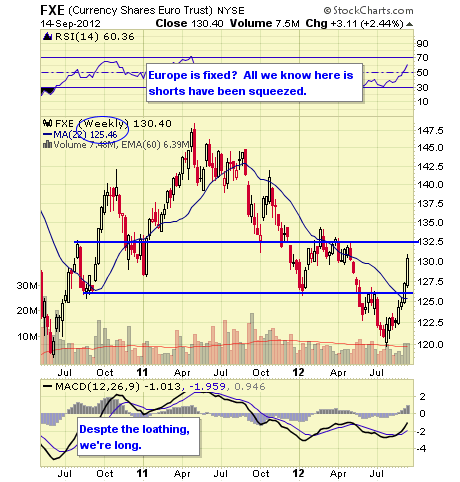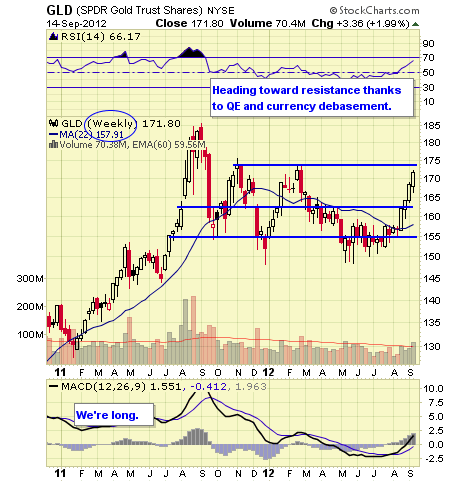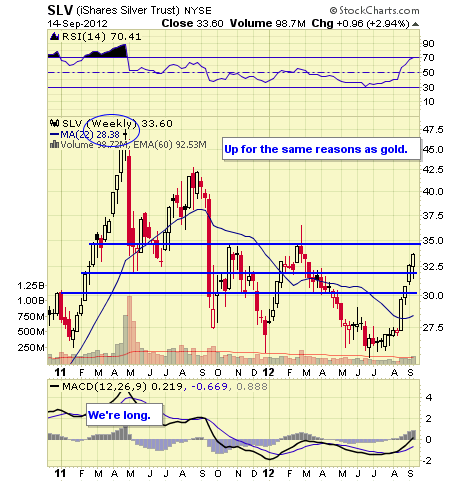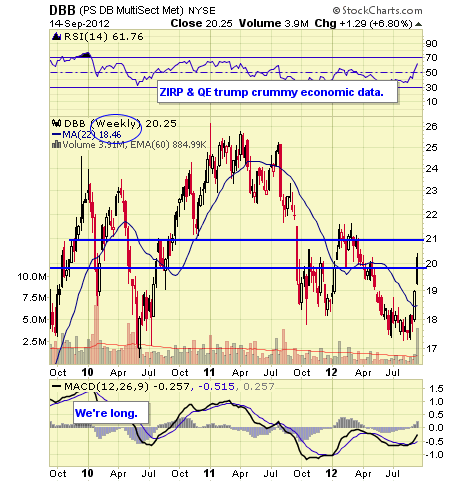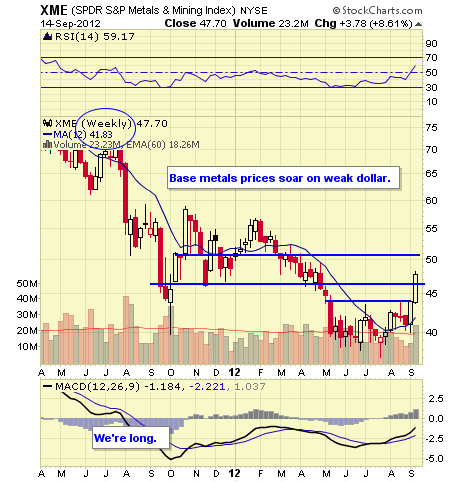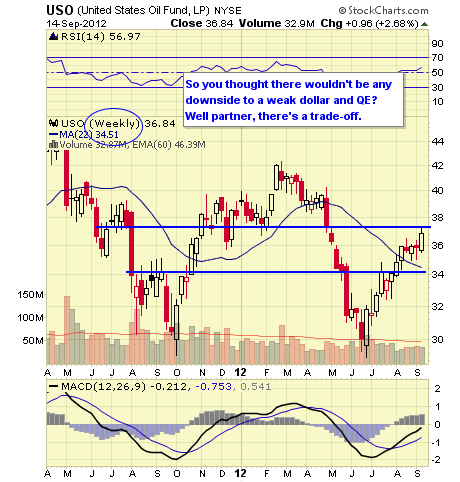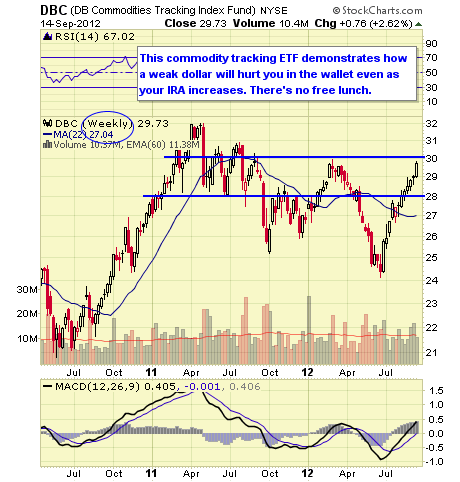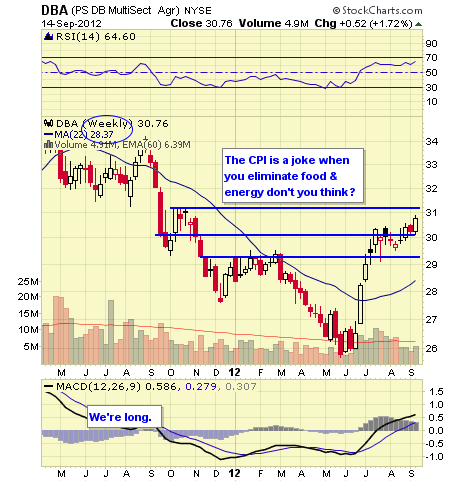 Continue to Overseas Sectors & ETFs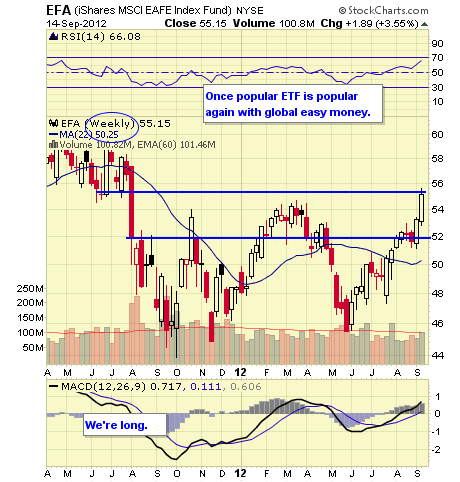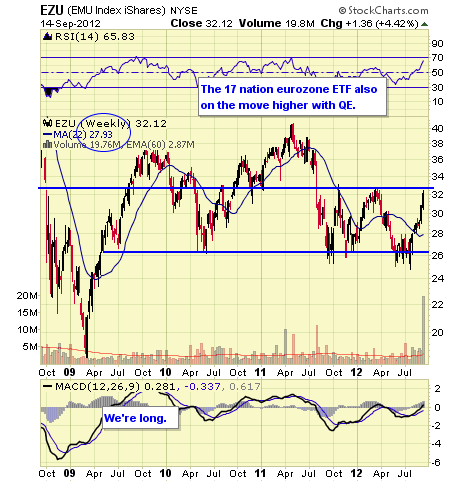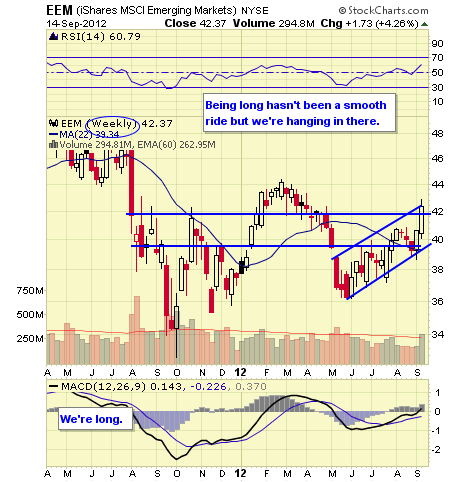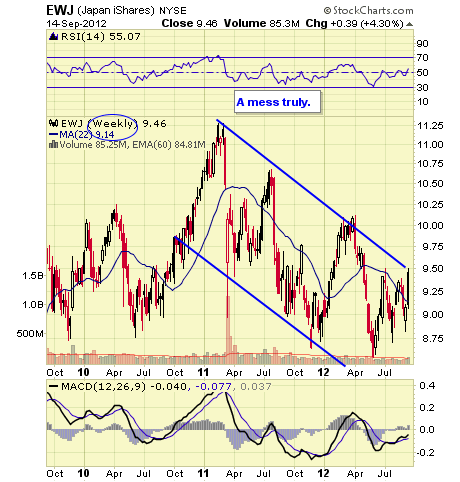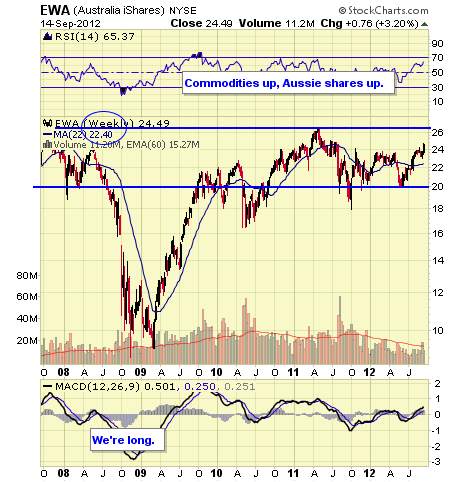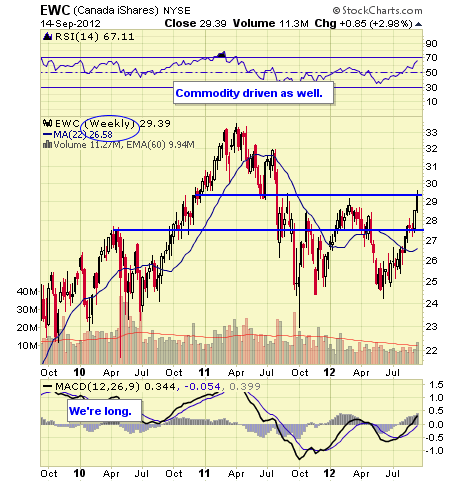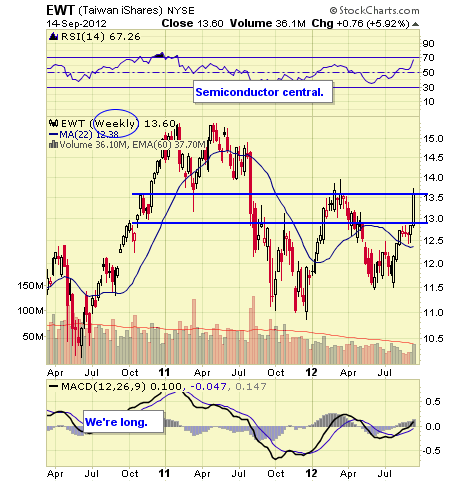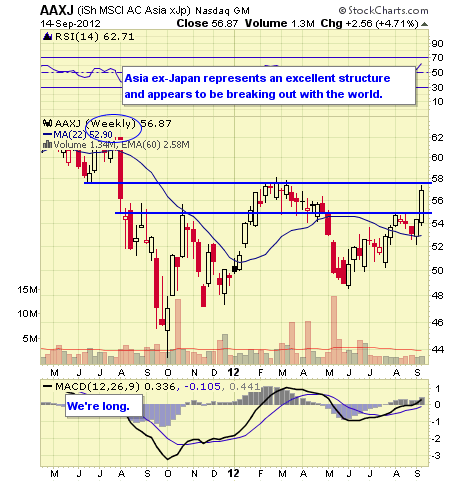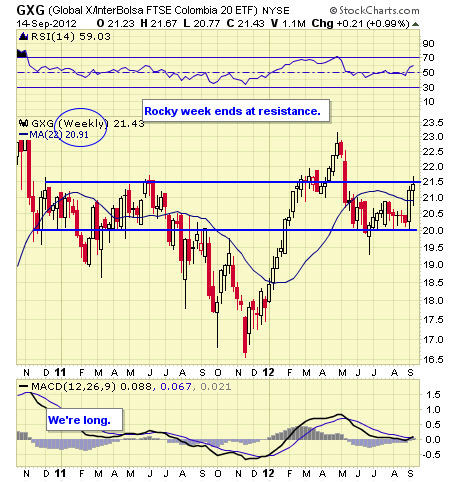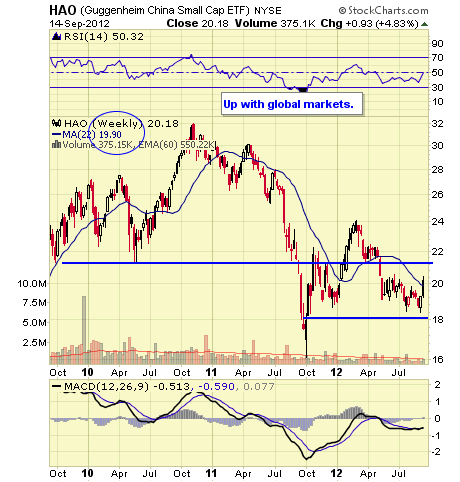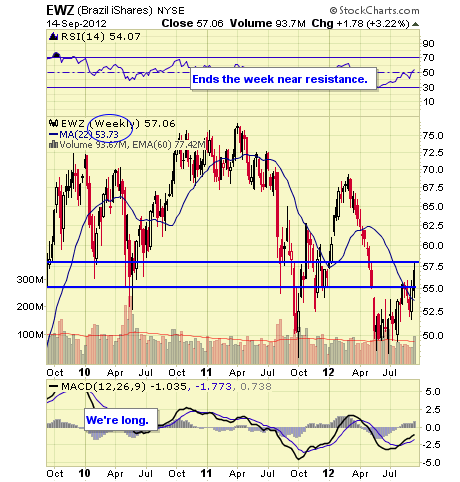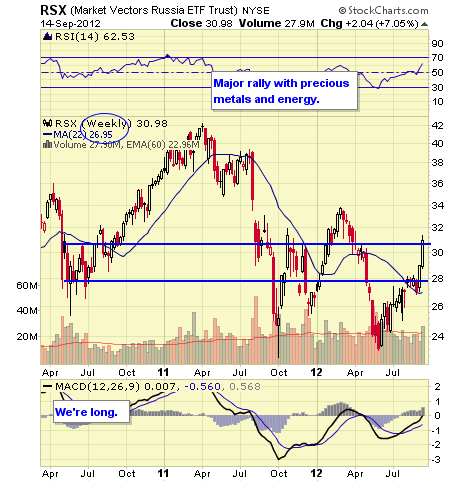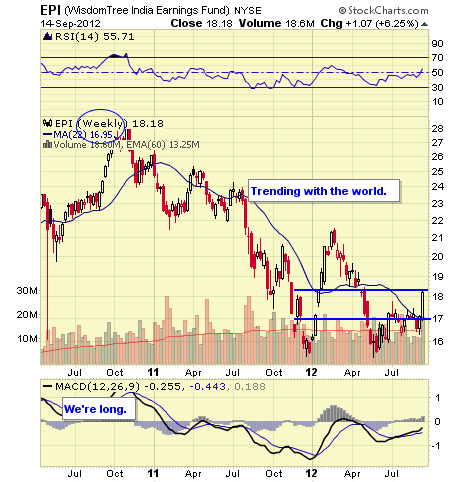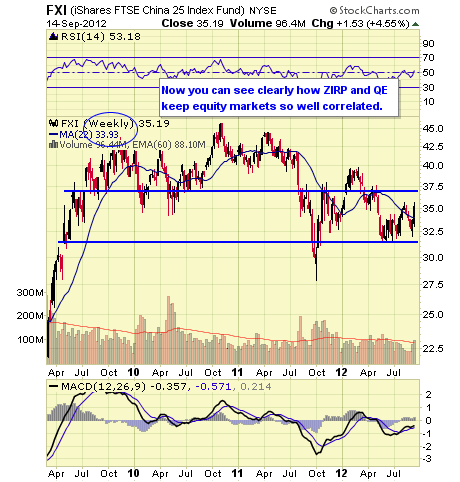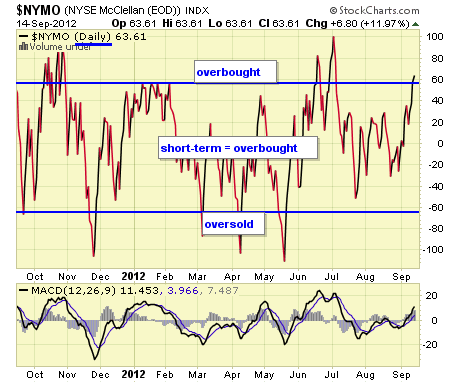 The NYMO is a market breadth indicator that is based on the difference between the number of advancing and declining issues on the NYSE. When readings are +60/-60, markets are extended short-term.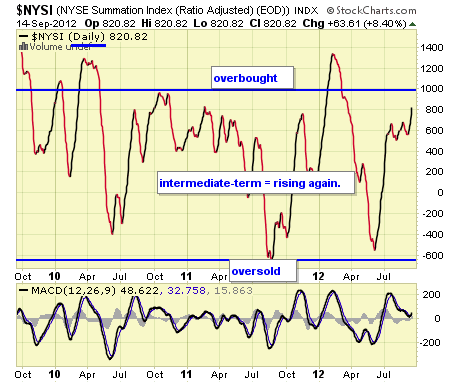 The McClellan Summation Index is a long-term version of the McClellan Oscillator. It is a market breadth indicator, and interpretation is similar to that of the McClellan Oscillator, except that it is more suited to major trends. I believe readings of +1000/-1000 reveal markets as much extended.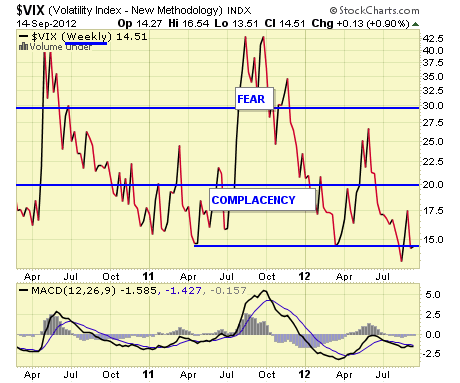 The VIX is a widely used measure of market risk and is often referred to as the "investor fear gauge." Our own interpretation is highlighted in the chart above. The VIX measures the level of put option activity over a 30-day period. Greater buying of put options (protection) causes the index to rise.
The VIX rose Friday despite the rally, as a few investors were seeking protection given now overbought conditions. The latter can exist for a longer period than most can expect, but then who wants to test it? If you're in, good for you, and if not, good luck.
Next week has a scattering of housing data, Jobless Claims, the Philly Fed Survey and the always entertaining quad-witching.
Disclaimer: The ETF Digest maintains active ETF trading portfolio and a wide selection of ETFs away from portfolios in an independent listing. Current "trading" positions in active portfolios, if any, are embedded within charts: Lazy & Hedged Lazy Portfolios maintain the follow positions: VT, MGV, BND, BSV, VGT, VWO, VNO, IAU, DJCI, DJP, VMBS, VIG, ILF, EWA, IEV, EWC, EWJ, EWG, & EWU.
The charts and comments are only the author's view of market activity and aren't recommendations to buy or sell any security. Market sectors and related ETFs are selected based on his opinion as to their importance in providing the viewer a comprehensive summary of market conditions for the featured period. Chart annotations aren't predictive of any future market action, rather, they only demonstrate the author's opinion as to a range of possibilities going forward.
Disclosure: I have no positions in any stocks mentioned, and no plans to initiate any positions within the next 72 hours. I wrote this article myself, and it expresses my own opinions. I am not receiving compensation for it. I have no business relationship with any company whose stock is mentioned in this article.