While the appropriate philosophy is essential for our success as analysts and traders, it isn't something that gets much press. In our case, and that of most professionals, the philosophy would better be called an anti-philosophy. We aren't so interested in reason, values, or causes - hallmarks of a philosophical framework - as we are in staying on the right side of the market. The "right side" of the market being defined as neither long nor short, but profitable. This is nothing new to traders and merchants from time untold. The old saying "it is not for us to reason why, but to do or die" has always been apropos for business people of all stripes.
However, if there was anything new under the sun for markets, it would be that the time gap between the release of real economic date, and how long it takes traders to interpret the effectiveness of government agencies' reactions to that data, has virtually disappeared. For example with the U.S. stock market in a full blown bear market in early 2009, the U.S. President signed the American Recovery & Reinvestment Act of 2009, more commonly called QE I. See Figure 1. It wasn't until 3 weeks later that the market bottomed. Back then astute investors and traders might have an idea a bottom was near, and wait for a shift in direction and momentum to confirm before entering long positions. Today, three weeks would be seen as an eternity for traders to make up their collective mindset and start buying in earnest.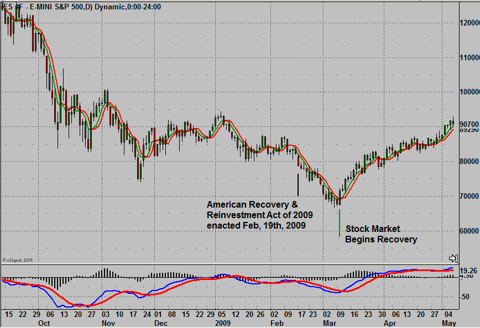 Figure 1.
Underlying market shifts occur much quicker today, and it is undoubtedly because traders pay heed to the influence that central bankers exert on international markets. On September 5th of this year, the Australian employment figures came out much worse than expected, at -8.8 versus 5.2 expected. The initial knee jerk reaction was lower prices, which makes sense given it was worse than expected and actually showed negative job growth for the Australian economy. Yet 15-minutes later, the Australian Dollar had reversed course higher, and ended up putting in a significant swing low on that day- See Figure 2.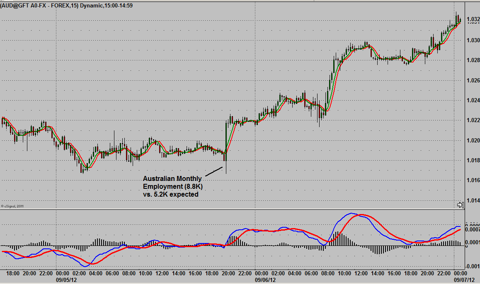 Figure 2.
Now this price reaction comes as no surprise to experienced traders, or anyone who spends time in live markets. Number 1, regardless if the move made sense in the face of the just released economic data, it was in-line with the wide spread belief among active traders that you don't fade central banker's wishes. And number 1a, it was in-line with the long-term price pattern, which reflects the prevailing attitude "among active traders that you don't fade central banker's wishes."
There is no better example of the influence central bankers hold over today's markets than price action in the currency and stock markets these past two weeks. European Central Bank boss Mario Draghi's press conference on September 6th propelled the price of his currency and global stock indices sharply higher, as did Fed Chairman Bernanke's decision on Thursday to launch QE III. While the two men's actions are not surprising, the outcome they caused in the markets may have been if you were short anything denominated in Euros or correlated to global stock indices.
Disclosure: I have no positions in any stocks mentioned, and no plans to initiate any positions within the next 72 hours. I wrote this article myself, and it expresses my own opinions. I am not receiving compensation for it. I have no business relationship with any company whose stock is mentioned in this article.