Boeing (NYSE:BA) is one of only two manufacturers of large passenger jets (the other is EADS's (OTCPK:EADSY) Airbus division). After a few slow years due to both the recession and a three-year delay of its newest model, the long-anticipated 787-8 Dreamliner, Boeing is again ready to shine.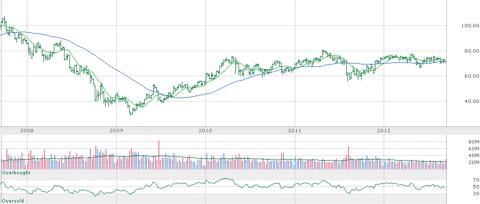 Click to enlarge
Since the March 2009 lows of around $30 per share, Boeing underwent a pretty steady rise in share price through much of 2009 and into 2010. Since then, it has been stuck in the $65-75 range, despite future promises of increased growth. The largest catalyst to growth in the next few years will be a huge expansion in its international business, particularly in the Middle East and Asia. As of June 2012, Boeing had a backlog of approximately 4,000 aircraft, which represents over $293 Billion in sales. Boeing operates at a net profit margin of 5.7%, so the orders that have already been placed will translate to $16.7 Billion of profit once the aircraft currently on order are delivered.
An example of the tremendous international growth is Air India, which on September 6th received its first 787 Dreamliner. The airline has ordered a total of 27 of the aircraft, and it expects two more to arrive shortly. Additional foreign orders of the Dreamliner currently on the books include 37 to Air Canada, 36 to All Nippon Airways, 10 to Ethiopian Airlines, 25 to Japan Airlines, 16 to Gulf Air, 30 to Qatar Airways, among other smaller orders. Considering the aircraft cost upwards of $200 million, the growing foreign market could mean huge sales for Boeing in the future.
In addition, with fuel efficiency being such a major issue, Boeing is currently developing the 737 MAX, which is a version of the extremely popular 737 aircraft, but with 16% more fuel efficiency. Boeing currently has about 650 firm orders (with deposits) for the MAX and an additional 550 commitments. The first deliveries of this new aircraft are set for 2017, and if the orders of the Dreamliner are any indication, there should be a steady influx of orders as the stages of development are completed.
Analysts currently project Boeing's sales will increase 18% in 2012, as a result of both rising delivery of 737s and increased production on the 787. Boeing is projected to earn $4.65 per share for 2012, with EPS rising to $5.70 in 2013, and then to $6.57 in 2014. Based on current PPS of around $71, this translates to 15.2 times this year's earnings, 12.5 times 2013 earnings, and 10.8 times 2014 earnings. Not bad for a company with a projected 20.6% EPS growth rate and $293 Billion of backlogged business that will keep it busy for years ahead. Over the past 5 years, with the recession and delayed rollout of the new aircraft, Boeing has grown its EPS at an annualized rate of 13.4%, while increasing its dividend by over 6% per year.
The 26 analysts currently covering Boeing have an average price target of $87.19 on Boeing, which is 22.3% above current levels. I agree with this consensus, as current valuations are far too low considering the rising production of commercial aircraft over the next several years expected from innovative new products and emerging overseas markets.
Disclosure: I have no positions in any stocks mentioned, but may initiate a long position in BA over the next 72 hours. I wrote this article myself, and it expresses my own opinions. I am not receiving compensation for it (other than from Seeking Alpha). I have no business relationship with any company whose stock is mentioned in this article.