Panera Bread Company (NASDAQ:PNRA) reported excellent results for Q2 2012. This quarter's EPS increase of 27% marked the company's ninth time out of ten quarters with a gain over 20%. Company-owned comparable bakery café sales increased 7.1%. Average weekly sales in these units increased 11.6% year-to-date over last year. Panera's franchise bakery cafés increased 5.9% over the same period. Overall quarterly revenue increased 17.6% over Q2 2011.
The company is currently a $4.91 billion mid-cap operator of bakery-cafes in the United States and Canada. Its mid-cap position shows that Panera has established itself as a successful growing company with the momentum to eventually become a large-cap company.
Panera's stock was taking off while the dot-com bubble burst in the early 2000s. The stock rose from the single digits in the 1990s to its current price of $168.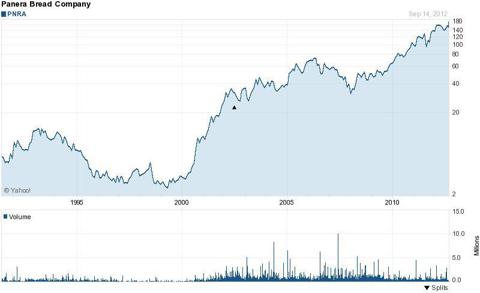 Click to enlarge
Although the company looks a bit richly valued with a trailing PE ratio of 32.48 and a forward PE ratio of 24.52, the PEG of 1.46 shows that the current stock price is justified by Panera's future growth. I would say it is in the upper range of fairly valued.
The company looks solid from a financial perspective. For the past twelve months, it brought in $297.2 million in operating cash flow and $170.42 million in free cash flow. Panera has a total cash figure for Q2 of $255.8 million with zero total debt. The balance sheet looks great as it has 1.6 times more current assets than current liabilities.
Panera is expected to grow earnings annually at 18.89% for the next five years. This growth rate should allow the stock price of $168 to grow to about $400 in five years.
The company's growth plans are on target for the year as it had 55 new openings in the 1st half of the year, with a goal of 115 to 120 new openings for 2012.
Panera has been focused on creating high-quality offerings such as steak, Thanksgiving- quality turkey, and salmon. It also had success by introducing fresh avocado to its repertoire as seen in its roasted turkey and avocado BLT sandwich. This sandwich helped the company achieve a 22% increase in its signature sandwich sales for the second quarter.
The company's MyPanera loyalty program has 11 million members. This program allows the company to develop deeper relationships with its customers and enables the capturing of real-time customer behavior data for improved marketing.
Catering is another successful part of Panera's business. Catering sales increased 20% in Q2. Panera is planning to further expand its catering business as a result of its continuing success.
Overall, Panera Bread has formed a nice niche in the restaurant industry. This niche of high-quality, healthy food should continue to catapult the stock higher for the long-term, providing investors with ever rising dough.
Disclosure: I have no positions in any stocks mentioned, and no plans to initiate any positions within the next 72 hours. I wrote this article myself, and it expresses my own opinions. I am not receiving compensation for it (other than from Seeking Alpha). I have no business relationship with any company whose stock is mentioned in this article.