After Ben Bernanke announced a much anticipated QE3 Thursday, many stocks jumped on the news. Mainly led by the materials and energy sectors as well as technology companies related to the iPhone announcement, the market as a whole rallied over 2%. Some individual stocks catapulted off Big Ben's speech. However, justifying moves of this magnitude is tricky for certain stocks, and in my opinion one of them in particular is Fossil Inc. (NASDAQ:FOSL).
FOSL was relatively flat on Thursday following the announcement, but then jumped over 11% on Friday on nearly 2x volume. Compared to its consumer cyclical peers, FOSL outperformed by nearly 8% points this week, a truly outstanding number. View the weekly chart comparing FOSL to: Michael Kors Holdings Ltd. KORS, Coach Inc. COH, Ralph Lauren Corp. RL, and Nike Inc. NKE.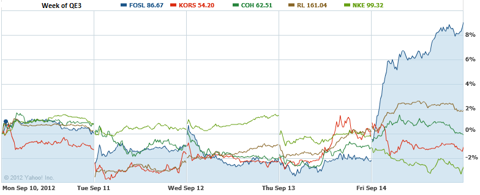 Still a Mystery
Was this move warranted? Is this company suddenly worth over $500 million more than it was just 24 hours ago? I did some digging and found no convincing news to credit this spike to. Moreover, FOSL's % shares short is relatively comparable to peers, thus voiding short covering as a reasonable explanation.
| | | | | | |
| --- | --- | --- | --- | --- | --- |
| Stock: | FOSL | KORS | COH | RL | NKE |
| % Short as of 8/31: | 6.6 | 3.99 | 5.77 | 3.17 | 1.42 |
In addition, QE3 will most likely not benefit FOSL much more than the rest of the sector. In summary, I'm still puzzled by FOSL's move. Perhaps it's time to pawn my magnifying glass and trench coat.
Technical Significance
On the bullish side, this move was big technically - so big, in fact, it serves to challenge the gap set after FOSL lowered FY 2012 EPS guidance May 8th, 2012: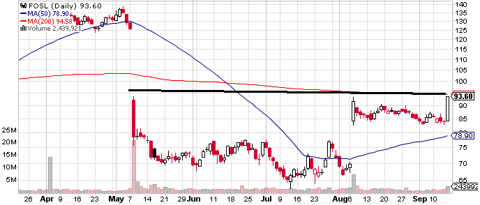 If FOSL continues Friday's run, it could theoretically keep going, since there would be little technical resistance to offer restraint.
Summary
Will FOSL continue its colossal move next week, or will it simply sink back down to earth to rejoin the rest of the industry? Anything can happen after a move both as significant and mysterious as FOSL's. With such mystery and therefore unpredictability, it might be wise to keep your distance from FOSL until the veil is lifted.
Disclosure: I have no positions in any stocks mentioned, and no plans to initiate any positions within the next 72 hours. I wrote this article myself, and it expresses my own opinions. I am not receiving compensation for it (other than from Seeking Alpha). I have no business relationship with any company whose stock is mentioned in this article.