My deepest apologies for not being more diligent with my updates. Our focus has been on making money for our clients and ourselves, and there has been plenty of money to be made. Furthermore, given no change in outlook, I really didn't feel the need to spoil a good thing. As we witnessed this summer, in addition to herding, the other fatal mistake investors make is taking profits too early. I assure you, many times it's best to stick with your view and just take a vacation.
After identifying a bearish inflection in Ominous Signs, I became bullish in late July and outlined my thesis in Bulls Will Win The Battle, Bears Will Win The War. Since my buy signal, in a little over six weeks, we have witnessed an 8% rally in the SPY. Certain cyclicals that I identified, such as the Market Vectors Gold Miners ETF (NYSEARCA:GDX) and the Market Vectors Junior Gold Miners ETF (NYSEARCA:GDXJ), have been up even more.
So given the extent of the current rally, it must be over, right?
Wrong. When I evaluate the Market Thermometer, which captures key market drivers, I find that most indicators are still pointing green. In some areas like financial conditions, there has been improvement with the recent bold action by the ECB and Fed.
Below is our assessment of key market conditions, along with a drill down of several indicators:
Click to enlarge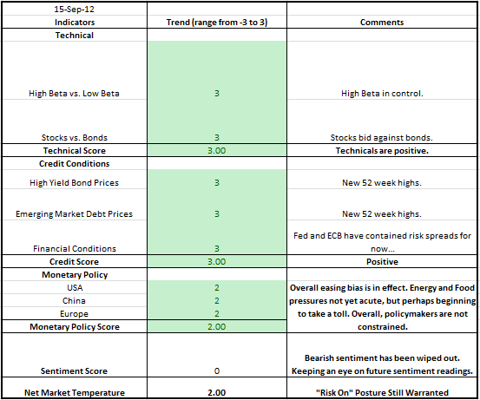 With bond yields still quite low and stocks not overbought on the weekly charts, we do not think bonds provide a compelling enough opportunity to lure stock investors away. Thus overall, the technicals appear quite positive.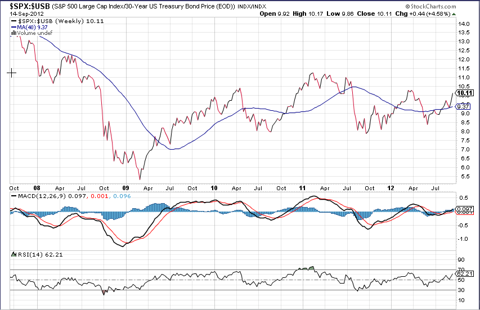 Credit Conditions are also quite robust. It's difficult if not impossible for equities to meaningfully retreat without stress on corporate borrowers. With the iShares iBoxx $ High Yield Corporate Bond ETF (NYSEARCA:HYG) hitting a 52-week high, and sporting a strong 13-week ROC, we're far from that point and it likely paves the way for even higher equity prices through the year-end.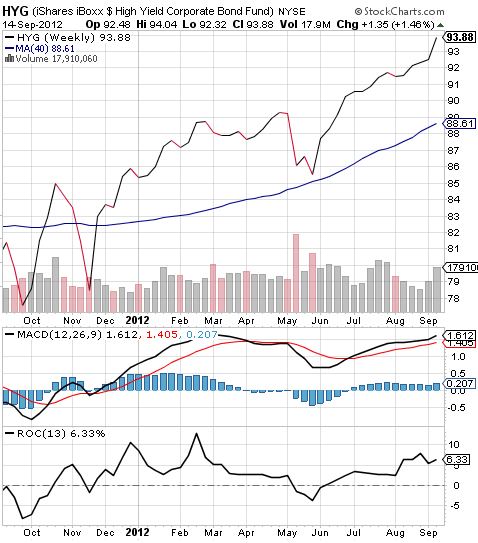 On the policy-making front, our focus is currently on oil. In our mind, as the most strategic and important global commodity, oil has the potential to handcuff global central bankers. In our previous articles, we have stated that it's time for the commodity markets to "put up or shut up." As robust as the equity rally has been, so has the rally in the The United States Oil ETF, LP (NYSEARCA:USO) and The United States Brent Oil ETF, LP (NYSEARCA:BNO). We think a year from now it's very possible that we will be discussing much higher oil prices and the failure of QE3.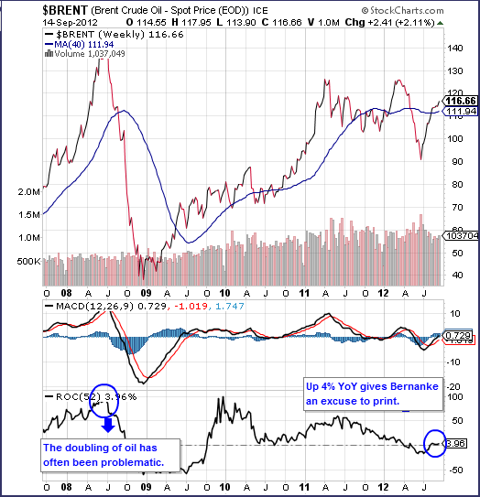 Finally, while it has risen from the deep troughs of the summer, investor sentiment has still not hit the typical extremes witnessed during previous market tops such as early 2011 and 2012. I believe it is necessary to rope investors in through the sheer human pain of watching others make easy money, while others sit on the sidelines.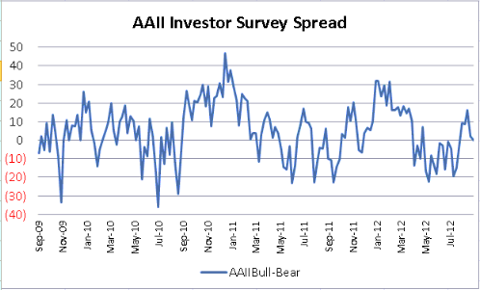 Despite the lukewarm macro backdrop, we think the sheer unattractiveness of bonds makes stocks an asset class of choice. However, given high profit margins and slow macro growth, in an absolute sense, stocks aren't particularly compelling either. While it hasn't been pretty, 2013 will mark Year 4 of the global economic expansion.
Our thesis remains that the incremental dollar has begun and will continue to move into commodities creating a commodities feedback loop similar to the 1999-2000 and 2007-2008 period. Investors would be well served to maintain protection in hedges that have historically served to protect against monetary debasement. Owning ample amounts of gold (SPDR Gold Trust ETF: GLD) and silver (iShares Silver Trust ETF: SLV) along with oil, while eschewing fixed income (for now) is currently our preferred portfolio construction.
Disclosure: I am long SLV, GDXJ, SIL, SPY. I wrote this article myself, and it expresses my own opinions. I am not receiving compensation for it (other than from Seeking Alpha). I have no business relationship with any company whose stock is mentioned in this article.